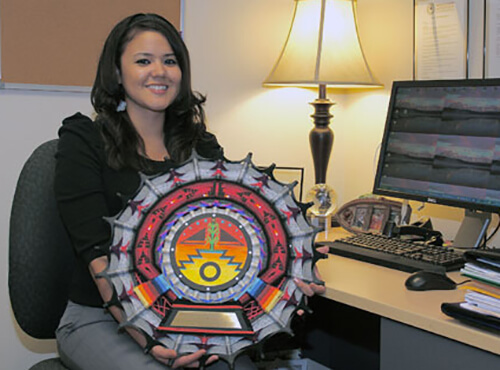 Megan Gregory
Megan Gregory, originally from Keex Kwaan (Kake, AK), from the Woosketon clan, serves as a Youth Board Member for the Center for Native American Youth. Her Tlingit name is Kootgwatl. Gregory currently works in Juneau, Alaska in the Behavioral Health Division for the Southeast Alaska Regional Health Consortium, and has been active in advocating for Native youth health issues.
While serving on the Southeast Alaska Suicide Prevention Task Force, Gregory created their Youth Ambassador Program to work with high school students in the region to bridge the gap between youth and adults, and to give all youth a role and voice for positive change in their community.
Megan is a member of the National Action Alliance for Suicide Prevention – Alaska Native/American Indian Task Force, is an advisory council member for the University of Alaska-Fairbanks Cooperative Extension Service, and is a new member of the National Council of Young Leaders representing the National Congress of American Indians.