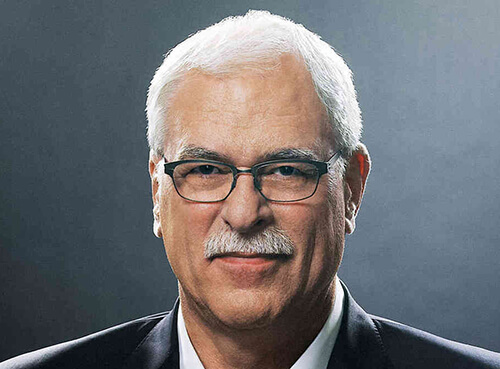 Phil Jackson
Phil Jackson is widely considered one of the greatest coaches in the history of the National Basketball Association (NBA). He holds the highest regular season and post season winning percentages of any coach in league history. Eleven of the past 21 NBA Championship teams have been coached by him. His reputation was established as head coach of the Chicago Bulls from 1989 through 1998. During his tenure, Chicago won two three-peats for a total of six NBA titles. With his next team, the Los Angeles Lakers, he won five NBA titles from 2000 to 2010. His total of 11 NBA titles as a head coach surpasses the previous record of nine set by Red Auerbach. He also holds the record for the most NBA championships as a player and a head coach, after breaking the tie with Bill Russell when the Lakers won the 2009 NBA Finals.
Jackson was a two time All-American at North Dakota under head coach Bill Fitch and was drafted by the New York Knicks where he played on their 1970 and 1973 NBA championship teams.
Phil has been a longtime supporter of Native American youth, especially efforts to improve educational opportunities in Indian Country.