Native American Career Success Academy & Gen-I Career Success Fellowship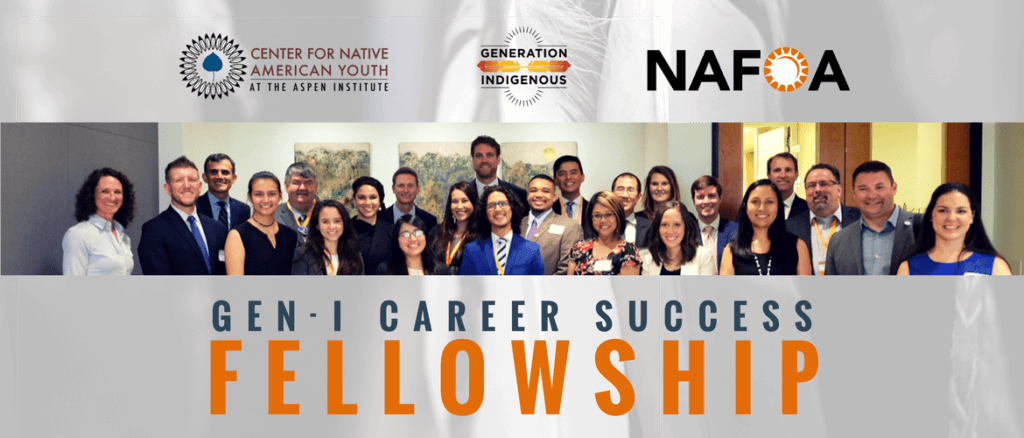 ABOUT THE NATIVE AMERICAN CAREER SUCCESS ACADEMY
The Center for Native American Youth is partnering with the Native American Finance Officers Association (NAFOA)
to bring you the Native American Career Success Academy (NACSA),
a free online course for Native youth on financial literacy and career readiness.
Native youth between the ages of 18 and 24 who successfully complete NACSA are eligible to apply for the Gen-I Career Success Fellowship,
a program designed to support youth who are motivated to pursue careers that advance tribal economies. Last year, Gen-I Fellows joined NAFOA for
a pre-conference learning institute in San Francisco!
ABOUT THE GEN-I CAREER SUCCESS FELLOWSHIP
As part of the Generation Indigenous (Gen-I) movement, the Center for Native American Youth (CNAY) and NAFOA have partnered to create the Gen-I Career
Success Fellowship program.
CNAY has connected the growing Gen-I National Native Youth Network—now over 4,000 strong—with NAFOA's network of leaders in finance, business,
and tribal economic development to expand career opportunities for Native youth through online skill-building, leadership development, and direct
connections with employers.
Recognizing that business and finance can solve problems and improve society, the fellowship program is designed to broaden career interest in professions
that will advance tribal economic development.
The Gen-I Career Success Fellowship program encourages and supports Native American youth who are highly motivated to pursue a career path that will
advance tribal economies.
BACK TO ALL RESOURCES