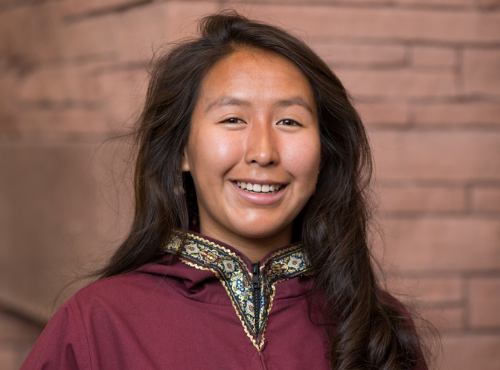 Shondiin Mayo
Shondiin Mayo is 21 years old. Her name means "Sunshine" in the Navajo language. She is originally from Stevens Village, Alaska and grew up in both Fairbanks, Alaska and the Navajo Nation. Shondiin is Diné (Navajo) and Tleeyegge Hut'aane and is of the Bitterwater Clan and born for the Koyukon Athabascan people. Shondiin's childhood was influenced by the subsistence lifestyle of fishing and living in a rural Alaskan village as well as spending time on the reservation with her family. There, she learned values such as appreciation for the land, preservation of traditional knowledge, and the responsibility to continue her heritage for the next thousand years.  
Shondiin is currently a senior at Northern Arizona University studying Creative Media and Film with an emphasis in Documentary and a minor in Ethnic Studies. After spending time away from my community, Shondiin plans to return to Alaska for my master's degree in Arctic and Northern Studies at the University of Alaska Fairbanks with a concentration on Arctic Politics and Policy.
Shondiin enjoys traveling and learning about other Indigenous communities. She also enjoys learning about her heritage and participating, with her family, in subsistence activities such as fishing, berry picking, and harvesting sheep on the Navajo Nation.