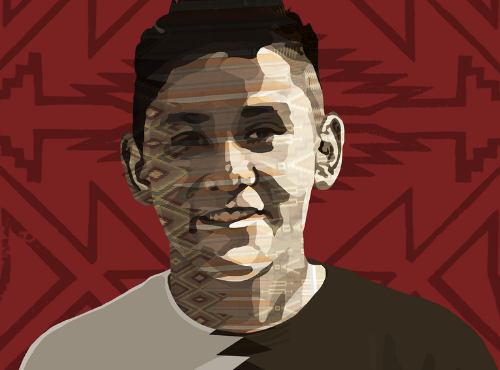 DARBY RAYMOND-OVERSTREET
DINÉ / NAVAJO NATION
AGE: 24
Darby Raymond-Overstreet is a Diné digital artist who was born in Tuba City, AZ, grew up in Flagstaff, AZ, and currently lives in Santa Fe, NM. All of her work is heavily inspired by and derived from Traditional Navajo textiles woven in the late 1800's-1950's. Through her practice of working with these designs through portraiture, she translates the artistry of the traditional woven rugs into the format and medium of digital drawing, in effort to reflect the concept reconciling the values of indigenous traditionalism and current society's modernity by virtue of the condition of being a product of both.
This piece is a portrait of my brother who, to me, embodies the hope and strength that Generation Indigenous represents. I created his portrait with 3 patterns, embodying different characteristics of Gen-I. The leftmost is a vibrant and energetic saddle blanket design representing the initiative and persistent energy that Gen-I has to uplift its communities. The middle is a traditional banded design, representing the respect, and thoughtfulness that Gen-I possesses by being grounded in their elders' teachings. The rightmost design is a storm-pattern design representing the leadership and dedication that Gen-I will continue to provide to their communities.
Darby was 19-24 prize winner and the overall Grand Prize winner for the 2018 Creative Native Call for Art. Her submission is featured on the cover of the 2018 State of Native Youth Report.