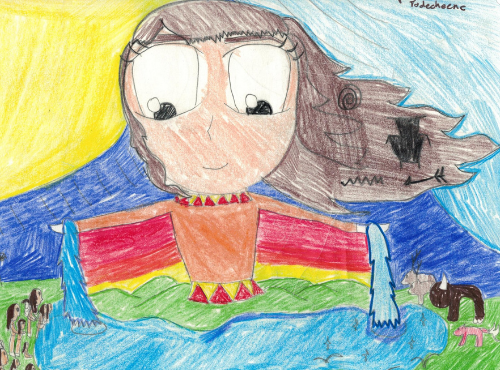 HAPAN
CROW CREEK SIOUX TRIBE/DINE NATION
AGE: 10
My name is Hapan (Second Born Daughter) and I am Lakota, Dakota, Cheyenne, Arapaho, Hopi and Dine', but I am enrolled with the Crow Creek Sioux Tribe. I am 10 years old and am in the 5th grade at the Lapoint Elementary School. My parents are Iktomiwas'tewinyan Favel and Lonnie Favel and I have two sisters and one brother. We all reside on the Uintah and Ouray Reservation also known as the Northern Ute Reservation. I want to be a writer and I currently write comics for my classmates to enjoy.
To be Generation Indigenous means to be born strong. You are born worthy. Indigenous is small, compared to the feeling and the connections that come with being born Indigenous. We are a sacred part of the sacred hoop my family talks about. We are protectors, we are providers, we are our culture and our language. We are courageous. We are resilient. My drawing represents all life and life no matter the form, is sacred and has a purpose.
Hapan was the 2018 Creative Native 10-14 age category prize winner.