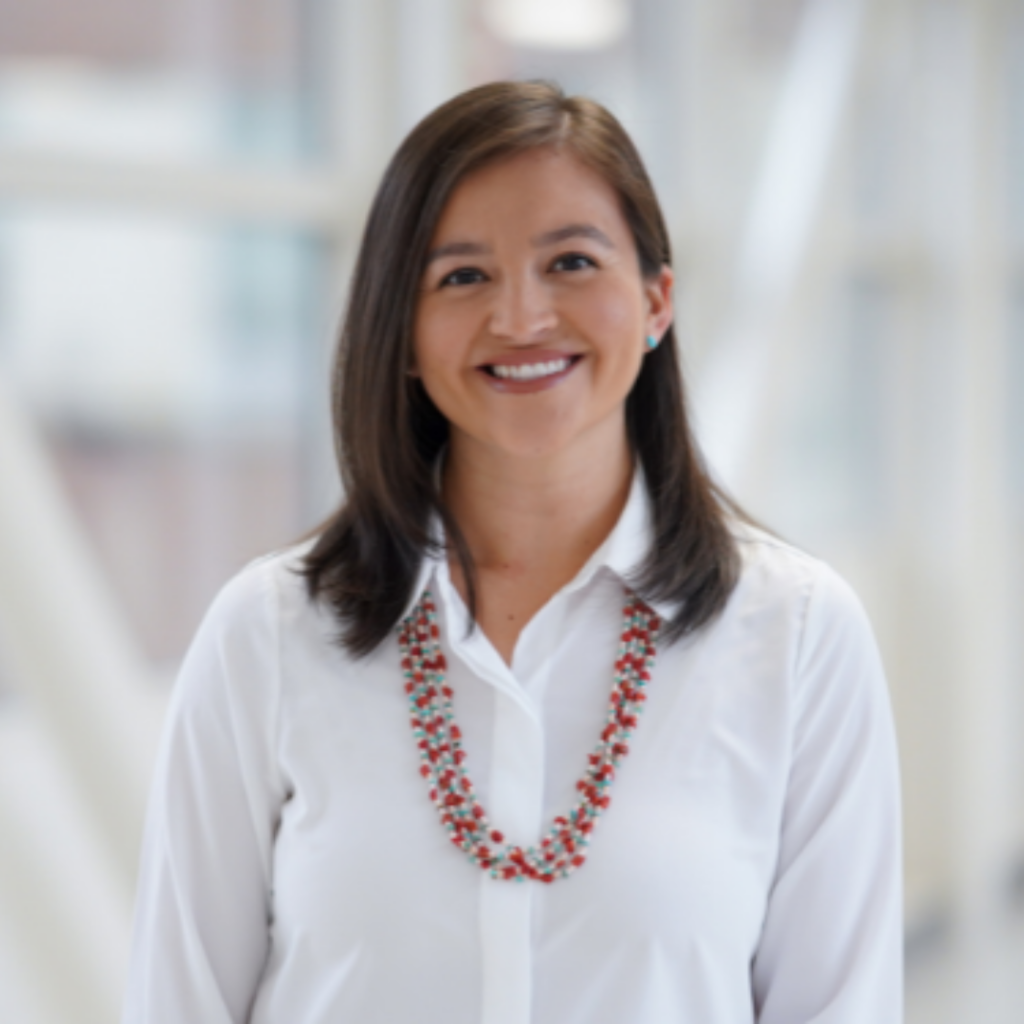 Josie Raphaelito, MPH
Josie Raphaelito is a passionate advocate for tribal public health. She has ten years of experience building relationships with tribal nations and citizens through community engagement strategies and tools to elevate those perspectives of local strengths and challenges into local, regional and national discussions for change.
Mrs. Raphaelito is German and Swedish, born for the Meadow People Clan, her maternal grandfather is German, her paternal grandfather's clan is of the Salt Water Clan, this is how she is Diné, Navajo. She was raised in Pine Hill, New Mexico, on the Ramah Navajo Reservation. After graduating from Pine Hill High School, she studied Athletic Training at the University of New England in Biddeford, Maine, where she completed a summer fellowship on health policy at the Centers for Disease Control and Prevention. Mrs. Raphaelito continued her public health path in Washington, DC at the George Washington University where she earned a Master of Public Health degree in 2011.
While in graduate school, she interned at both the National Congress of American Indians and the National Indian Health Board. Her education and passion for suicide prevention and health promotion made her a great fit to join the policy program founded by U.S. Senator Byron Dorgan (ret.) – the Center for Native American Youth (CNAY) at the Aspen Institute. Josie shaped the development of the program during her six years at CNAY, including in her roles as Program Coordinator, Program Associate, Senior Program Associate, and Senior Program Manager. She led CNAY in program development, evaluation, grant proposal and report writing, event planning, and served as an expert on issues of suicide prevention, Two-Spirit and LGBTQIA+ people, and youth engagement, speaking at conferences and engaging in other outreach and educational activities in tribal communities nationwide.
Mrs. Raphaelito's contributions to Indian Country have been acknowledged by her peers at the National Council of Urban Indian Health with the National Impact Award, and she is a recipient of the 40 Under 40 Award from the National Center for American Indian Enterprise Development.
Josie moved to Buffalo, NY in 2017 with her wife to serve as an independent consultant supporting prevention efforts in Indian Country. It was through this work that she was invited to serve as a Senior Fellow with Western States Center to develop the Indigenizing Love: A Toolkit for Native American Youth to Build Inclusion. Josie continues to serve as a Senior Fellow to further support work around the toolkit implementation. In 2018, Josie joined the Seneca Nation Health System as a Health Planner to support grants management and policy development efforts across divisions. Today, Josie serves as the Research Project Coordinator for the new Center for Indigenous Cancer Research at Roswell Park Comprehensive Cancer Center. This new research center aims to honor the values of Indigenous Knowledge, sovereignty, and respect for the environment through community-driven partnerships, collaborative research, and education to reduce the impact of cancer on Indigenous communities, regionally, nationally, and internationally.