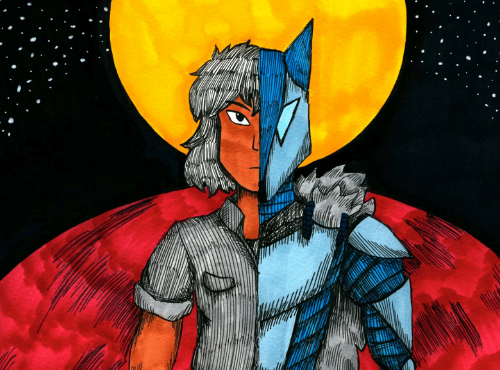 KAYLA SHAGGY
NAVAJO, ANNISHINABE
AGE: 24
Kayla Shaggy was born  in Shiprock, New Mexico. She graduated from Fort lewis College in Spring 2017 with a Bachelor's Degree in Art. She is currently working on art and her comic book, "The Sixth World". She loves mark making and working primarily with paper and ink, photography, and 3D elements as well.
The following submission is my comic book that I am currently working on the third issue for. It is called The Sixth World and is about a young Navajo woman named Dinora Redhorse and her experiences on Mars. In the future, nuclear war has destroyed Earth, forcing humanity to live in space. The story combines Navajo mythology and science fiction.
I love hearing and reading about the traditional Navajo stories from elders and others in my tribal community. I also loved seeing different renditions of the figures within these stories, like the Monster Slayer twins, Changing Woman, and of course, Spider Woman. To me, this is what I think she looks like. The inspiration was that, upon thinking of Spider Woman and her skills within weaving, reminded me of my grandmother who worked on a rug before she passed away.