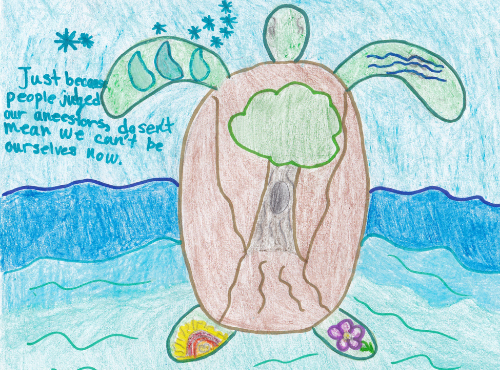 LOZEN
CHEYENNE, BLACKFOOT, YAQUI, CHICHEMECA
AGE: 9
Lozen is an Indigenous 9-year-old artist. Her artistic talents and love for art began at the early age of 1 year old. Since then, art has flourished into her life's passion. Lozen uses her art to help other children express themselves and to relearn their ways. In her 9 years, Lozen has been selected to participate in two district-wide art shows and in 2018 won the grand prize for her school's art competition. Lozen was also invited by a world renowned Yaqui artist to include her work in a state-wide art piece.
My piece is about mother earth and how we need to help her and remember that we're all special in our own ways and It's going to take all of us to make a better world for the future generations to come.
Lozen was the 2018 Creative Native 5-9 age category prize winner.