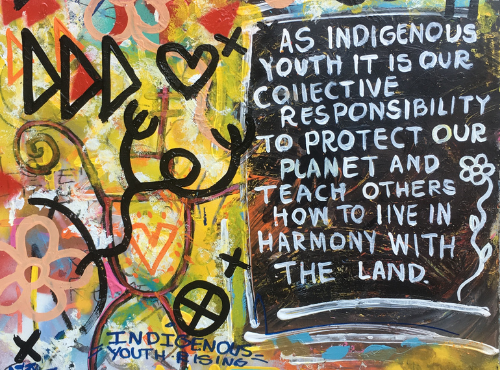 RIVER GARZA
I'm a self taught mixed media artist. My work has been greatly influenced by my upbringing in Los Angeles and my connection to my tribal community in LA. The influence of my family's Tongva and Mexican heritage is visible in my work. Growing up within Ti'at Society and participating in traditional maritime traditions greatly shaped my sense of understanding while being raised in the urban environment. I believe the duality of my upbringing is reflective in the narrative of my art.
The concept behind this pieces is to reflect inter-tribal unity and emphasize the bright future indigenous people have if we continue to work together. I use traditional and urban native imagery to reflect strength in solidarity. The wording is a brief message that reflects the indigenous philosophy of reciprocity and the responsibility of people as stewards of the land. The message attempts to emphasize the fact that it is important for us native folks to share some of our traditional knowledge and experience with others in order to create a more just/caring society.
The message behind this piece is that we as native/indigenous youth all have a voice and the power to create change. The words in this piece are aimed at helping one realize their personal power and greatness. It is our responsibility to work collectively in the spirit of our ancestors to create change. Real power and change can only happen if we work together in solidarity and value our varying perspectives, beliefs and attitudes. The more understanding and willing we are to work together the more power we have.