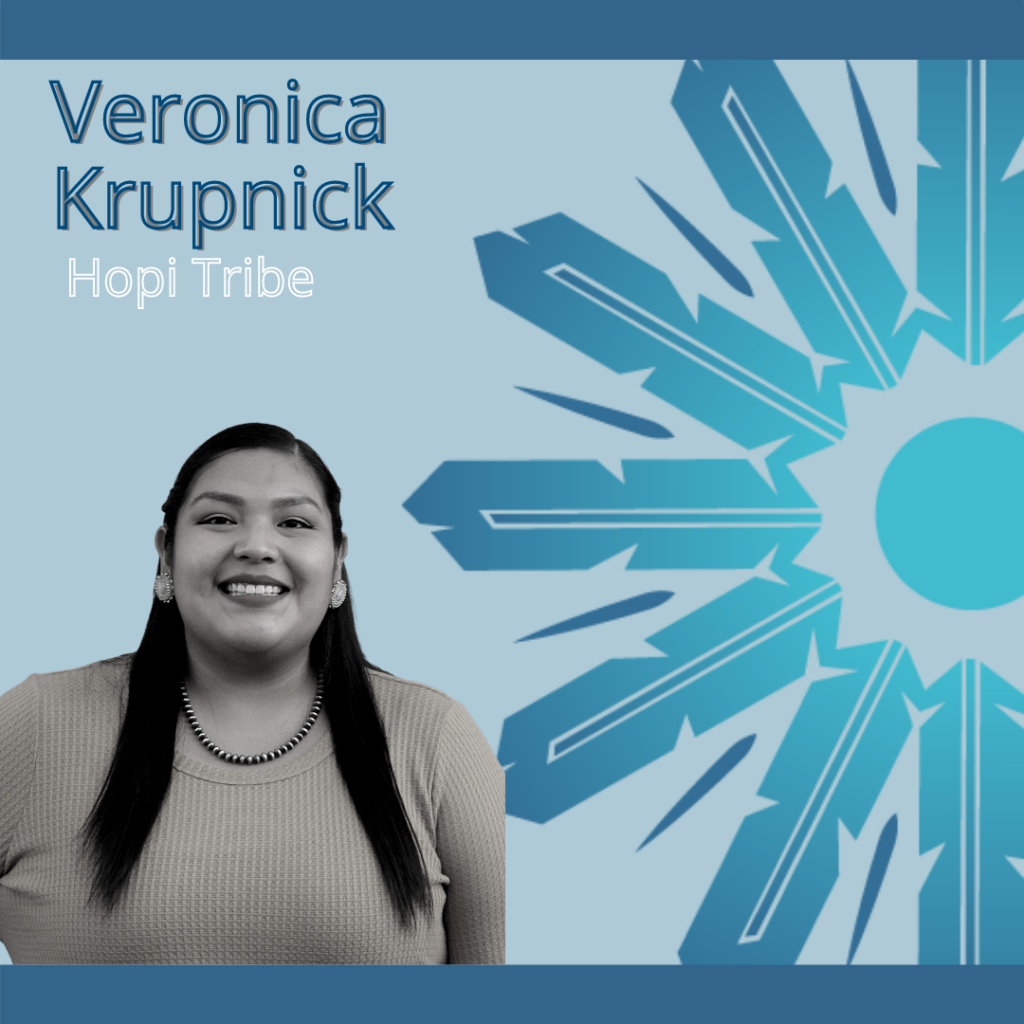 Veronica Krupnick 
Veronica Krupnick (she/her/hers) is a member of the Hopi Tribe of Arizona and also has Jemez and Navajo heritage. Veronica is currently attending New Mexico Highlands University, pursuing a master of social work degree. She has spent the last several years, following her passion for supporting and working with youth, as well as establishing herself as a local, state and national young leader within child welfare. Veronica is the Program Coordinator for the Mentorship, Advocacy and Peer Support Program at CASA First. Through her advocacy, she is able to use her lived experience with foster care and adoption to connect and relate to the young people she works with, as well as to provide authentic insight and lived experience perspective to service providers in the community.  
Veronica also currently serves as a Community Facilitator for Youth Programming with Tewa Women United, and a member of the National Foster Youth and Alumni Policy Council, the New Mexico Partners and the Child Welfare and Racial Equity Collaborative. Her previous accomplishments include serving on the New Mexico House Joint Memorial 10 Task Force and the Youth Engagement Team for the Administration for Children and Families. She was selected as a delegate from New Mexico at the National Foster Youth Institute's 2021 Congressional Convening and was previously recognized by FosterClub as an Outstanding Young Leader in 2019. Veronica aspires to be a role model as well as a supportive and positive adult for other children, youth and young adults in the child welfare system and communities of color. 
In addition to advocating for change in the foster care system, Veronica is passionate about access to higher education and mental health services, racial justice, and cultural preservation.  
Why is Veronica passionate about transforming the foster care system? 
"My passion stems from my hope, which is that one day there will not be a need for a foster care "system", because in its' place will be community, resources, and networks of support centered in compassion, humility, prevention, and healing. My hope is that the transformation of this system will be so radical, we won't be able to call it a "system" at all. I am an advocate for amplifying the voices of those with lived experience, because I believe our individual and collective stories, experiences and voices hold power, wisdom and solutions to truly make this transformation possible. I am passionate and dedicated to this work because I believe foster care and the separation of families is preventable if we support communities and families in their holistic well-being and, ultimately, their healing."