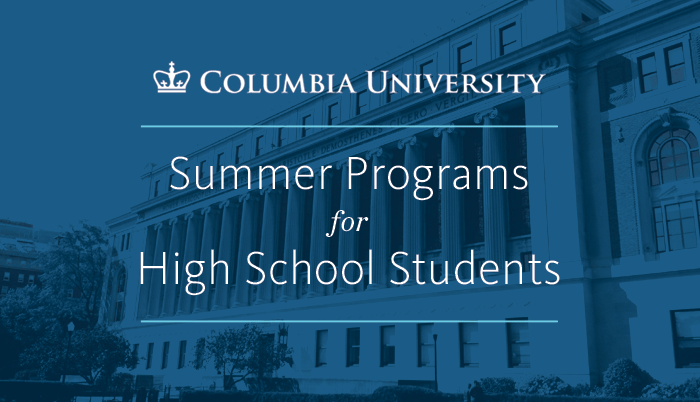 CNAY Scholar Maria Walker Spends Summer at Columbia University
The Center for Native American partnered with Columbia University to offer a full tuition scholarship for one Native student to attend the Columbia Summer Program. The program enables students to choose a field of study and explore the topic in-depth for six weeks on campus.
This year's CNAY-Columbia scholar was Maria Walker, a high school junior from the White Mountain Apache Tribe. Maria chose to study Business, Finance and Economics while at Columbia. Through the program, she learned specific calculations, skills and concepts that would help her begin and advance a career in business and related fields. Maria had been taking finance classes at a local community college, and Columbia was a great supplement to explore her interests.
Maria said that New York was a lot different from her hometown in Arizona. "I'm used to pine trees, rivers, and NO traffic," she laughed. "In New York, there were so many skyscrapers and buildings, and everyone and everything was really fast-paced!" Maria joined her classmates for field trips hosted by Columbia, which helped her explore New York City and see what it's like to live there. Now, she's considering attending college on the east coast.
Since the program is an on-campus opportunity spanning six weeks, Maria says that she got the full college student experience. "I thought you just go to school and that's it," she said. "I had to adjust to doing everything on my own. I had to wake up, have breakfast, and make sure I got to class on time. I was really in charge of my own life."
Even with the many transitions involved in participating in the program, Maria thrived at Columbia. She formed a great relationship with her professor, who was so impressed by Maria's curiosity and work ethic that he wrote her a recommendation that she can use to apply for colleges, scholarships, or other opportunities. Maria says that connections like these and the friendships she formed with classmates were huge highlights of her Columbia experience.
Maria highly recommends the Columbia Summer Program to Native students. "This isn't an opportunity that everyone gets," she says. "The application is tough, but in the end it's all worth it. It's a life experience that many Natives don't get because of the cost of going to school in another state, and the cost of college in general." Maria says that she didn't expect to win the scholarship and be recognized by schools like Columbia. Now that she's completed the program, she's been contacted by other schools and universities congratulating her on her academic achievements and encouraging her to consider applying to their institutions. Click here to read Maria's story in her own words.
We at the Center for Native American Youth are very proud of Maria's accomplishments and look forward to all that she will go on to achieve! Congratulations, Maria!