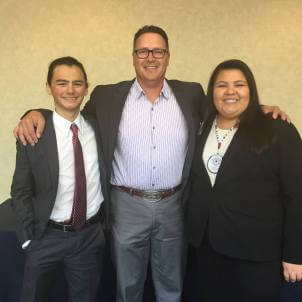 2017 Champions for Change Speak at Casey Family Programs Meeting with Tribal Leaders
Tuesday, May 2, 2017, Baltimore, MD — 2017 Champions for Change, Nancy Deere-Turney (Muscogee (Creek) Nation) and Sam Schimmel (Kenaitze/St. Lawrence Island Siberian Yupik), along with CNAY staff, attended Casey Family Program's National Tribal Leader Meeting held at the Marriott Inner Harbor Camden Yards.
The topic of the meeting was "Safe Children. Strong Families. Supportive Communities."
That morning, CNAY Founder and Chair Senator Byron Dorgan (ret.) attended as a special guest, giving a short address on how to best navigate and gain leverage within the federal government to address Tribal Nation needs especially with the new White House Administration. Senator Dorgan stressed the importance of finding and culminating "champions" for Indian Country within Congress and holding elected officials accountable for meeting the needs of their constituents.
Following Senator Dorgan's address, Champions for Change Nancy and Sam participated in a panel discussion, "How Youth can play an Important Role in Building a Nation and Strengthening Families," to speak about the importance of engaging Native youth in finding solutions for tribal communities. Both Nancy and Sam highlighted that Native youth are not only the leaders of tomorrow, but leaders in the community today, and are valuable assets to their communities. As always, these inspiring youth were met with a resounding round of applause from the audience, many of whom were eager to connect with them afterwards.
Casey Family Programs is the nation's largest operating foundation focused on safely reducing the need for foster care and building Communities of Hope for children and families across America. CFP is one of CNAY's strongest partners and supporters of our Champions for Change program. Together, we are identifying meetings and other opportunities to directly engage Champions in CFP's work that focuses on elevating the voices and perspectives of Native youth.