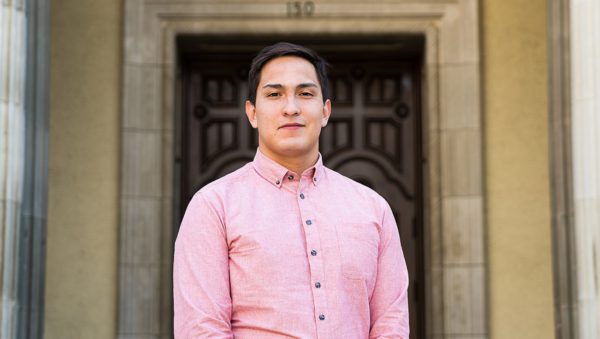 Champion for Change Awarded Truman Scholarship
April 12, 2017 – Washington, DC. Rory Taylor (Pawnee Nation of Oklahoma), a Center for Native American Youth (CNAY) Champion for Change, has just been named a recipient of the prestigious Harry S. Truman Scholarship award.
The Truman Scholarship is a highly competitive program designed for college juniors who have demonstrated excellence and leadership in public service.         The Truman Foundation seeks to assist young leaders in garnering the skills and credentials necessary to be successful public service members. After a rigorous application process involving essays, interviews, and recommendations, the Foundation awards 50-60 young leaders a scholarship for their graduate education in public service.
"We first came to know Rory through his work to promote higher education among Native youth, which earned him a place in the 2015 class of Champions for Change," recalls CNAY Executive Director Erik Stegman. "Since then, we've watched Rory take on new leadership roles with confidence, maturity, and incredible focus. This latest accolade is more than well-deserved, and will further strengthen his skills as a young leader for tribal communities."
"First and foremost, I have to thank all the people who have both directly and indirectly helped get me to this point," said Rory. "The Truman Scholarship is a long and arduous process and those who helped me craft my application, provide emotional support, and gave insight into the Truman process have been invaluable. I am honored not only to be awarded the Scholarship for the State of Minnesota, but also to continue a legacy of Indigenous participation with the Truman Foundation. I look forward to helping serve and guide successive generations of Indigenous Truman applicants and to help shine a light on innovative and inspiring work happening in tribal and urban Indian communities."
Since being recognized by the Center for Native American Youth at The Aspen Institute as a Champion for Change in 2015, Rory Taylor has worked as an         intern at both CNAY and at the White House Office of Intergovernmental Affairs. While at the White House, Rory worked with the tribal government liaison to help the Obama Administration fulfill its commitment to the 567 federally-recognized tribal nations in the United States. As a junior at Pomona College, he worked to create the new first-year Indigenous Peer Mentoring Program and develop a proposal for an Indigenous Studies program.
"Rory's achievement is yet another testament to the impeccable talent of our Champions for Change," remarked CNAY Founder Senator Byron Dorgan (ret.). "The Center for Native American Youth is proud to celebrate this fantastic news, and congratulates
Rory on this considerable accomplishment." Rory is currently studying in Geneva, Switzerland and conducting research on the United Nations Declaration         on the Rights of Indigenous Peoples. He will return to Pomona to complete a thesis on this topic in the fall of 2017.