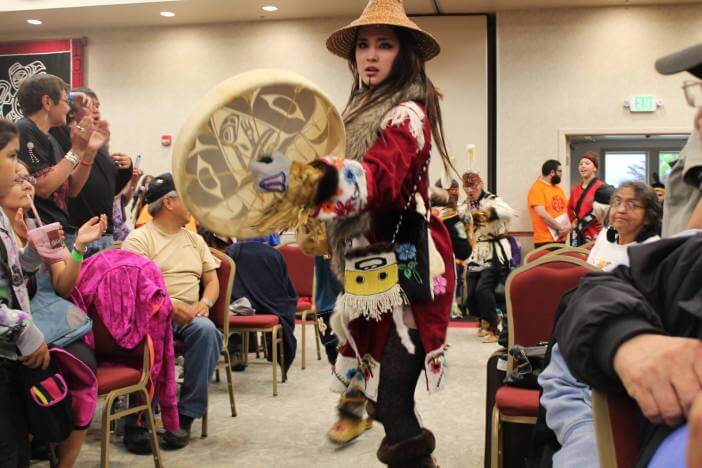 Spotlight: Gen-I Youth Ambassador Maka Monture
Meet Maka Monture, Gen-I Youth Ambassador. Maka, 23 years old, is Tlingit and Mohawk from Yakutat, Alaska, and currently resides in Anchorage.Maka has been involved with environmental issues since high school and is a recipient of various awards and keynote speaking opportunities for her efforts as an environmental activist.
Maka helps manage the Arctic Youth Ambassadors Program, which brings together diverse youth from across Alaska to build awareness about life in the Arctic. By working with youth ambassadors and the US Chairmanship of the Arctic Council, Maka helps share local and global perspectives on sustaining communities and cultures, as well as the changing Arctic environment.
Maka recently returned from a two week trip to New Zealand for the He Manawa Whenua Indigenous Research Conference on the "water pool" of Māori knowledge. She gave a roundtable presentation entitled, "Haa Tuwunáagu Yís/For Healing Our Spirit: Tlingit Practices of Perseverance and Healing", which focused on the importance of traditional Indigenous youth practices — like the woman's coming of age ceremony — in fostering resilience. The dialogue also generated perspectives about the intersection of strengthening the physical body and spirit in contemporary Indigenous health practices.
In addition to her environmental advocacy and engagement with youth, Maka was recognized as a state champion of storytelling by the Alaska Native Oratory Society. She wants to continue using social media to share writings, photographs, and other media that highlights Indigenous rights, Native fashion, and social justice movements, such as the Protect the Sacred, Mauna Kea, and the movement against the Dakota Access Pipeline.
Maka holds a Bachelor's of Science in Applied Indigenous Studies with a minor in Anthropology from Northern Arizona University. She is a Gates Millennium Scholar, and is finishing up her second year of a Master's Degree in Public Health at the University of Alaska Anchorage, where she'll graduate in the Fall 2017. She is also a performer with the Yakutat Mt. St. Elias Dancers.