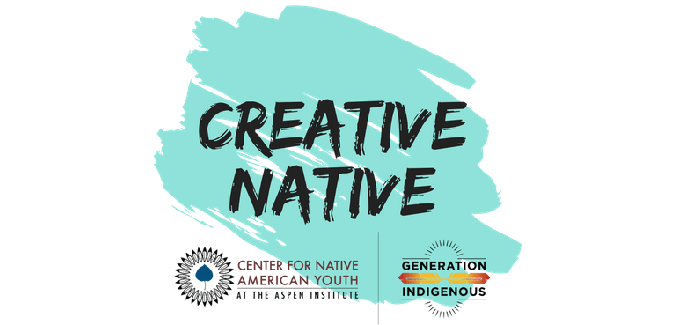 2018 Creative Native Art Contest Winners
Congratulations to all the category winners of this year's Creative Native art contest! Stay tuned to CNAY's website and social media for updates on our forthcoming online art gallery, where all submissions will be featured for the public to enjoy.
Lozen 
9 years old. Cheyenne, Blackfoot, Yaqui, and Chichemeca
Sacramento, California
---
Lozen is an Indigenous 9-year-old artist. Her artistic talents and love for art began at the early age of 1 year old. Since then, art has flourished into her life's passion. Lozen uses her art to help other children express themselves and to relearn their ways. In her 9 years, Lozen has been selected to participate in two district-wide art shows and in 2018 won the grand prize for her school's art competition. Lozen was also invited by a world renowned Yaqui artist to include her work in a state-wide art piece.
Hapan
10 years old. Crow Creek Sioux Tribe/Dine Nation
Ft. Duchesne, Utah
---
Hapan (Second Born Daughter) is Lakota, Dakota, Cheyenne, Arapaho, Hopi and Dine', and enrolled with the Crow Creek Sioux Tribe. She is 10 years old and a 5th grade student. Hapan lives with her parents, two sisters, and one brother in Ft. Duchesne, Utah, on the Uintah and Ouray Reservation, also known as the Northern Ute Reservation. Hapan wants to be a writer and currently writes comics for her classmates to enjoy.
Louisa
15 years old. Muscogee Creek
Okemah, Oklahoma
---
Louisa is 15 years old. She is Deer clan and her tribal town is Fishpond. She's the granddaughter of Hickory Ground. Sewing, painting, knitting and making traditional clothing are what Louisa enjoys the most. For her, art is medicine — she says it has saved her and gives her a healthy outlet. Louisa believes that through art, we can share and keep our cultures going. Louisa created an art program called Heleswn Nakvhakv (Art is Medicine) to show youth that art and culture are connected and can be healing.
Darby Raymond-Overstreet
24 years old. Diné/Navajo Nation
Santa Fe, New Mexico
GRAND PRIZE WINNER
---
Darby is a Diné digital artist who was born in Tuba City, AZ, grew up in Flagstaff, AZ, and currently lives in Santa Fe, NM. All of her work is heavily inspired by and derived from traditional Navajo textiles woven in the late 1800's-1950's. Through her practice of working with these designs through portraiture, she translates the artistry of the traditional woven rugs into the format and medium of digital drawing, in effort to reflect the concept of reconciling the values of indigenous traditionalism and current society's modernity by virtue of the condition of being a product of both.