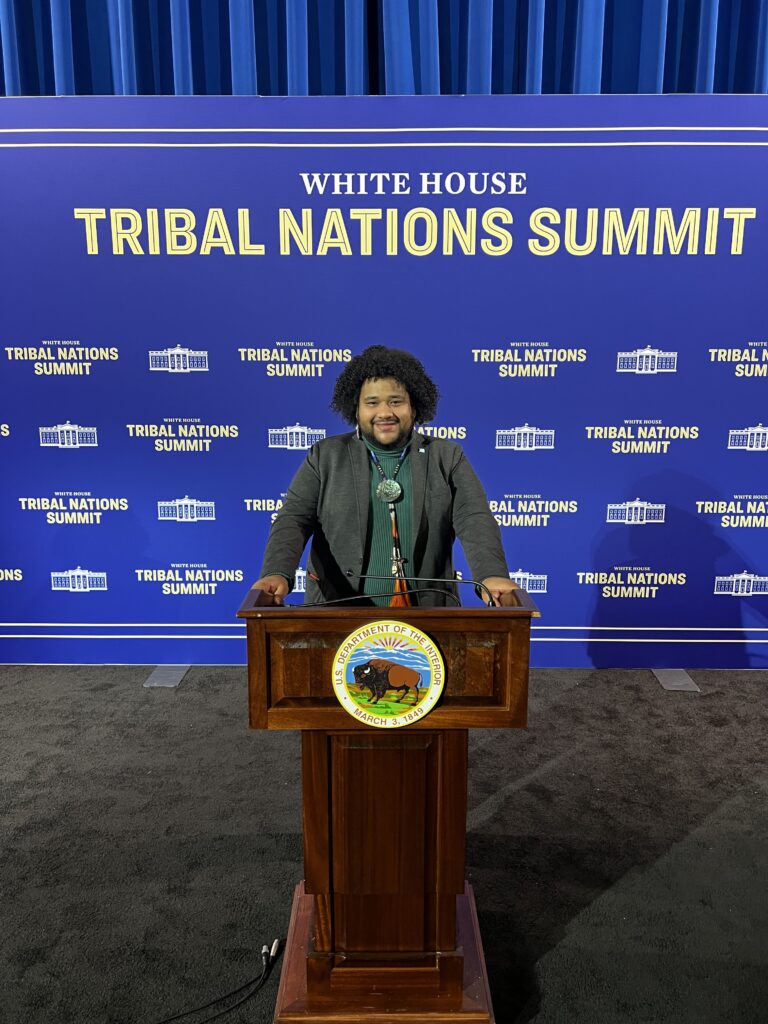 Attending the White House Tribal Nations Summit
By Anthony Tamez Pochel
Coming to Washington, DC, you can never be sure what you'll get. You might run into a cabinet secretary, have a quick conversation about tribal sovereignty with a senator, or even have dinner with congresspeople. Few people in this country have access to DC, so when you do, make use of the opportunity and be prepared to battle tenaciously for your community. If it wasn't for my family, my community, The Chi-Nations Youth Council, and The Center for Native American Youth I would cease to have opportunities such as attending the Biden-Harris White House Tribal Nations Summit.
The 2022 Summit, which took place on November 30 and December 1 at the Department of the Interior in Washington, DC, built on the 2021 Summit by examining the resources available to Tribal communities to serve their citizens and strengthening nation-to-nation relations. Indian Country had the opportunity to witness the present Administration's dedication to Tribal and intertribal communities, from recent announcements of important policy initiatives to the continued fight for things like Indian Health and the Indian Child Welfare Act.
My experience, in my opinion, was everything but conventional. Many of the young people who were bought by The Center for Native American Youth and Casey Family Programs attended a welcome reception hosted by Secretary Deb Haaland at the Department of the Interior to start off the week-long event. My thoughts began to speed as I rode the elevator up to the reception, thinking about the people I would meet, the artwork I would see, and the new family I would soon create. I'm the social butterfly of my family; which usually depends on the situation, and this was one of those situations that were a bit intimidating, but there was something about that moment that made all of my anxiety, worry, and unease about approaching strangers vanish. What was it that could have done that? The young people's elevated energy in the space? The wall-to-ceiling Native art exhibit? Or perhaps it was just the simple fact that I entered a place where I have not been historically welcomed and was met with warmth and a strong sense of community. Whatever the reason, I felt grateful.
That evening was replete with affection, camaraderie, and an overwhelming quantity of hints of people battling for their tribes in creative ways. Among the tribal leaders I met was Marshall Pierite, Chairman of the Tunica-Biloxi Tribe of Louisiana. Because of the large number of Tribal Members on my hometown's South and West sides, I quickly learned of his strong links to the city of Chicago. We exchanged pleasantries, shared the work we do in our communities, and discussed how we may be of help to one another. At the end of the conversation, we swapped phone numbers to stay in movement together. This interaction is thanks to Allison Binney, Board Chair of the Center for Native American Youth, who is constantly going out of her way to make meaningful connections to and for Native youth, and as a former Senate Staffer now practicing Native Attorney, I'm proud Native youth have her in our corner always at the ready. I'm looking forward to seeing what comes of my new relationship with Chairman Marshall Pierite and the movement building that is already beginning for Indian people.
With the reception in the rearview mirror, which the Native youth in attendance wonderfully crushed, we set out early on November 30th for day one of the summit The only anticipation I had was the overwhelming power that a Summit like this one would deliver with some of Indian Country's most prominent leaders and ardent supporters coming from the Federal Government. The sensation of being in a setting that emanated the force of Indian Country was bizarre, and you had to be there to experience it. It is neither an emotion nor a feeling that is frequently felt, especially by Native youth. It's difficult not to think about the sacrifices that have been made in your name to be in such a setting, from our ancestors to the staff members and all the way down to our families, who have given so much of themselves for Native youth to be the greatest leaders we can be to give back to our people. Without a doubt, the Native youth in attendance understood the importance of being in these settings and approached their responsibilities with a good heart and a pleasant perspective. The first day was packed with speakers from various Federal agencies, Tribal Nations, and even the President and Vice President. The most compelling and heartfelt was a fireside chat about mental health featuring United States Surgeon General Vivek Murthy and the Center for Native American Youth's very own Isabel Coronado, who is the current Vice Chair of the Youth Advisory Board. To see one of us up on the same stage where the President and Vice President spoke was absolutely critical to the movement Native youth are building, which is not surprising given Isabel's staunch support for Native youth and Indian country as a whole when it comes to educating people on the inequities the criminal justice system employs in and on Native communities. As the first day came to a close, I noticed Native youth dispersed throughout the room, some taking careful notes and others nodding in agreement on particular topics or ideas that were raised.I couldn't help but think Native youth came to alter the game for the better, and Tribal leaders can rest certain Indian country is in excellent hands because Native youth aren't the leaders of the future, we're the leaders of now and what's to come.
With the second and final day of the summit underway, many youth were especially excited to hear Secretary of the Interior Deb Haaland, Secretary of Homeland Security Alejandro Mayorkas, and United States Associate Attorney General Vanita Gupta participate in an armchair conversation with tribal leaders about public safety and justice. We learned about numerous nations' lack of restorative methods, as well as what the federal government is doing to proactively protect tribal nations and courts. Equally excited were the youth who attended the final Tribal leader fireside chat about Indigenous Knowledge.The most exciting aspect of day two was Secretary Deb Haaland taking time out of her hectic schedule to visit with a couple of youth attendees in her office. It was a full-circle event for many of us. We began the week in the Secretaries office, which was bustling with Members of Congress, Tribal leaders, and youth, and we are now wrapping up our time in DC in the Secretaries office, which is still buzzing with activity, but with youth leaders huddled up in the middle of the office sat comfortably in the leather-bound seats exchanging stories about the movement just as you would in your aunt's house.
Are you interested in writing a blog with CNAY? Contact Communications Coordinator, Cheyenne Kippenberger at Cheyenne.Kippenberger@aspeninst.org.