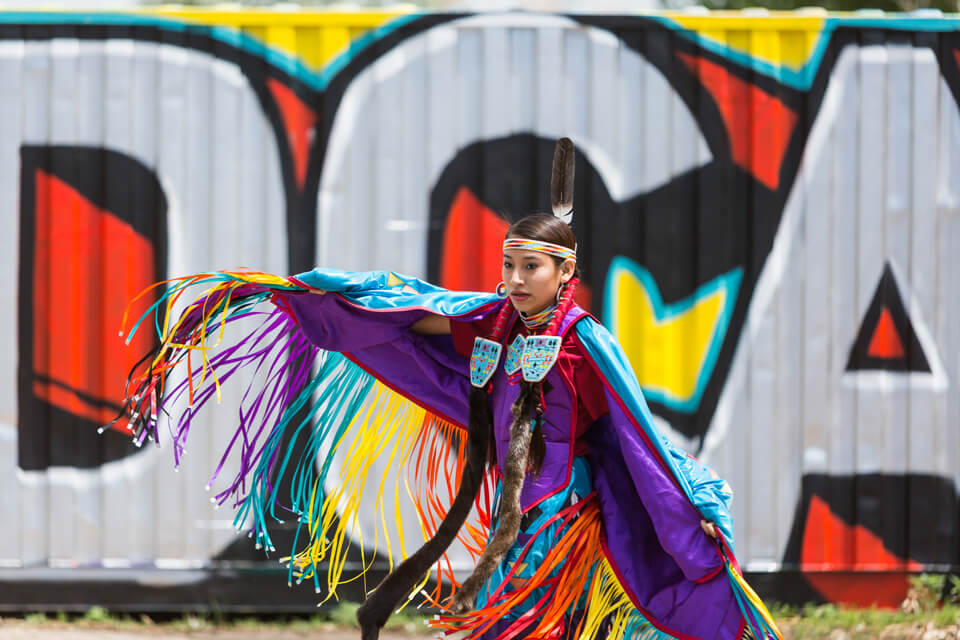 Cheyenne River Youth Project® Embarks On "Champions for Change" Pilot Project with Center For Native American Youth
Aspen Institute senior leadership was invited to travel with CNAY to visit a Native youth program in a reservation community.
EAGLE BUTTE, SD (July 18, 2017) — The Cheyenne River Youth Project® has announced that it is joining forces with the Washington, D.C.-based Center for Native American Youth at the Aspen Institute to create an exciting one-year youth pilot project on South Dakota's Cheyenne River Sioux Reservation. Modeled on CNAY's national "Champions for Change" program, this local initiative will be designed to recognize youth leaders within the community, and to elevate and support the voices and priorities of those young people.
"Far too often, because of their circumstances and where they come from, our youth are put into a box," said Julie Garreau, CRYP's executive director. "They believe this is who they are, and who they will become. But we imagine them out of that box, we give them the tools to break down those walls, and we help them see what they can do, what's possible, what's attainable.
"This partnership with CNAY means a great deal to us," she continued. "It's a natural extension of what CRYP has been doing for nearly 30 years… providing our kids with options, opportunities, and ultimately access to a healthier, more vibrant future."
CNAY and CRYP will work together to manage allocated funds and evaluate the project after the first year. Afterward, the two organizations will look toward developing a sustainable local program and a larger national technical assistance program.
Earlier this year, the youth project's staff attended CNAY's 2017 Champions for Change Recognition Week in the nation's capital. According to Garreau, the experience was an eye-opener.
"During my time in Washington, D.C., I witnessed a remarkable transition," she reflected. "The young people carried themselves with confidence, and spoke with such assurance. They clearly had received exceptional guidance from CNAY—it was extraordinary to see."
As a follow-up to Recognition Week, CNAY team members traveled to the Cheyenne River reservation. During that meeting, the two organizations made significant progress toward creating their community initiative, gathering valuable input from elders, parents and young people.
"Our community members believe that recognizing and honoring our youth will help encourage positive actions, whether than means picking up trash along the sides of our roads, picking up groceries for our elders, or fostering health and wellness among their peers," Garreau said. "And, through this program, we'll be able to engage young people who aren't otherwise being recognized through academics and athletics."
CNAY is a policy program within the renowned Aspen Institute, and two Aspen Institute executives also made the trip to Cheyenne River—Elliot Gerson, the Aspen Institute's executive vice president of policy programs, and Donna Horney, the Aspen Institute's director of operations. This trip marked the first time Aspen Institute senior leadership has traveled with CNAY to observe a Native youth program on a reservation.
In his role, Gerson is responsible for the Aspen Institute's policy programs, public programs, and relations with international partners. Since CNAY was founded in 2011, he has expressed great interest in the Center's work and looked forward to joining the CNAY team on a visit to a tribal community.
"I was overwhelmed by the skill, dedication and passion of Julie Garreau and her team at the Cheyenne River Youth Project," Gerson said. "Their mission regionally and CNAY's mission nationally could not better align. The potential for our new partnership is enormous."
CNAY Executive Director Erik Stegman also joined the trip.
"Innovation is at the heart of this partnership with CRYP," Stegman said. "We have so much to learn from programs like this."
Retired U.S. Senator Byron Dorgan, CNAY chairman and founder, was not on site for the visit, but expressed his support for the new partnership.
"Our Champions for Change program has been enormously successful in developing young Native leaders and celebrating their efforts with the national recognition they deserve," he said in a statement. "We're proud and excited to share what we've learned from this program with tribal communities across the country, starting with the Cheyenne River Youth Project."
To learn more about the Cheyenne River Youth Project and its programs, and for information about making donations and volunteering, visit 
www.lakotayouth.org
. And, to stay up to date on the latest CRYP news and events, follow the youth project on Facebook, Twitter and Instagram.
---
The Cheyenne River Youth Project, founded in 1988, is a grassroots, not-for-profit organization dedicated to providing the youth of the Cheyenne River reservation with access to a vibrant and secure future through a wide variety of culturally sensitive and enduring programs, projects and facilities that ensure strong, self-sufficient families and communities. http://www.lakotayouth.org.

The Center for Native American Youth is a policy program of The Aspen Institute, located in Washington, DC. Created by former US Senator Byron Dorgan, CNAY believes Native American youth should lead full and healthy lives, have equal access to opportunity, and draw strength from their culture and one another. CNAY focuses on the resilience of Native youth and supports them through youth recognition, inspiration, and leadership; research, advocacy, and policy change; serving as a national resource exchange; and by developing strengths-based Native youth media opportunities. Learn more at do.ready-for-feedback.com/thrively-digital/cnay.