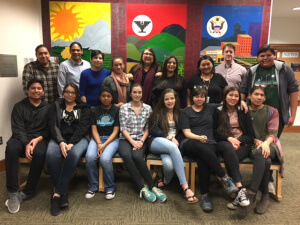 CNAY Joins Native Youth Visiting DC from Browning, Montana
On March 19, the Center for Native American Youth (CNAY) was invited to join a dinner conversation with 10 Native youth from the Blackfeet Nation visiting Washington, DC through a high school exchange initiative.
The exchange program was made possible through a partnership with the Sidwell Friends School in Washington, DC. The students from Montana organized their school's first Human Rights Club, and held fundraising efforts to make their trip to DC possible, which included Sidwell classroom visits; meetings with members of Congress on Capitol Hill; and the dinner with local DC Native American professionals.
CNAY joined partners like Tracy Goodluck from the Secretary's Indian Water Rights Office at the U.S. Department of the Interior; Jonodev Chaudhuri from     the National Indian Gaming Commission; and other influential leaders in Indian Country. Each guest introduced their academic background, described their journey to DC, and shared a brief description of their current work before answering students' questions.
CNAY looks forward to staying connected with the schools and highlighting their exchange initiative. Many thanks to Sidwell's Studio Art Teacher Anna Tsouhlarakis (Navajo Nation) for the invitation to participate!
---