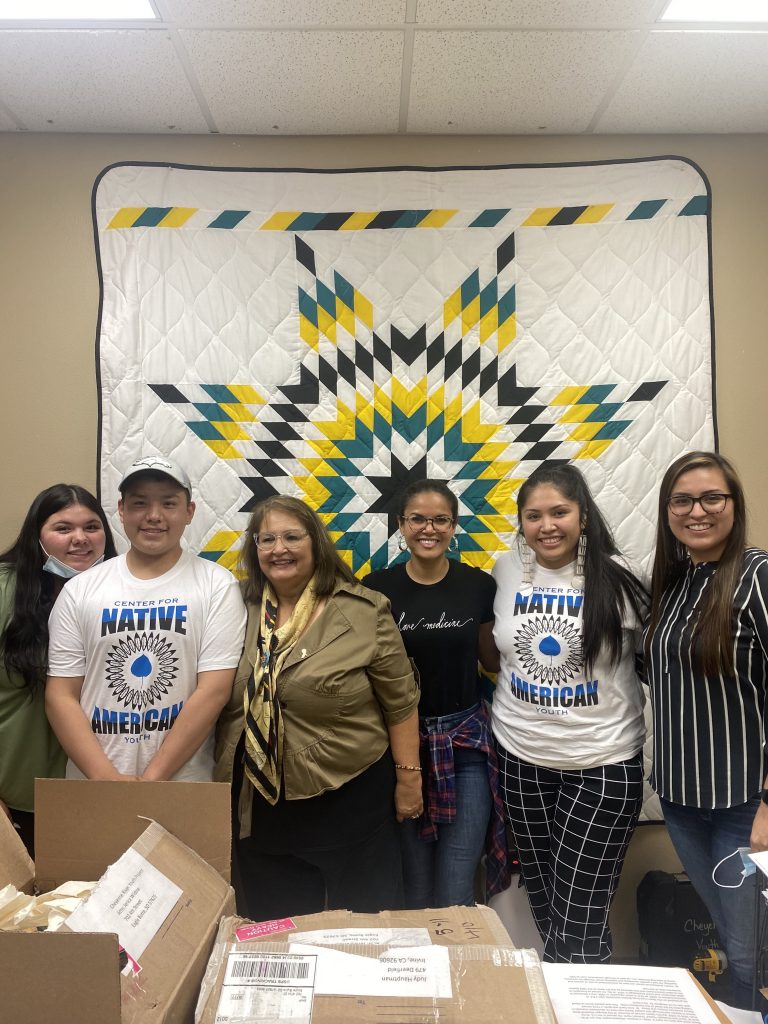 CNAY Visits Cheyenne River Youth Project
May 17-18, 2021 The Center for Native American Youth (CNAY) traveled to the Cheyenne River Youth Project (CRYP) in Eagle Butte, South Dakote located on the Cheyenne River Indian Reservation.
On the 17th, team CNAY arrived at the CRYP facility. Shortly after arriving, the team was invited on a tour by CRYP staff. Team members were able to see the beautiful community and murals around town created by CRYP, as well as the youth center where CRYP has grown a full garden. The Cheyenne River Youth Project has an amazing facility that includes a full kitchen where they create salsas and other items from the herbs and vegetables from their garden, that are put up for sale to the community. Their facility has computers for youth to use, a gym to support youth activeness, a drama room to encourage dance, and an art room to urge creativity. Furthermore, they have a library room filled with dresses, so that youth may pick one for prom, and a food truck to raise money for their youth and facilities. Walking their hallways is inspiring, as they are lined with educational posters of Indigenous leaders, movements, and important days in time. It is evident that the CRYP is a strong team of leaders pushing to ensure that the youth have a beautiful space to learn and grow.
Later that day, Dr. Kipp trained CRYP & CNAY staff on historical trauma. Both organizations were able to share meaningful conversations on how to provide quality spaces for youth, and how to mindfully share the knowledge of historical trauma with younger generations who seek to understand it more. After staff trainings, CNAY team members gathered to meet and conduct leadership trainings with the Cheyenne River Youth Champs, encouraging them to utilize their voices and sharing with them the importance of viewing themselves as leaders. Youth interacted with staff, coming up with a list of qualities they believed leaders possessed, and then were encouraged to see how they themselves fit into those roles. Through this exercise, youth were able to see how they have always been leaders and were provided with advice on how to continue to grow their leadership.
On the second day, staff from both CRYP and CNAY gathered to share a meal with the youth. After the meal, CNAY staff conducted public speaking and historical trauma trainings for the youth and helped them develop their community action projects, encouraging them to put their ideas down on paper. Youth came up with goals they had to help better their community, such as reducing substance use and encouraging individuals to get out and walk. They then came up with  ways they would like to implement their projects to reach those goals. Trainings ended with youth sharing what they had learned and how they hope to make positive change in their community. 
As the second day came to a close, team CNAY traveled back to their homes. A special thank you to the Cheyenne River Youth Project for opening their homes to CNAY staff and to the youth for sharing their stories, goals, and project ideas!