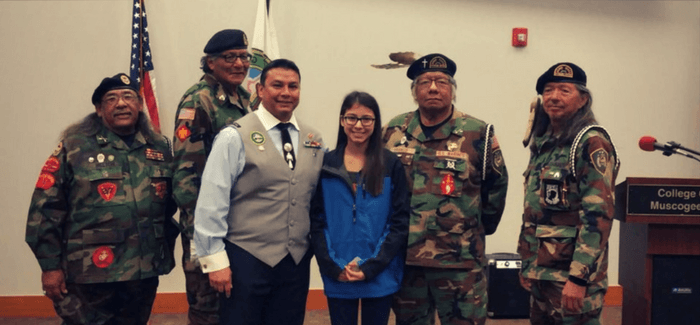 Gen-I Ambassador Jadyn Williams Honors Mvskoke Veterans with Tribute Video
Fourteen-year-old Jadyn Williams of the Muscogee Creek Nation in Mounds, OK is a member of the Glenpool Native American Student Association (NASA) and Mvskoke Youth Council. For her Gen-I Challenge, she has worked to honor, pay tribute to, and memorialize Mvskoke Veterans with her Muscogee Creek Nation Veteran Project. Jadyn created her first tribute video in 2015, which was featured on the Mvskoke Veterans Facebook page and has been viewed over 12,000 times to date. She also interviewed the Muscogee Creek Nation Honor Guard and created a video that was shared online by the Smithsonian National Museum of the American Indian (NMAI). Her latest project was updating the Mvskoke Veteran tribute video. Watch Jadyn's video below:
Jadyn has also been asked to speak to the World War I Native American Warriors committee during their 2018 commemoration. Learn more about Jaydn's work and the Mvskoke Veterans here. Click here to connect with the Mvskoke Nation Youth Council.
---
Click here to share your own Gen-I Story!