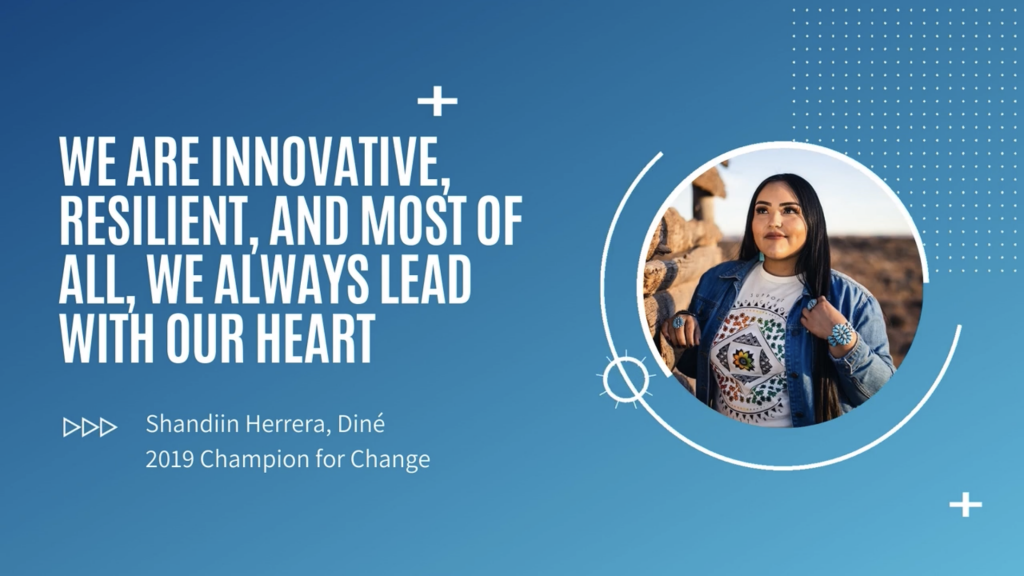 I believe that as Native youth, we are healthy and able to step up to care for our Nations in a way that is absolutely needed
Yá'át'ééh, hello, my name is Shandiin Herrera and I am a proud citizen of the Navajo Nation. I live in Monument Valley, Utah on the Navajo reservation.
In the recent weeks as COVID-19 has been on a rapid spread, our community has slowly begun to respond. Our schools have closed down, our tribal park and welcome center have also closed their doors. Our food and supplies at our grocery store have become more and more scarce.
This past week two members of our tribe have tested positive for the Coronavirus, both residing in Chilchinbeto, Arizona, not too far from my community. This has brought the pandemic much closer to being apart of our reality. (For recent updates on COVID-19 cases on the Navajo Nation click HERE.)
I visited my elders who expressed both resilience and concern for our people. I left my grandmother's trailer with a list of items she is running short on.
With only 9 grocery stores on the entire Navajo reservation, which is the size of West Virginia, and has approximately 180,00 residents, finding necessary grocery items and supplies is becoming more difficult.
I have felt overwhelmed and angry, but I was reminded by my mother that food insecurity is already so much apart of our daily lives and this pandemic, though exacerbating our disparities, is another reality we will adapt to and do so by caring for our people.
I am now energized because I know that I can play a pivotal role in alleviating some distress when it comes to helping our people. I have been in contact with my mentor, Ethel Branch, former attorney general of the Navajo Nation, and she has recently started a Navajo and Hopi Family GoFundMe raising money to purchase food and supplies to be delivered to our reservation. I am in the process of putting together a group of volunteers to coordinate distribution of goods.
Ethel's GoFundMe has already reached $139,000 to use for these efforts. Ethel has made arrangements so that the food and supplies will first be delivered to the DOCs (Department of Corrections) located on the reservation. Then, they will be distributed out to communities from there.
I will be putting together a team of volunteers to create an email and hotline phone number for people to send or call in lists of items they are in need of. These volunteers will monitor emails and phone calls, and assist with coordinating food deliveries. (Volunteer form click HERE.)
We will then have volunteers who will collect items and deliver them to homes. Logistically, we plan on having teams that will monitor inventory, respond to emails and phone calls, deliver goods, collect data in the process, and ensure that we are doing our absolute best to take care of our people.
I believe that as Native youth, we are healthy and able to step up to care for our Nations in a way that is absolutely needed. I am reminded that together we are innovative, resilient, and most of all, we always lead with our heart. Reaching out to our networks and resources during this pandemic is essential to caring for our communities. I am excited and fully invested in the work we are starting in Diné Bikeyah.
Do you want to share with us what your community is doing to care for others and elders amid the COVID19 Pandemic?
Whatever you're doing, we want to know and highlight it across our platforms. It can be something as simple as: I am creating ribbon skirts; I am delivering cleaning supplies to elders; I am smudging every day with my relatives; I am catching up on reading books from my favorite Native authors.
Comment, DM or email (jarrette.werk@aspeninstitute.org) what you're doing to stay safe and healthy. Be sure to include your name, age, tribal affiliation, and social media handles. All participants will receive a little something from CNAY.
Shandiin Herrera is an enrolled citizen of the Navajo Nation, a 2019 Champion for Channge and a Lead for America Hometown Fellow. Shandiin graduated from the Sanford School of Public Policy at Duke University in 2019 and now works for the Oljato Chapter of the Navajo Nation, as a policy analyst and project consultant. .