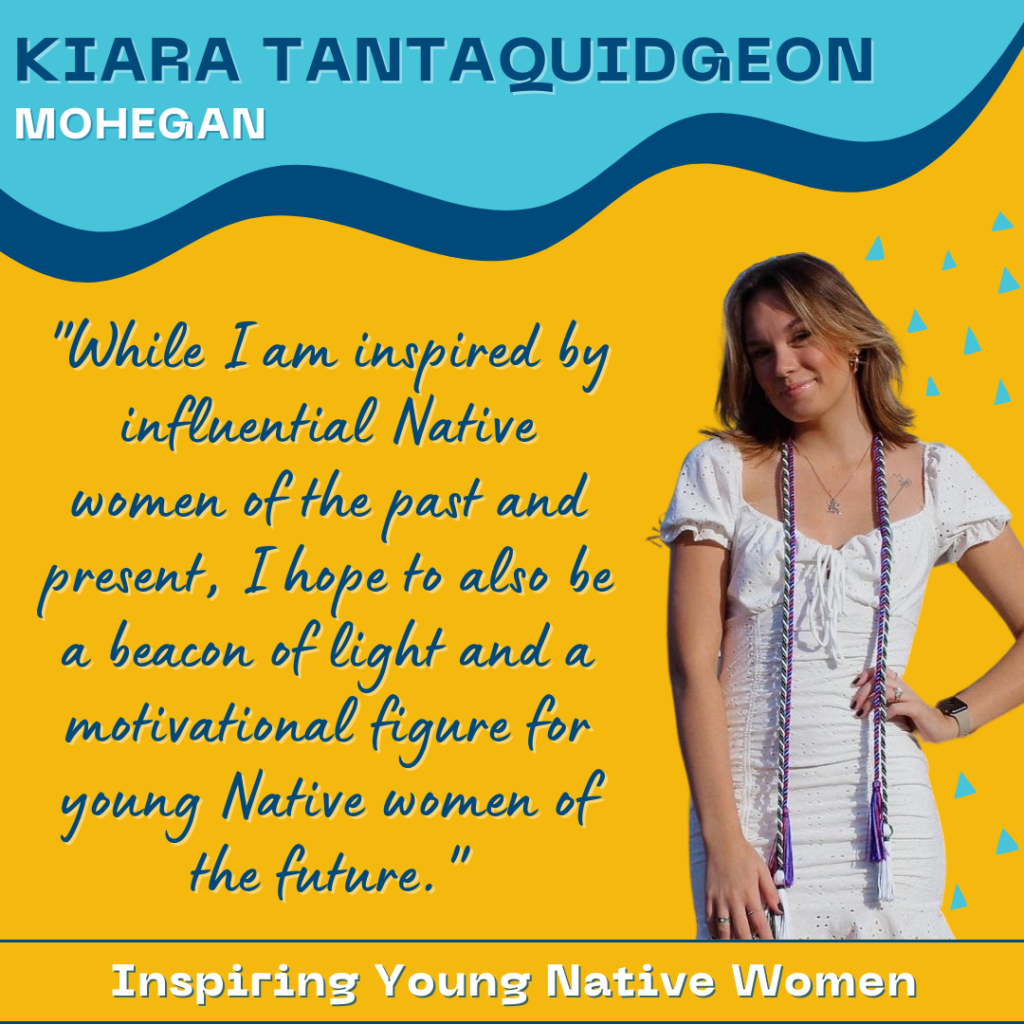 "I felt alienated and struggled to stay connected to my Indigenous identity and I wondered if there were other students on campus who felt the same."
As a Mohegan woman I have spent my life inspired by my ancestors, especially the Native women who have been vital to advocacy and creating change in my tribal community and beyond. Gladys Tantaquidgeon was one of the women whom I look up to every day, -aspiring to be like her and to make her proud. Her work in education, reviving traditions, and advocacy has guided my work today. I went to Quinnipiac University (QU), a small private, predominately white institution (PWI) in Connecticut. Shortly after arriving, it became clear to me that Native students did not have a space on campus for community and support.
I felt alienated and struggled to stay connected to my Indigenous identity and I wondered if there were other students on campus who felt the same. I decided to create the Indigenous Student Union. I wanted to give current and future Native students a community and support system while also fostering a space to educate our campus, advocate for social issues, and establish relationships with the other multicultural organizations at QU and surrounding schools. The Quinnipiac Indigenous Student Union (ISU) is now a chartered student organization with an executive and general board composed of Native and non-Native students. These students are all united in their interests and passions for education, advocacy, and the celebration of diversity within and between Indigenous populations globally.
In my time as the founder and president of the organization, we hosted educational events, brought in guest speakers, hosted fundraisers, and were awarded for our dedication to contributing to inclusive excellence on our campus. The Indigenous Student Union was awarded the Quinnipiac University Judith Frank Student Organization of the Year Award and the Multicultural Student Leadership Council's award for Best Educational Program. I was also awarded the Multicultural Student Leader Award by the Multicultural Student Leadership Council for my work with ISU as well. I have always believed in the power of community and after creating this community at my university, I took upon a leadership role within my own tribal community as well.
I now serve as the Vice Chairwoman for the Mohegan Tribal Youth Council, where I work with other officials and council members to keep our culture alive amongst Mohegan youth. We hope to uplift and involve youth voices in important conversations, increase our understanding of our past tribal history and who we are today, encourage activeness in our tribal community, and support each other. I also became involved in the Center for Native American Youth, serving on the Democracy is Indigenous Youth Council, where I worked alongside other Native youth. Presently, I am preparing for graduate school where I will be attending Columbia University in the fall for a Master of Public Health in Sociomedical Science with a Certificate in Social Determinants of Health. I hope to hone the knowledge and skills necessary to pursue a career in public health where I can give back to underserved Indigenous communities across the nation and beyond. I am passionate about understanding and dismantling the systemic barriers that cause public health related issues in our communities, advocate for the changes in policy and programing necessary for improving community health and bringing attention to overlooked public health crises such as sexual assault, domestic violence, and substance abuse. Being a young Native woman, I have worked to create spaces for community, education, and advocacy and plan to do so as I continue throughout my time on Mother Earth, and while I am inspired by influential Native women of the past and present. I hope to also be a beacon of light and a motivational figure for young Native women of the future.
Are you interested in writing a blog with CNAY? Visit our highlight form here or contact Communications Coordinator, Cheyenne Kippenberger at Cheyenne.Kippenberger@aspeninst.org.