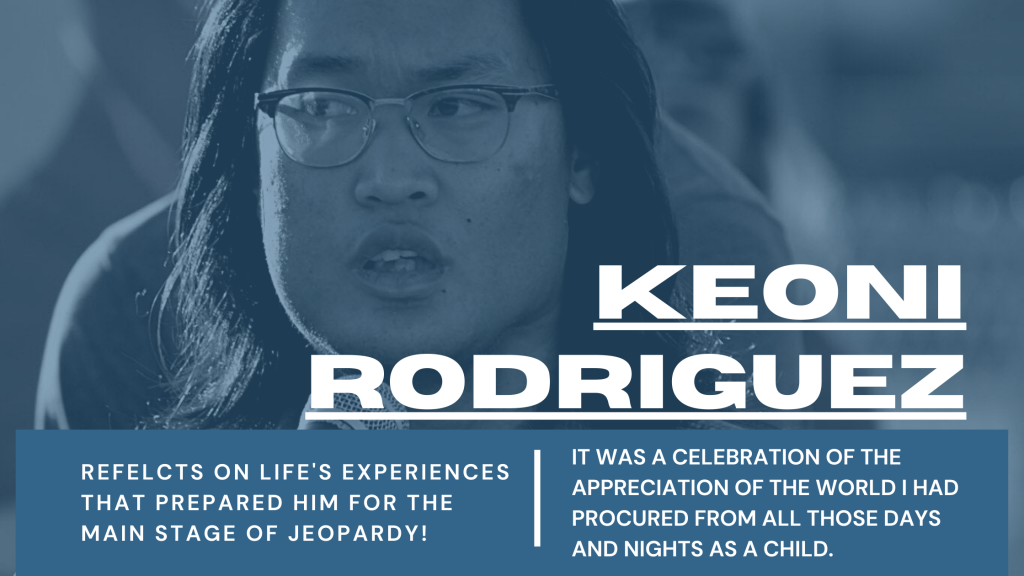 I found myself on the Jeopardy! stage, flanked by two amazing competitors, hoping I could make my eight-year old self proud. I wouldnʻt have been there without him.
Alex Trebeck's legacy lives on. The game show host, who died of pancreatic cancer on Nov. 8, had a powerful impact on Jeopardy! runner-up, Keoni Rodriguez. "Rest in peace to Alex Trebek, thank you for everything," writes Rodriguez.
Walking onto the studios where Jeopardy! was filmed, backpack in tow, and nerves from my head to my toes, I found myself smiling. It was a brisk morning and with each step, I felt the weight of all the hours I had practiced. After a long process, I would finally get my chance to show what I knew.

I had hoped to be a Jeopardy! contestant since I was a kid. Trivia had always been a love of mine, if only to annoy my family with random facts at the breakfast table on Sunday mornings. Long days and nights were spent poring over an childrenʻs almanac, slowly enamoring myself with pictures of the worldʻs flags and the multicolored maps that brought them to life in my head.

Learning about the world was a way for me to escape from my humble bedroom in San Diego to wherever I pleased. I could meet new people and celebrate the incredible things they did, all while lying under the nightlight on my bed.

Getting the chance to compete on Jeopardy! wasnʻt so much about the potential money I could earn or the chance to flex my knowledge on national TV, but it was a celebration of the appreciation of the world I had procured from all those days and nights as a child. This appreciation led me to watching the show nearly every night in quarantine.

I had applied without much of a thought by taking the online test sometime this past spring. To my surprise, I had qualified into the first interview stage, where I answered even more questions. After that, I had passed into the group interview stage, where I played a mock game against other hopefuls. They said theyʻd call if they wanted us to come on the show, and so I waited. Around me, life went on. I worked at my summer internship during the day, I tried to get myself outside every now and then, and I attempted to catch up with friends I had missed from school.

Then one morning, I received the call that I would have the chance to be on Jeopardy!. At first, I had no idea who was calling and it took me a while to figure out what exactly was happening, but once I did, I couldnʻt believe they had chosen me.

So I found myself on the Jeopardy! stage, flanked by two amazing competitors, hoping I could make my eight-year old self proud. I wouldnʻt have been there without him. I thought of how far I had come, the communities I call home, and why I was there. I thought about my grandpa, who had told me that education was one of the most precious gifts in life. I thought about how much I missed him. Then, I had only one thought. Calm. I picked up the buzzer and went to work.
Josiah Josef Keoni Quon Rodriguez, or Keoni as most call him, is the firstborn son of John Carlo Ube Rodriguez from Antipolo City, Philippines and Laryna Beatrice Kam On Palama from Kaimuki, O'ahu. He belongs to the Ube and Rodriguez families of the Rizal Province in the Philippines and the Palama and Kainoa families of Hawai'i, Kaua'i, and Maui. He was born and raised on occupied Kumeyaay land (San Diego, CA) and currently resides on occupied Ohlone land. Keoni is deeply committed to the empowerment and liberation of the Hawaiian and Filipino communities, both at home and in the diaspora.