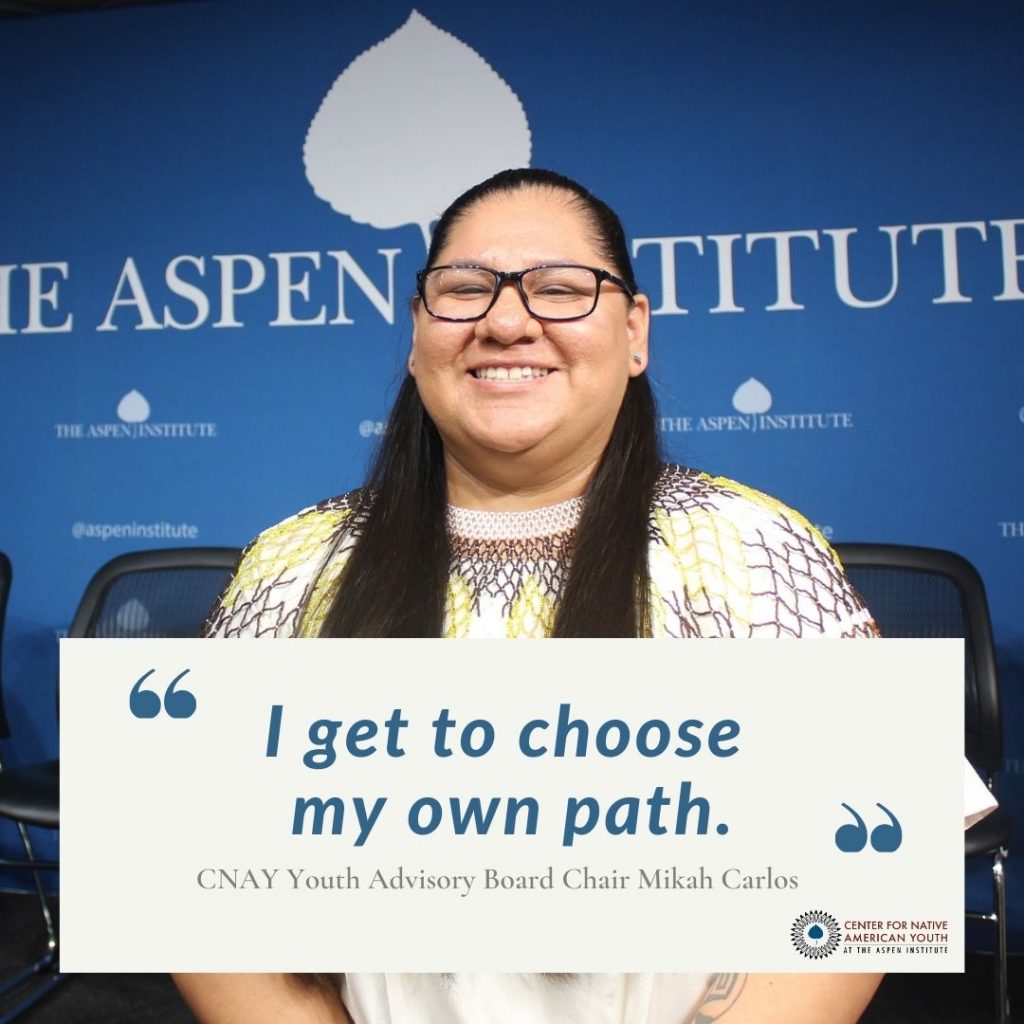 "I Get to Choose My Own Path."
Content Warning: this blog contains personal experiences and stories of personal hardship. The purpose is to destigmatize mental health and to embrace, love and empower young people.  CNAY is proud to provide young leaders agency in narrative sharing and empower them in sharing their truth.
Below is a blog written by CNAY Youth Advisory Board Chair, Mikah Carlos.
When I was first asked to write this piece, I wasn't sure how much I was going to share. Part of my hesitation to share stems from the attitudes I have seen toward those who seek out mental health services or those who have struggled with suicide. It is because of that I have decided to be as transparent as possible because I know my story and struggles are not entirely unique. My struggles are found in every Native community and are compounded by lack of access to mental health services or subjected to negative attitudes from family and community when they try to seek services. The reality is our communities need to destigmatize mental health. We need to be more open and transparent and hold space on this very issue. Here is my truth:
Throughout my childhood, I was constantly in trouble in school and spent most of my time in in-school suspension, which I now know had everything to do with my undiagnosed ADHD (Attention Deficit-Hyperactivity Disorder). I was constantly struggling in school and being told by a teacher that I was "stupid" and would "never go to college or do anything" with my life because I couldn't turn in an assignment in on time, being told that destroyed my self-esteem. I thought they were right. So I gave up, I quit going to classes and had to move schools at one point because I had missed so many days they told me I wouldn't get credit for the whole semester. What I needed, and what we all need is someone who believes in us. That broken mentality made me believe that I didn't have a future. I didn't have plans for the future, let alone anticipate graduating high school. I held those feelings of being a failure and hurt for a long time and to deal with all of the pain and anger I was experiencing I started using substances to numb my emotions which I thought would carry me through the day.
These feelings I had were not only because of school, my home environment was unstable and the only reason I kept going to school was to get away and see friends or to take a nap in the library. It was during my junior year of high school I had confided in one of my teachers that I didn't have any plans for after high school because I honestly never thought that far into the future. This teacher sat me down and told me that it didn't have to be this way, they shared with me that life after high school is when I get to choose my own path. Hearing someone believe in me and instill the importance in taking ownership of my life was motivating and changed my perspective.
They shared with me that I could go to college and move as far away as I wanted but that I needed to have something to work towards or else I would be stuck in this spiral of uncertainty. So I tried a little bit harder and got involved in after school clubs and sports in order to try and improve my chances of getting into college and I threw myself into every volunteer activity I could. By the time my senior year came all I had found myself a little bit happier because I had a consistent friend group and to my surprise I was looking at colleges all over the country. I took an interest in the medical field and had my sights set on going to college and becoming a nurse, specifically a traveling nurse, and I had found an amazing program in Philadelphia that I had applied to. I knew I didn't have a great chance at getting in because my grades weren't that great and my testing scores for the SAT's were right below their requirements but I applied anyway and to my surprise, I was accepted. The joy that I felt knowing I would get to move away and study in this area I was passionate about was incredible! I was so proud of myself for accomplishing this task and I couldn't wait to move to the other side of the country to begin this next chapter of my life.
The summer after I graduated I packed up a few huge duffle bags (definitely paid the overweight fee for the airline) and moved my younger sister and myself across the country from Phoenix to Philadelphia to spend the summer there before my classes started. It was a hard adjustment and there were many nights spent fighting over the fan because we didn't realize that central air wasn't a thing on the east coast, but we made the best of it and as the end of summer approached it was getting harder and harder to accept that at some point my sister would have to return back to Arizona and I would really be on my own. But the week I was scheduled to fly back to Arizona to bring my sister home we got the news that my grandma and my father were both hospitalized. We flew back home and while I was temporarily back I received word from the financial office at my dream school that there was an issue with my aid application and I no longer qualified for any financial aid to attend the university. With having to take care of my sister and losing my financial aid, my temporary visit back home became permanent. I was devastated.
I had nowhere to live, no car, no money and no plan. I was right back where I started. I knew I wanted to go to school but I had already missed all of the fall semester deadlines for enrollment and financial aid so I enrolled at my local community college to have something to do. It was hard for me to even try to do any of my classwork because I was still so bitter about losing something I had such high hopes for. Combine that with trying to help take care of my sister as much as possible and I could feel myself slipping back into feeling hopeless and lost. By the middle of the semester I had dropped out of school. I was using substances again and depressed. I felt like I was a failure and had disappointed my family and I felt so alone in the world. I had convinced myself that it would never change and I was incredibly exhausted emotionally, mentally and physically. It became too overwhelming and on my 19th birthday I tried to take my own life.
Thankfully, my story does not end there. The first thing I did was to call my tribal behavioral health services and requested to start meeting with a counselor as soon as possible. I was so broken and defeated but I knew I needed to check my own pride and biases and ask for help. My version of coping methods was not working and I needed to seek out help from someone who knew how to help me. I recognized my behaviors, and knew I needed help. It is healthy to seek help. That is why services like behavioral health exist.
Look, there is no sugarcoating of what counseling really is, it's hard, hard work and you have to be willing to put in the work. I had to acknowledge that I had experienced a lot of hurt in my life so far and those traumas effect how I feel and view the world. Counseling helped me start to form healthy coping habits to navigate my anxiety and depression and it also started my journey of healing my past traumas, a journey which I am still on all these years later. What counseling was not a quick fix that magically made my life better and I don't want anyone to get that impression from my words, but it did allow me to start the process of being able live my life in ways that included learning and engaging with my culture and language more. I hadn't realized how much my mental health had been holding me back. For the first time in a long time I felt like I had some clarity and reprieve from all of the hurt, anger and sadness that I had been holding on to for so long.
My mental health journey has not been easy and perfect since then, like every other human on this planet I have my good and bad days and sometimes really bad days, but now I have tools that help me deal with those bad days. Counseling was a good way for me to start that journey into finding tools and resources that help me, and it's not the only tool I have. As I learn more about my culture and our songs I have also put those in my "tool box" and when I am having a rough day I know I can sing or hear our traditional songs and there is a feeling of peace that fills me. Another tool that I found to be very important in my life is surrounding myself with friends who are my support circle. When I am having a rough time I know I can count on them and sometimes all I need is someone to listen to me vent.
Using all of these tools has allowed me to still be here today and to reflect on what has happened in my life since my 19th birthday almost 7 years ago. In those 7 years I have graduated with my associates and bachelor's degrees and failed a few classes; traveled to different countries and been stuck in my house while there's a global pandemic; welcomed into the world a Goddaughter, nieces and nephews and sent friends and family on their journey home; experienced love and heartbreak.
To anyone struggling right now I want to tell you that I have learned that there will always be heartache but there is so much in life to celebrate and appreciate that can only happen if you are still here. I know it may not be easy right now but I can promise you that it won't be this way forever. Please seek out someone and let them know you're not okay. There is much to be celebrated in life and you deserve to be here to celebrate with us. You are so very loved and your life matters. You are important beyond what you can comprehend.