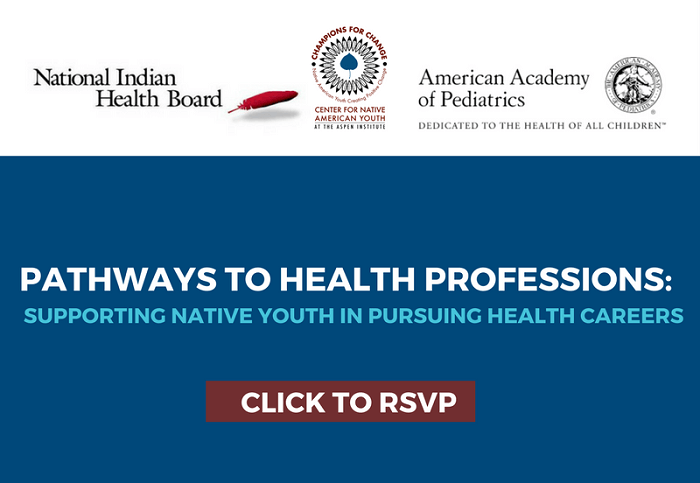 Native Youth in Health Careers: Mar 13 Congressional Briefing
Congressional Briefing
Tuesday, March 13, 2018. 12:00 – 1:30 PM
Dirksen Senate Building, Room 628
Lunch provided.
The health professions offer significant opportunities for American Indian and Alaska Native (AI/AN) youth to build meaningful careers. However, there are ongoing structural and policy barriers that impede access to this option for many Native young people. This event will provide a forum for young people and policy experts to provide their perspectives on this issue, share their stories, and highlight policy opportunities to ensure Native youth can pursue health professions careers, and practice in Native communities if they desire to do so.
This briefing will: identify and examine the barriers that prevent Native youth from training for and entering the health professions; explore factors that have helped Native youth succeed despite these barriers; and examine policy opportunities for ensuring that Native youth have access to the education, supports, and services necessary to pursue these careers. The briefing will feature the perspectives of Native youth and AI/AN health care providers.
This briefing is sponsored by: the American Academy of Pediatrics; the Center for Native American Youth; and the National Indian Health Board. At the conclusion of the program, attendees will also have the opportunity to ask questions of the panelists. The speakers are:
Dawn Maxey, MD, Pediatrics Resident, Seattle Children's Alaska Track, American Academy of Pediatrics
Alec Calac, Trainee at the National Institute of Neurological Disorders and Stroke, Member of the Pauma Band of Luiseño Indians
Gerald Hill, MD, Immediate Past President of the Association of American Indian Physicians and Ex-Officio Member of the National Indian Health Board, Member of the Klamath Tribe
Summer Brunoe, Student at Brown University and Member of the Confederated Tribes of Warm Springs; Generation Indigenous Youth Ambassador at the Center for Native American Youth.
Lunch will be provided. This will be a widely attended event. For more information or to RSVP, contact Zach Laris at zlaris@aap.org.