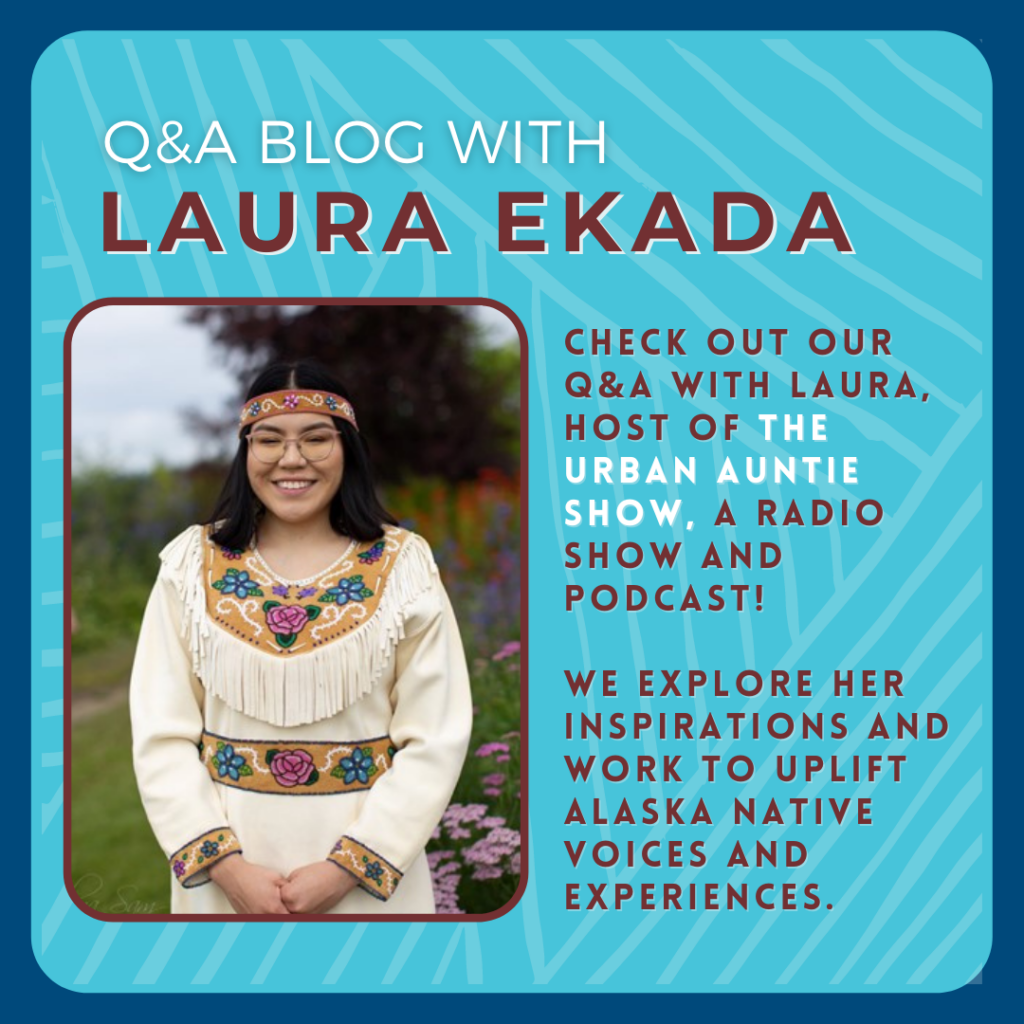 Q&A Blog with Laura Ekada
Laura Deloodeneenła Ekada (she/her) is a senior at University of Alaska Fairbanks (UAF) studying biology with a concentration in biomedical sciences and a goal of becoming a physician serving rural villages. She was raised in the small village of Minto by her grandparents. At UAF, Laura hosts a podcast called the Urban Auntie Show, where she talks with guests about Indigenous life and culture. She is the president of the UAF beading club and works as a peer educator at the Nanook Diversity and Action Center where the mission is to uplift people of color and promote diversity and inclusion on campus. We sat with Laura to learn more about her calling to start the Urban Auntie Show and her work to highlight Indigenous life and culture.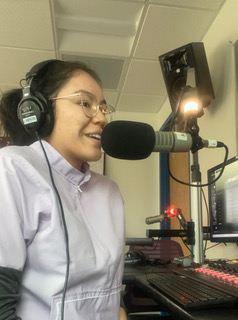 What inspired you to start the Urban Auntie Show?
I was inspired to start the Urban Auntie Show when I started working at the Nanook Diversity and Action Center. I told my supervisor, Jo Malbert Narvaez, in my interview for the position that I wanted to increase representation of Indigenous people on campus. When I started the job, Jo asked how I plan on increasing representation. I decided to do a radio interview with Princess Daazhraii Johnson, the Creative Producer for Molly of Denali. Princess and I talked about how important positive representation of Indigenous people is on TV. Princess is super passionate about the work she does, and it was heartwarming and inspiring to hear what she had to say. Then from that first interview, I kept asking more people to do an interviews with me. My supervisor Jo designed my logo and website. Jo was very vital in getting my podcast off the ground. Today I have a website with 32 episodes. I have interviewed so many cool and important people who are passionate about the work they do. I am very happy with how far I have come.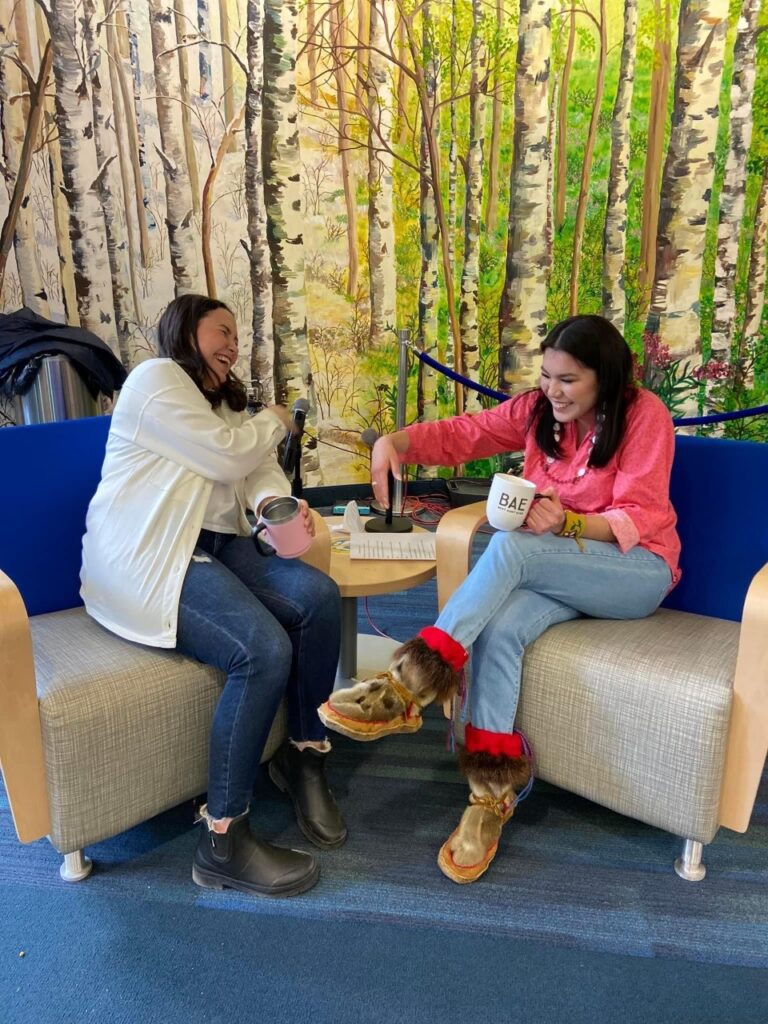 What are your aspirations for the show?
My aspiration for the Urban Auntie Show is to reach a larger audience. It is my hope that people will be inspired by my podcast to start learning more about their culture. It is never too late to learn about your culture. I hope that the Urban Auntie Show exposes more people to the resources available to them. For example, I have done interviews with the Alaska Native Women's Resource Center, Rural Student Services at the University of Alaska Fairbanks, Native Movement, the Community Opioid Intervention Project at the Fairbanks Native Association, the Biomedical Learning and Student Training program at UAF, the Alaska Native Birthworkers Community, Bering Sea Elders, Doyon Limited, First Alaskans Institute, and more. In partnerships with these organizations, I have been able to get the word out about opportunities for young Native people and all Native people.
I also want more opportunities to flow from this podcast. Now that people know I host a podcast, I get proposed with other opportunities. Last winter I hosted a podcast workshop in partnership with the Alaska Native Media Group. I was asked to introduce the keynote speaker at the ANCSA Symposium in April. I will also be a moderator in a conversation with New York Times bestselling author, Chanel Miller in April. I hope that more opportunities flow in where I can further promote the Urban Auntie Show and develop my skills.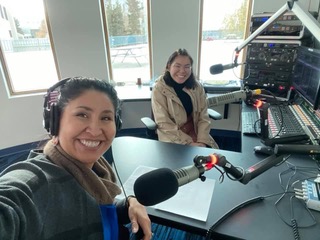 Do you have a favorite episode you've done?
My favorite episodes are the first one with Princess Daazhraii Johnson and episode 29 with Evon Peter.
Evon Peter was the Vice- Chancellor for the Rural, Community, and Native Education at the University of Alaska Fairbanks, but he is now the director of Tanan Ch'at'oh, a Gwich'in language nest. In our episode, we discussed his many achievements but also the aspirations he has for Tanan Ch'at'oh. He is very passionate about the work he is doing. They are doing very important and spiritual work by teaching young children the Gwich'in language. In this episode, Evon touched on how important it is to get in touch with your native culture and how it is never too late to do that. I attended boarding school away from home then I spent two years in Oregon going to community college. I strongly feel that I missed a lot of important learning opportunities with my elders, but Evon encouraged me that I still have time to learn how to cut fish and speak my language. I am super thankful that Evon Peter and Princess Daazhraii Johnson have guest- starred on my podcast.
I want to say thank you to all the people who have agreed to be on my podcast. I would not have a successful podcast without them. Thank you to all the people who promote and share the Urban Auntie Show. I love to hear good reviews about the Urban Auntie Show. Like the Urban Auntie Show on Facebook and follow @UrbanAuntieShaow on Instagram and Twitter. Please let me know your favorite episodes.
Are you interested in writing a blog with CNAY? Visit our highlight form here or contact Communications Coordinator, Cheyenne Kippenberger at Cheyenne.Kippenberger@aspeninst.org.