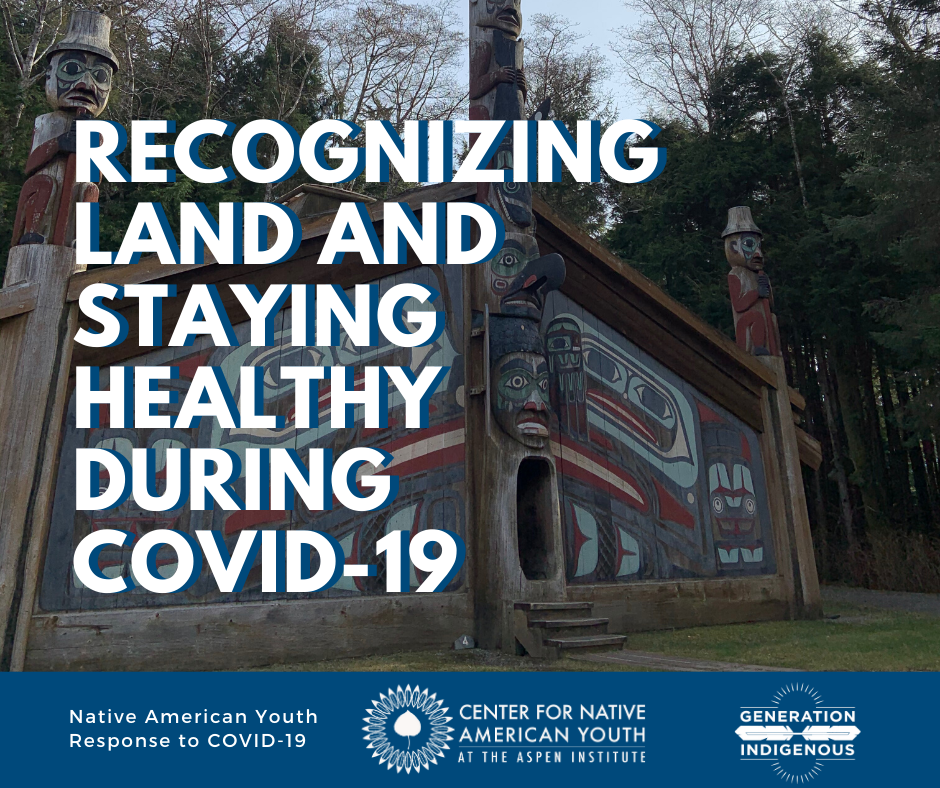 Recognizing land and staying healthy during COVID-19
By: Owen Oliver, 2020 Champion for Change
This piece was written and curated on the lands of the Tlingit People in Ketchikan, Alaska. The Center for Native American Youth through the Aspen Institute sits on the traditional and contemporary lands, shared waters, and medicinal knowledges of the Anacostan, Piscataway, Pamunkey people. You can learn more about your role and responsibility on Indigenous lands at native-land.ca
As we begin to adjust our communities and individual lives towards the future of social distancing and quarantining to combat COVID-19, it's important to understand and continue the work of being a member of your community that ensures its connection to land and expand your knowledges of a place.
As Indigenous people across the country, we have this notion of living in place, or having a sense of place.
Leanne Betasamosake Simpson explains her own sense of place through the Anishinaabe knowledge systems that she grew up with: "the way we are taught to access that knowledge is by being open to that kind of knowledge and by being engaged in a way of living that generates a close, personal relationship with our ancestors and relations in the spirit world through ceremony, dreams, visions and stories" (Simpson 2014, pp.12 ).
Even though Simpson explains her own Anishinaabe ways of thinking, it's always made me think about how I conduct myself as an Indigenous person living in coastal lands
Currently, due to COVID-19, I've moved back with my family to where my mom grew up. She was raised in Ketchikan, Alaska on the outskirts of Tlingit, Tsimshian, and Haida territories.
Though non-Native, she taught me know to create my own sense of place. She taught me how to feel comfortable in nature and use the relationship we have as individuals to propel and innovate new ideas.
As an Indigenous educator, it's important that I'm able to ground myself before I continue to help others. Recognizing land and its importance while staying healthy is just one way to maintain a grounded sense of place.
I grew up as a canoe person, either inside the canoe, helping the ground crew move to the new destination to welcome the canoe, or dreaming about being in the canoe in the future. Canoes have always given me the sense of place and empowerment as an Indigenous person.
As a Quinault Indian Nation tribal member with Chinook heritage, canoes have served my ancestors not only as vehicles for bodies but also for the transfer of knowledge, gifts, and territory acknowledgements.
However, recently I haven't been able to take part in as many canoe activities as I'd like, lately I've started to move towards running and enjoying the energy that mountains serve. For me as an urban Indian, running throughout my local mountains have been my own ceremony and a way that I'm able to let my sense of place take over.

In Ketchikan I've been privileged to be able to move outside as much as I'd like, gearing up every morning to begin a new adventure in the amazing state of Alaska. However, in times of COVID-19, it's easy to overlook the simple things like having a regular schedule, interacting with friends, and being outside.
However, one way we're going to be able to beat COVID-19 is by starting to exercise and feel active. Sometimes the most dangerous thing to do is to have too much free time.
So, I encourage everyone of you to start to think about the sense of place you grew up with, can you remember the songs of the birds? What did that place look like, what did it feel like, and what did it smell like? If you're having trouble, try to take a walk outside and by using the voice recorder on your phone, take in everything you notice.
It may seem like a simple task but the point is to facilitate an understanding of the way you all perceive the land as Indigenous youth. After all my runs I always make sure to jot down how I felt, what animals I saw, and what was the weather like. It's one way that I'm able to track my mind in these times.

If you all want to start making the change in your communities, it's a great time to start reflecting on the land that you live and learn on. We are resilient and our ancestors have always taught us to achieve more, so if you're able to get outside do it, and take note of what interests you. It might just make you think about something new!

To learn more about how to exercise while social distancing check out the links listed below:
https://www.vogue.com/article/tony-violet-duncan-indigenous-dancers-heroes-heroines?fbclid=IwAR12N10iYTFHTtKKuVEDSXIq-8qp0h6v2gciaw1jbWSa2X_Bfs4ewS1GL0w
https://www.runnersworld.com/training/a31822126/staying-motivated-during-social-distancing/
You can also find me on Strava, where I regularly host discussions in an Indigenous Runners Club.
References:
Simpson L. (2014). Land as Pedagogy: Nishnaabeg Intelligence and Rebellious Transformation. Decolonization: Indigeneity, Education and Society. 3:3, pp. 1-25.
Owen Oliver grew up on the Salish Sea where he was able to learn traditions inter-tribally through the annual Canoe Journey. Once at the University of Washington, he has been focusing on Indigenous education through community engagement and empowerment. He understands the importance of higher education and the skill sets that Native students can bring to every academic setting, ensuring new ways that success is achieved and determined. He's been able to achieve a few of these goals through the American Indian Studies program and the undergraduate Native organization First Nations where he works as the Outreach chair. As a Champion for Change, Owen will be able to look outside the Coast Salish region and develop relationships that will lead to a better understanding of visibility, community work, and successes of Native students across North America.