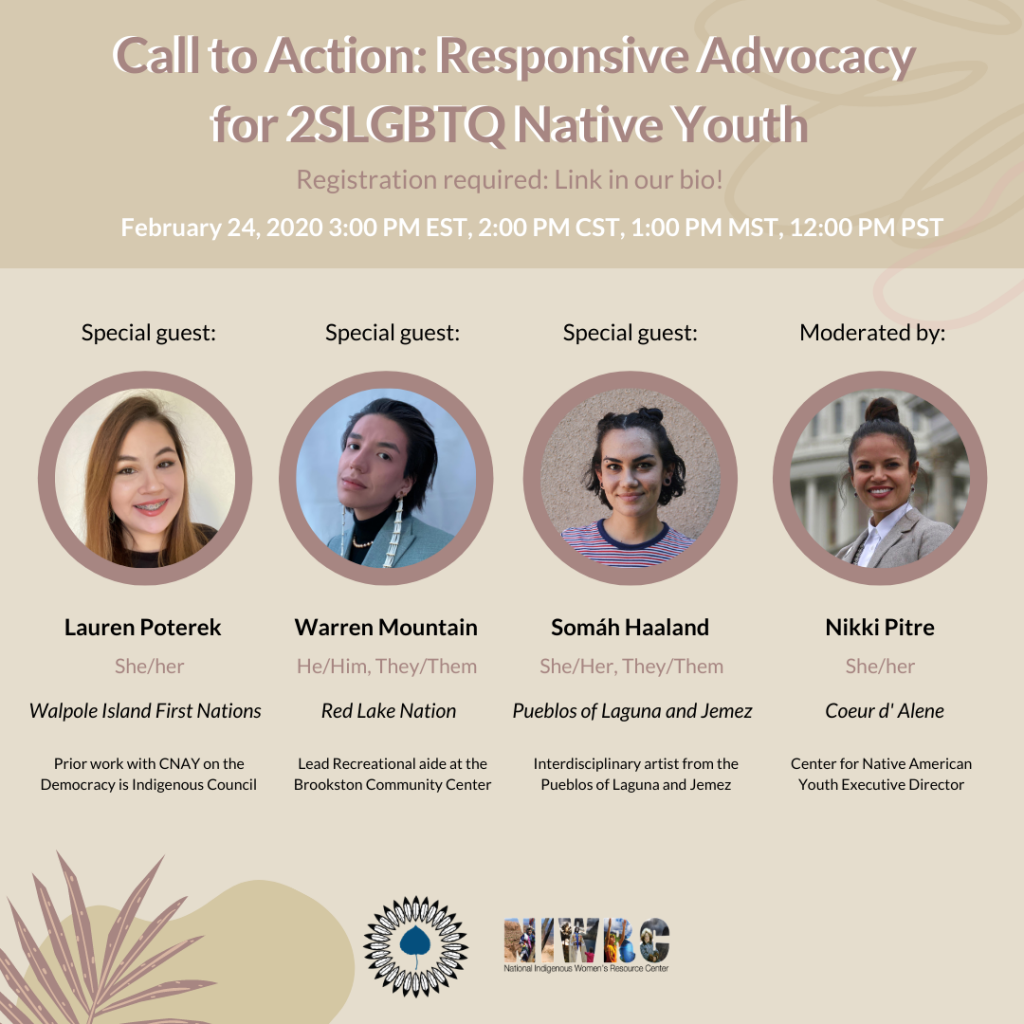 Responsive Advocacy for 2SLGBTQ Native Youth
March 9, 2021
In response to February's National Teen Dating Violence and Awareness Prevention Month (TDVAM), the Center for Native American Youth (CNAY) and the National Indigenous Women's Resource Center (NIWRC) partnered to host the webinar Call to Action: Responsive Advocacy for 2SLGBTQ Native Youth.
CNAY's Executive Director, Nikki Pitre (she), moderated the discussion with three 2SLGBTQ youth within CNAY's Generation Indigenous Network. Panelists included: Somáh Haaland (they/she), an interdisciplinary artist, Warren Mountain (he/they), a student and entrepreneur, and Lauren Poterek (she), a member of CNAY's Democracy is Indigenous Council. During the webinar panelists discussed cultural beliefs and western cultural constructs regarding one's identity and creating healthy boundaries, relationships and safe places.
Traditionally, Indigenous two spirit individuals were viewed as sacred and held in high regard in many communities. Panelists made it apparent that today, many of our young 2SLGBTQ relatives struggle finding spaces where they feel supported in their identities. "I think we need to get back to valuing people the way we did before colonization," said Somáh. All agreed and reiterated the importance of supporting and creating safe spaces for 2SLGBTQ individuals to flourish.
Safe spaces and healthy boundaries are a proven need within the 2SLGBTQ community. Many studies have shown that 2SLGBTQ individuals experience physical dating violence, emotional abuse, and harassment at a much higher rate than their heterosexual counterparts. When related statistics were presented to the panelists, Lauren said, "We need to raise awareness." Conversations furthered around the need for allies of all ages to speak up on behalf of 2SLGBTQ youth, letting them know they are worthy of the same love as everyone else. "I think we start creating that space by looking out for one another," said Warren.
To lookout for and support 2SLGBTQ youth in their journeys, panelists shared words of encouragement and advice that they had picked up along the way:
Create personal and emotional space for yourself and others,
Set boundaries, sometimes dare to push your own boundaries,
You don't have to be afraid,
You may change your mind, and that is ok, and
Life gets easier once you accept who you are.
To watch the full webinar here.