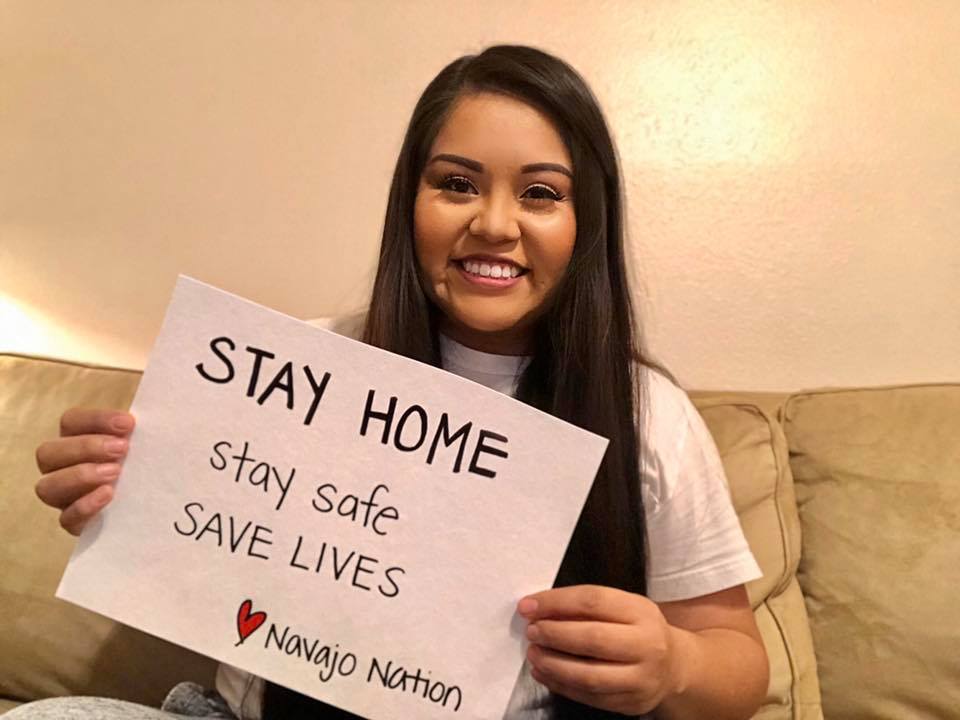 Stay Home, Stay Safe, Save Lives
By: Shaandiin Parrish, Navajo Nation, Miss Navajo Nation
On Friday, March 13, 2020, I was in a meeting with the First Lady and the President of the Navajo Nation when suddenly the President stood up abruptly to proceed quickly out of the Stateroom.
Instinctively, I followed him. We entered a room full of Navajo Nation leaders. Before I could find my seat, the President announced that the President of the United States had declared a National State of Public Health Emergency due to the rapid spread of the Novel Coronavirus (COVID-19). The room full of enduring Navajo leaders suddenly became still.
Two days before the National Declaration, the Navajo Nation declared its sovereign State of Public Health Emergency, but somehow it felt like we were already behind.
I sat back in my chair and began to process what was unfolding around me. I was looking forward to attending all of the Justice Days across the Navajo Nation in April and to the exciting opportunity to represent the Navajo Nation in Taiwan later that month.
My thoughts were soon interrupted by the President's stern voice. "Today after 5:00 PM the Navajo Nation executive branch will be limited to essential serves only", he announced. What did that mean for me?
Miss Navajo Nation
The title of Miss Navajo Nation entails far more responsibility than your average pageant titleholder. As Miss Navajo Nation, I am the Navajo Nation's goodwill ambassador, and it is my duty and pleasure to always be of service to my people. Miss Navajo Nation is not only an extension of the government but must also hold the cultural role of representing Yoołgai Asdzaan and Asdzaan Naadlahi. Thus, amid the COVID-19 pandemic, my duty to be a source of reassurance seems to be more prevalent.
I would not be as prepared as I am now if it were not for my prior professional and educational experiences. Before I was selected to be Miss Navajo Nation, I graduated from Arizona State University with a degree in Political Science. While I was pursuing my undergraduate studies, I interned at the Arizona State Senate for three years and with the town of Gilbert for a year. In 2019, Arizona Treasurer Kimberly Yee appointed me to her cabinet as her Public Information Officer. This appointment made me the youngest and only Native American to work for any Arizona Statewide elected official.
A year ago, I would not have imagined that the skills I would gain from the Treasurer's Office would be essential to the unforeseen events we are facing today. My professional experiences allowed me to identify that the first few days of the crisis would be crucial for the public to establish trust in our government. Therefore, as Miss Navajo Nation, I took it upon myself to support the centralization of communication through my social media outlets.
Lack of Media on the Navajo Nation
Today in 2020, the Navajo Nation does not have a local television news station to cover Navajo issues. Even if Navajo citizens have satellite television subscriptions, the state news stations do not cover local Navajo news either. Thus, the Navajo Nation government has resorted to heavily relying on social media coverage and our local widespread radio station, KTNN AM 660 & 101.5 FM.
During this time of crisis, I put my professional background to use at the Navajo Nation Health Command Operation Center (NNHOC). NNHOC was established through an executive order to manage the prevention, mitigation, and execution of COVID-19 cases on the Navajo Nation. At the NNHOC, I assisted with condensing many of the Center for Disease Control (CDC) recommendations and helped create the early brochures for the public.

I felt it was dire to distribute information as quickly as possible because I believe knowledge is power. When we understand the symptoms of the COVID-19 virus, how it is spread, and who is at higher risk for hospitalization, we can then understand how to keep one another safe.
Stay Home, Stay Safe, Save Lives Photo Challenge
I am passionate about the Navajo Nation's public safety. My love for my people inspired me to create the 'Stay home, stay safe, save lives' photo challenge. People that participate in the challenge share a photo of what they are doing at home with a sign that says 'Stay home, stay safe, save lives'. The slogan originated from Navajo Nation President Jonathan Nez.
This challenge is ultimately to keep us all connected while we social distancing from one another. The photos represent our community online. Sharing a photo of what we are doing each day at home is encouraging to those that are having trouble staying busy. This challenge is important to me because I have been in self-isolation by myself since March 13, 2020.
COVID-19 on the Navajo Nation began in a small town 15 miles from where I grew up. COVID-19 on the Navajo Nation was identified in my home healthcare facility. The largest COVID-19 hotspot on the Navajo Nation stems from my hometown to some of the most rural communities where my grandparents live. I am taking the spread of COVID-19 very seriously.
Risks of COVID-19
I have asthma and that puts me at the high-risk category. I am not only in self-isolation because I am trying to keep myself safe, but I am in self-isolation because I want to keep my people safe. I am making the sacrifice to be away from my family because I know this is the best thing I can do for them.
At the end, every one on this planet has the ability to stop the spread of COVID-19. We have the unalienable ability to keep those that have compromised immune systems and our elders safe. By staying home and washing our hands we are saving lives; we are saving our language, our culture, our songs, our way of life. We might not have a cure for COVID-19 but we are all in this together while we are apart.