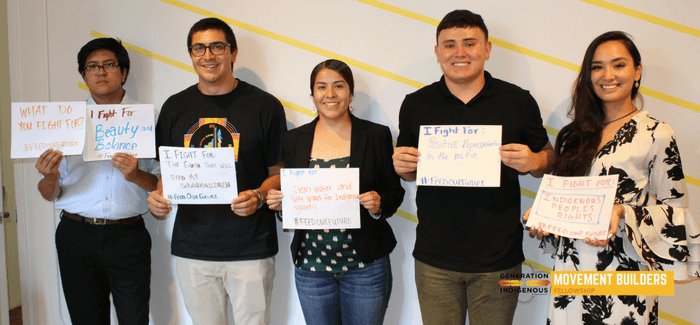 2018 Gen-I Movement Builders Convene in New York City
To support Indigenous youth activists, the Center for Native American Youth launched the Gen-I Movement Builders Fellowship (MBF), a six-month intensive leadership development program that aims to strengthen the voice and role of Native American youth in broader social justice movements. The inaugural class – Michael Charles, Maka Monture, JoRee LaFrance, Austin Weahkee and Jarrette Werk – met for the first time in June for a three-day convening in New York City where they connected with fellow youth leaders, seasoned Native activists, philanthropists, and organizations aiming to uplift young people and their communities.
The June meeting served as the first of three in-person convenings for the six-month fellowship. Throughout the fellowship, youth leaders will meet with tribal and non-tribal organizations, philanthropists and other activists.
Fellows started their convening with Dallas Goldtooth (Mdewakanton Dakota and Diné), an organizer for the Indigenous Environmental Network who is well known for his advocacy work around Indian Country. Dallas provided a brief advocacy training and shared his own experiences as an Indigenous activist. Afterward, Augustina Warton of Catalyst Arts assisted Fellows in creating a Call for Action, "#FeedOurFuture". The first day ended with Opportunity Youth United's Bronx Community Action Team bringing five local high school students to share their advocacy and activism efforts. The youth work toward getting people registered to vote, tackling prejudices in school and society, and breaking stereotypes of homelessness in the Bronx community. It was a productive and inspiring session of coalition building.
"I was inspired the most by the words that Dallas shared with us today. To hear someone who is on the frontlines in many movements constantly was motivating. I was also inspired by how young the OYU students were and how passionate they were to use others as a way to mobilize change through voting." – JoRee LaFrance, 2018 Gen-I Movement Builders Fellow
On Day Two, Fellows met with Edgar Villanueva (Lumbee Tribe of North Carolina), Vice President of Programs and Advocacy at the Schott Foundation. Edgar shared his experiences in grant management along with best practices for working with philanthropies. Afterward, the Fellows headed to the Tenement Museum where current president, Kevin Jennings, discussed the power of ally-ship and shared his own movement building journey including creating the first Gay-Straight Alliance in the country, serving as a teacher, and working with the Obama Administration on tribal consultation. Kevin taught the Fellows that "to have an ally, you must be an ally". The visit ended with a tour of Tenement housing where youth saw how immigrants lived at the end of the 19th and beginning of the 20th centuries. Fellows then headed to Teen Vogue offices where they met with senior editors to share their work, discuss how to strengthen their individual brands, and learn to better craft their advocacy messages. CNAY is grateful for a continued partnership with Teen Vogue. The day ended with a group dinner in a family-style Italian restaurant.

2018 Gen-I Movement Builders Fellows and CNAY staff visited with Teen Vogue at the Condé  Nast office in New York city.
The final day in New York focused on giving these young leaders the tools necessary to create change in their communities. Their first meeting was with program officers from Wellspring Philanthropic Fund where Fellows had the opportunity to learn more about philanthropies and how to advance and support each other's missions. Fellows were able to ask questions about grantwriting, management of funds, and general questions about philanthropy. Following this session was a final field trip – this time to the National Museum of American Indian where they met with education staff who shared how they educate the public about Indigenous people, culture and issues of importance. At the end of the day, Fellows sat down with CNAY staff to brainstorm and begin planning a project utilizing their Innovation Fund.
CNAY looks forward to continuing to support Michael, Austin, Jarrette, JoRee and Maka in their activism efforts. Fellows will meet again in August during the Fresh Tracks Midwest convening.