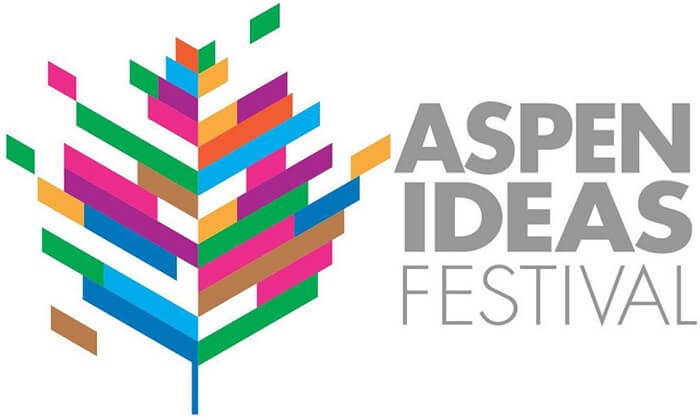 Indigenous Scholars at 2018 Aspen Ideas Festival
The 2018 Aspen Ideas Festival welcomed 300 scholars to attend this year's event. Among the 300 scholars selected through a competitive nomination and selection process were Indigenous leaders Janeen Comenote (Quinault), Joseph Kunkel, (Northern Cheyenne), Nick Tilsen (Oglala Lakota), Matika Wilbur (Swinomishh and Tulalip), and Bethany Yellowtail (Crow & Northern Cheyenne). Click here to learn more about the scholars.
---
Janeen Comenote lives in Seattle WA and is an enrolled member of the Quinault Indian Nation. Comenote is the founding Executive Director of the National Urban Indian Family Coalition (NUIFC). The NUIFC is a national coalition representing 28 urban Indian centers in 22 cities and more than two million Native Americans living away from their traditional land base. The NUIFC remains one of only a few national organizations dedicated to "Making the Invisible Visible" and providing a platform and voice for this underrepresented population in America.
Janeen is a graduate of Leadership Tomorrow, a regional leadership program, is a 1999 alumni of the prestigious American's for Indian Opportunity Ambassador program and was chosen and highlighted in O (Oprah) magazine for her participation in Women Rule; 80 Women Who Could Change America. She is a recipient of the Potlatch Fund Fran James Cultural Preservation award and the prestigious Eco Trust Indigenous Leadership award for her work with urban Indians. She has presented urban Indian issues at the White House, United Nations and as a keynote speaker at numerous conferences.
Additionally, she has been a Human Rights Commissioner for the City of Seattle and is currently a board member for Praxis and sits on the External Diversity and Inclusion Council for Charter Communications. She worked for 16 years at the United Indians of All Tribes Foundation in child welfare, juvenile justice, poverty reduction and as a development officer.
---
Joseph Kunkel, a Northern Cheyenne Tribal Member, is the Executive Director of the Sustainable Native Communities Collaborative (SNCC). He is a community designer and educator focused on developing capacity in Indian Country. His work with SNCC has focused around research and sharing exemplary Native American Indian housing projects and processes nationwide. This work has developed into emerging best practices for Indian Country, leading to an online Healthy Homes Road Map for affordable tribal housing development, funded by HUD's Policy, Development, and Research Office. His professional career has centered on community-based planning and design, to material research, fabrication, construction, design, and development.
---
Nick Tilsen is a citizen of the Oglala Lakota Nation and the founding Executive Director of the Thunder Valley Community Development Corporation. Nick has over 15 years of experience in working with non-profits and tribal nations on projects that have a social mission. As the founding executive director of Thunder Valley CDC Nick has played a vital role in creating a community development organization that is working with the local grassroots people and national organizations in the development of a sustainable regenerative community, that creates jobs, builds homes and creates new opportunity on the Pine Ridge Indian Reservation. Since 2013 Nick has served as a local point of contact for President Obama's Ladders of Opportunity Initiative, working to make targeted investments into America's poorest communities. This community based grassroots work has led Tilsen to become a National leader in the Equity Movement. In 2014 Tilsen was selected as an ASHOKA Fellow joining a global network of the worlds leading social innovators.
---
Matika Wilbur (Swinomish and Tulalip) is one of the nation's leading photographers, based in the Pacific Northwest. She earned her BFA from Brooks Institute of Photography where she double majored in Advertising and Digital Imaging. Her most recent endeavor, Project 562, has brought Matika to over 400 tribal nations dispersed throughout 45 U.S. states where she has taken thousands of portraits, and collected hundreds of contemporary narratives from the breadth of Indian Country all in the pursuit of one goal: To Change The Way We See Native America.
As a former educator, she realized that the representation of Native peoples in media and in learning materials as a "leathered and feathered" dying peoples deeply affected the identity and perceived
potential of her students. Thus began Project 562, the mission of which is to photograph and collect
stories of Native Americans from each federally-recognized tribe in the United States. Through her lens,
we are able to see the vibrancy and diversity of Indian Country and in seeing we challenge stereotypical
representations and begin shifting consciousness about contemporary Native America.
---
Bethany Yellowtail,
29 is a Los Angeles based fashion designer from the Crow & Northern Cheyenne Nations. She is the CEO of B. Yellowtail, an indigenous clothing line, and founder of the B. Yellowtail Collective the brand's initiative which sells handmade accessories crafted by indigenous artists from all directions of North America. In a world where indigenous images are often stolen and misappropriated, Bethany serves as an arbiter of authenticity and seeks to empower her people through design and economic equity.