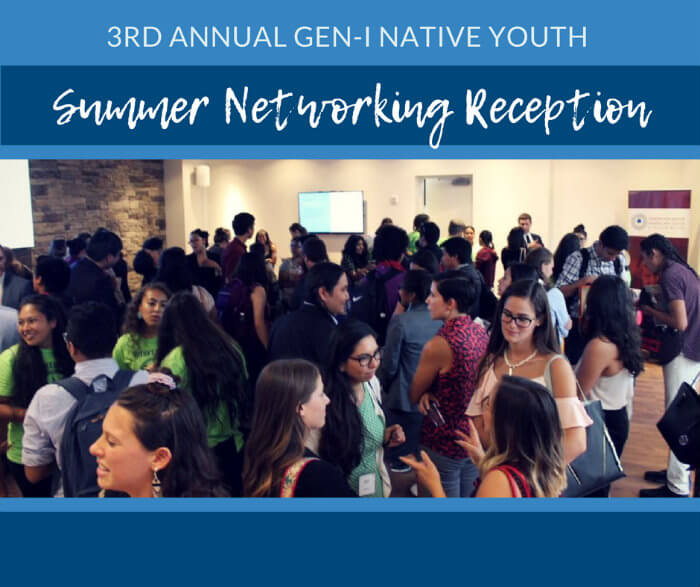 2018 Gen-I Native Youth Reception Speakers
Each year, the Gen-I Native Youth Summer Networking Reception connects DC-based Native youth, ages 14-24, with other local indigenous youth and professionals. Here's a list of this year's featured speakers.
---
Sedelta Oosahwee (Three Affiliated/Cherokee) currently serves as a Senior Program/Policy Analyst/Specialist (American Indian/Alaska Native Liaison) with the National Education Association (NEA). In this role she serves as a team lead on racial justice in education, manages national partnerships, and advises on American Indian and Alaska Native issues. Prior to NEA, Sedelta served in the Obama Administration as a Senior Advisor in the Office of the Secretary at the United States Department of Agriculture and as Associate Director of the White House Initiative on American Indian and Alaska Native Education at the United States Department of Education. Before moving to Washington DC, Sedelta worked for the Cherokee Nation, Ietan Consulting, LLC, and Northeastern State University. Sedelta has worked on behalf of tribes in various capacities at the tribal, state and national level. She is from Tahlequah, OK and earned a B.A. in Public Affairs and Administration and a M.Ed. in Adult and Higher Education from the University of Oklahoma.
---
Elizabeth Rule is an enrolled member of the Chickasaw Nation and came to the George Washington University in 2017 as the Assistant Director of the AT&T Center for Indigenous Politics and Policy and as a faculty member in the College of Professional Studies. She is a current Ford Foundation Dissertation Completion Fellow and a Ph.D. Candidate in Brown University's American Studies Department. Before coming to George Washington, she was a Visiting Scholar in Anthropology at the Massachusetts Institute of Technology. She is a recipient of "Holisso: The Center for Study of Chickasaw History and Culture Fellowship," the Mellon Mays Predoctoral Research Development Grant, the Chancellor Thomas A. Tisch Fellowship for Graduate Studies, and is a former Mellon Mays Undergraduate Fellow. Rule received her M.A. from Brown University and her B.A. from Yale University. She has lectured, presented, and taught courses related to Native American Studies nationally and internationally, placing particular emphasis on Indian law. Her dissertation,Reproducing Resistance: Gendered Violence and Indigenous Nationhood, explores the intersection of Native American/First Nations women's reproductive justice issues and gender violence. Her work brings together Native American Studies, legal histories, theories of gender/sexuality, and critiques of settler colonialism.
---
Keith Martinez is a graduate of Villanova University where he received the Presidential, Gates, and Truman scholarships. He currently works at the National Indian Gaming Commission as a Communications Specialist. He is a passion-driven individual who encourages his peers to obtain an education, mentor younger generations, and get involved to make a positive difference in their communities.
---
Naomi Miguel Ba'ag Nei'dam O'ks (Eagle Singing Woman) is from the Tohono O'odham Nation in Southern Arizona. Ms. Miguel is the Staff Assistant/Legislation Correspondent for Congressman Raul Grijalva. She served on the founding interim Board for the Congressional Native Staff Association, and is a former Udall Foundation Native American Congressional intern. Ms. Miguel received her Bachelor of the Arts Degree in Political Science with minors in Pre-Law and Art from Mount St. Mary's University, an all-women's college in Los Angeles, CA. As an undergraduate student, she interned with the Tribal liaison at the Federal Communications Commission, and the Office of Inspector General at the National Science Foundation. Following college, she worked as a field organizer for Arizona's Coordinated and Congressional District One campaigns. She worked six years at the Tribal Law and Policy Institute (TLPI) in Los Angeles, CA. She served four years as a Board Member and one year as Board Secretary for Pukúu, a non-profit organization dedicated to providing cultural community services for Native Americans in Los Angeles County. Ms. Miguel received her Master's in Public Administration and Policy degree from American University in Washington, D.C. With her education and Congressional experience, she would like to bring to light Native women and youth issues. While working in Congress, Ms. Miguel once had a person tell her "Native people could be really great if they were educated".' This experience solidified her belief that we need more Natives and staffers with knowledge about Native issues on Capitol Hill.
---
Joaquin Ray Gallegos is from the Jicarilla Apache Nation and Pueblo of Santa Ana. He is a rising third year law student at the University of Denver. This summer, Joaquin is a Legal Fellow with the US Senate Committee on Indian Affairs, Office of the Vice Chairman (US Senator Udall, D-NM). Gallegos recently served as a judicial intern at the Colorado Court of Appeals supporting the first-ever state appellate court Indian Child Welfare Act (ICWA) division. In Fall 2018, he will serve as a judicial intern for the United States Court of Appeals for the Tenth Circuit. Gallegos hopes to obtain a judicial clerkship following graduation and contribute to federal policy work in New Mexico and Washington, DC. Joaquin focuses on
Indian health care, ICWA, energy, and natural resource protection.
---
Katie Brossy is Senior Counsel at Akin Gump Strauss & Feld, LLP. Ms. Brossy's practice focuses on representation of Indian tribes, tribal governmental instrumentalities and tribally owned enterprises. She has worked on a number of highly significant tribal issues, including one of largest Indian water rights settlements in U.S. history and the largest tribal trust claim settlement. She has also represented tribal clients on a variety of matters, including issues regarding federal, state and tribal tax laws; Indian gaming law; land into trust matters; economic development initiatives gaming; environmental regulation; contract support costs under the Indian Self-Determination Education and Assistance Act; tribal sovereignty; and sovereign immunity. Ms. Brossy                         received her J.D. in 2005 from Columbia Law School, where she was a staff editor of the Columbia Human Rights Law Review and co-chair of the Native American Law Student Association. Ms. Brossy is a member of the Ponca Tribe of Nebraska and is a past president of the Native American Bar Association of Washington, D.C. Ms. Brossy is currently a member of the Washington office's diversity committee.