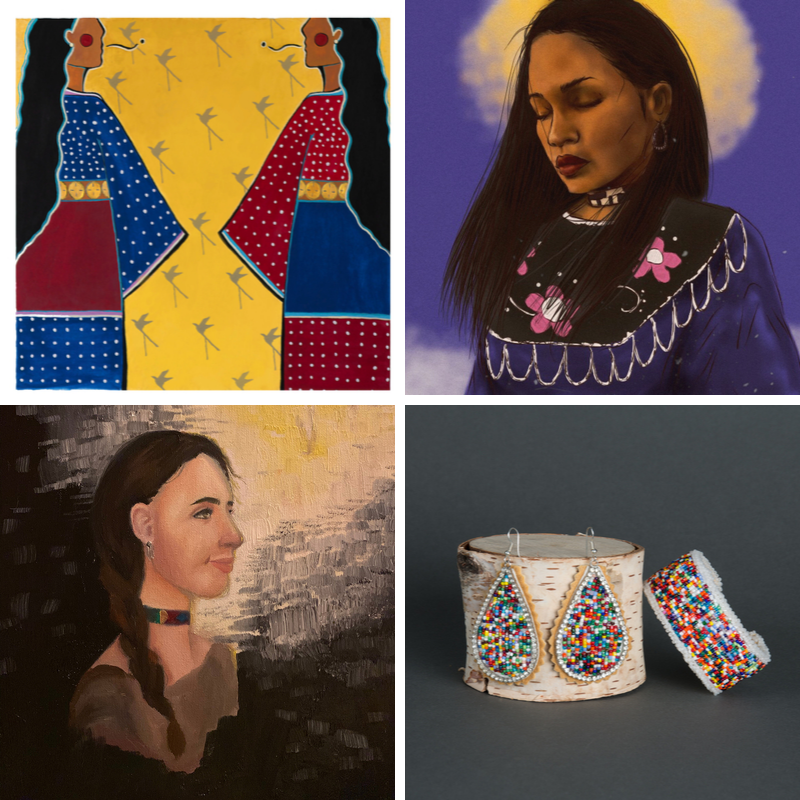 2019 Creative Native Art Contest Winners
Congratulations to all the category winners of this year's Creative Native art contest! You can view all of the 2019 submissions here on our online Creative Native gallery.
---
Aydrian 
9 years old
Hochunk, Ojibwe, Odawa, Bodewadmi, & Lakota
My name is Aydrian. I am 9 years old. My Anishinaabe name is Northern Lights Sky Dancer. Before I was born, I told my name giver "I want to dance and sing forever." I think I was saying I want our culture to live on forever. I chose a family full of artists to be born in to. Being surrounded by many art forms my whole life I found it easy to learn especially with my Mom and Dad making art on a daily basis. I love our traditional art and want to carry it on.
---
Kailey
14 years old
Colorado River Indian Tribes & Navajo
Las Vegas, NV
I am fourteen years old and will be a freshman in high school this school year. I began drawing as a small child. I began with crayons on the walls and graduated to painting on canvas. I love all mediums of art. I dance, I sing, I draw, and play the piano. I have been fortunate to have very supportive parents who encourage me to develop my talents that I possess and those that I want to possess.
---
Joelle Joyner
19 years old
Meherrin, Cherokee Nation, & Blackfeet
Detroit, MI
---
I am a 19 year old university student from Detroit, Michigan and am an aspiring artist who's dream is to combine career and culture. I am of mixed Kauwets'a:ka, Tsalagi (Oklahoma), Pikuni and African ancestry and currently intern and volunteer at my city's urban native health clinic, American Indian Health and Family Services. This summer had the privilege to work with and around other diverse Native youth and was inspired create art around my indigenous heritage. I learned that even though we as native people are extremely diverse, we share many common goals and realize we all deserve respect.
---
Elizabeth Morgan
24 years old
Kiowa Apache
My work is my life on canvas. Stories passes down orally. I wanted to show my culture and my people through my point of view. Telling a story through traditional methods. This is a way that connects me to my nation, my homeland, and identity. Using vibrant colors, the bold outlines help bring life to those stories I heard as a child. Being a young woman now I want to pass that to the youth that will one day be in my footsteps. So they can keep those traditions alive.