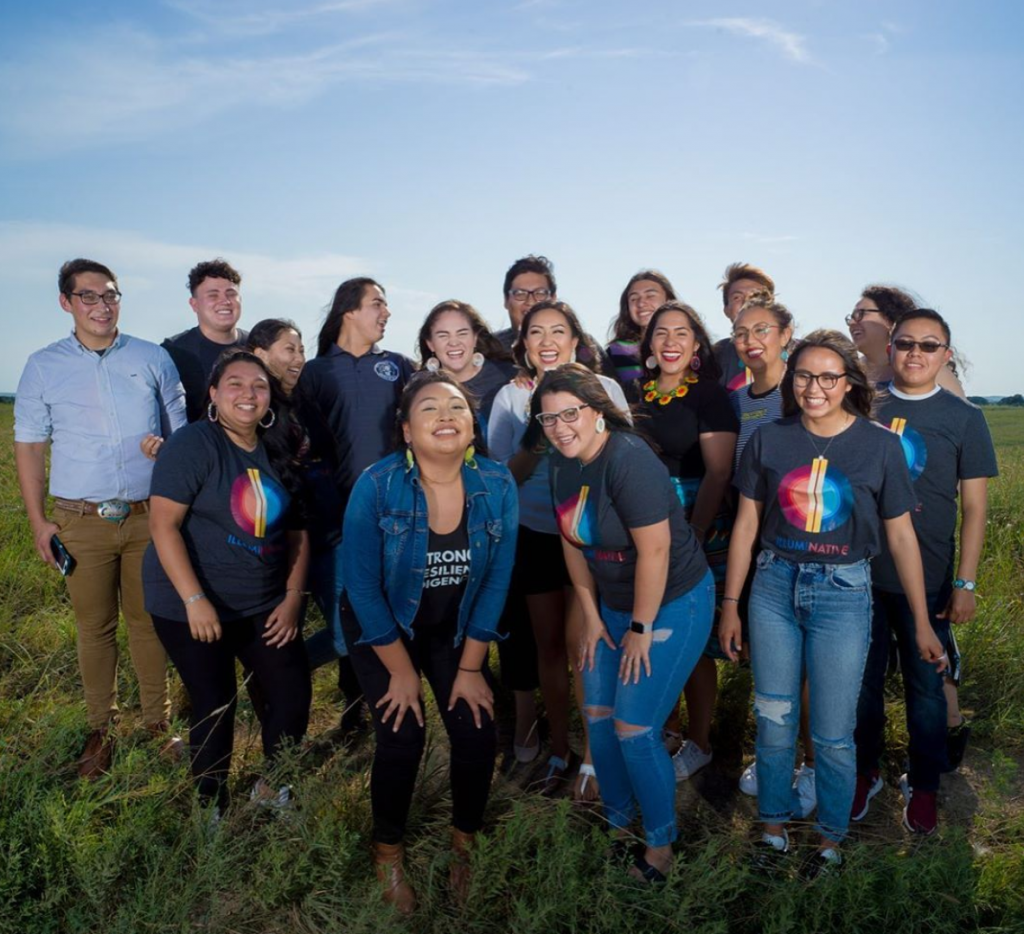 Native Now Youth Campaign
October 10, 2019 – IllumiNative, a national Native-led nonprofit organization, in partnership with the Center for Native American Youth and Generation-Indigenous, and with the support of Decolonizing Wealth and Native Americans in Philanthropy, kicked-off Native Now campaign- a campaign designed and implemented by Native youth to amplify today's Native voices.

The campaign was created at the first Native Youth Design Lab held this summer in Pawhuska, Oklahoma. Youth from tribal nations across the United States used IllumiNative's research to design, create, and put into action Native Now. The campaign targets the K-12 education system- which research has shown in its current form, largely serves to perpetuate and institutionalize invisibility, stereotypes, and misinformation about Native peoples today that fuels misinformation and bias. Although 87% of state-level history standards fail to cover Native people's history in a post 1900 context, 72% of Americans support significant changes to K-12 education to ensure accurate Native history is taught in schools.

Native Now has created resources to educate non-Natives and support Indigenous Peoples' Day. Complete with Lesson Plans for teachers, social media graphics, a coloring book, and with a Do's and Do Not Factsheet, Native Now is providing resources to fuel a movement. To join the campaign, visit www.IllumiNatives.org/NativeNow.

Native Now is a part of IllumiNative's year-long national "Be IllumiNative" campaign which aims to increase the visibility of contemporary Native American voices, stories, and issues to educate and transform the way that Americans and institutions think about and engage with Native peoples.

Of the Native Now campaign, IllumiNative founder Crystal Echohawk (Pawnee) said:

"We are proud to partner with the CNAY and Generation-Indigenous to amplify the voices of Native youth. The future is Indigenous and Native youth have been leaders in the fight for change. We are excited to be a partner of the Native Now campaign."

About his time at the Design Lab, Native leader, Roger Beyal (Navajo) said:
"It was such an inspiration to work alongside other native youth from different tribal nations who share the same passion as I do. This experience was very prodigious and the work of CNAY and IllumiNATIVE have inspired and motivated me to be a leader for my community and be part of changing the narrative that is centered around indigenous peoples."

To learn more about IllumiNative's mission, research and programs visit: www.illuminatives.org

_________

About IllumiNative

IllumiNative,is a Native-led nonprofit, launched to increase the visibility of Native peoples in American society by changing the national narrative. IllumiNative challenges negative narratives, stories, and stereotypes about Native peoples. We provide tools for Native advocates and allies including youth, community and tribal leaders, activists, and professionals across critical sectors — to develop and advocate for accurate and contemporary representations and voices of Native peoples.