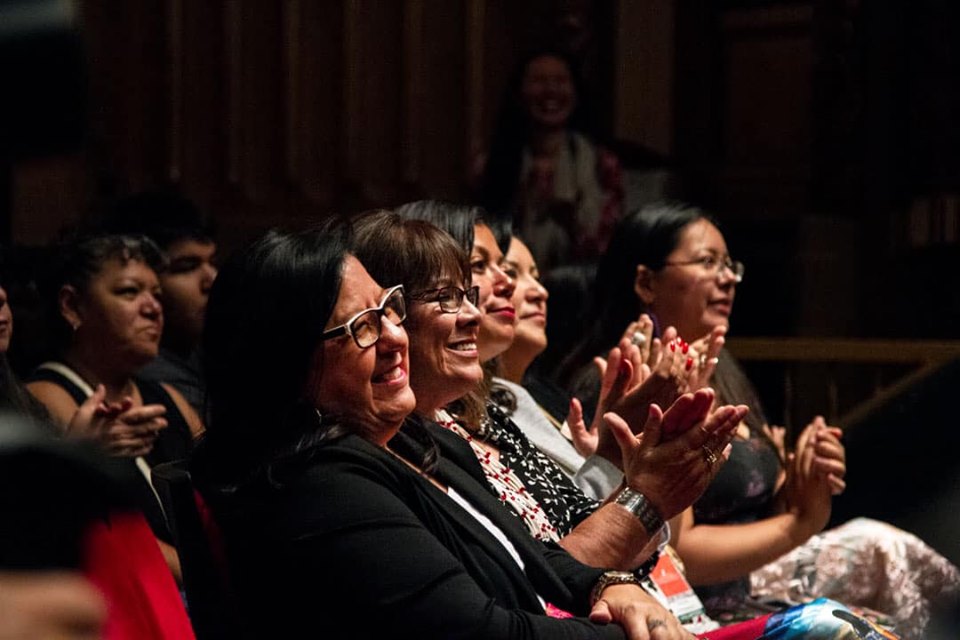 Native Organizers Alliance & CNAY Send Youth to Native American Presidential Forum
August 19-20, 2019 | Sioux City, Iowa – Native Organizers Alliance (NOA) partnered with CNAY to send four youth leaders to the Native American Presidential Forum in Iowa. MBF Fellow Jarrette Werk, and YAB members Nancy Deere-Turney, Isabel Coronado, and Rory Wheeler met in Sioux City to volunteer at the Forum.
Eleven Presidential candidates took part over the two days, responding to questions from various Native leaders and activists, including some of our youth leaders. Both Rory and Nancy had the opportunity to ask a question to the candidates and sit front row. When we asked these young leaders about their experience, many had reflected on the meaning of the forum itself. Isabel shared it, "felt like I was walking into the beginning of something." Attending brought a connection with both youth and elders, causing her to feel inspired by the power of her people. Isabel had the chance to sit on a panel with Mark Charles, who is currently running as an Independent form the Navajo Nation. Sharing space with both youth leaders and elders reminded her of the strength Native people have when they ban together. Rory Wheeler shared the honor of being a young person invited to the forum, "we can't talk about the future if we don't have young people there that will live and further the polices that are being talked about," Speaking to the lack of representation, he felt this visibility was empowering for Native communities. Rory had the opportunity to speak with Marcella LaBeau, a citizen of the Cheyenne River Sioux Tribe and WWII veteran. LaBeau impacted Rory by reminding him to never be afraid of your story, and to have faith in the future of Indian Country.
YAB Chair Nancy Deere-Turney felt the power of this forum, which was the first of its kind. While she met multiple candidates, the most impactful take away was seeing the power of Native organizing. While much of the narrative of Indian Country is negative, she felt this forum shined a light on not only the needs of Native communities, but the power within them. Nancy shared, "I left feeling hopeful, and inspired about how much they did know, and how much the candidates were willing to listen. I left finally feeling heard." Jarrette Werk mirrored similar reflections of power and voice as a Native youth. During the forum, Jarrette was asked to speak on the panel with candidate Joe Sestak, asking "if you become President how will you create spaces for Indigenous journalist and Native media to be at all White House press briefings and other media gatherings? How will your administration's transparency be inclusive to Native Media?" As a passionate advocate for journalism and Native representation, Jarrette was successfully able to have a seat at the table in the 2020 presidential race.