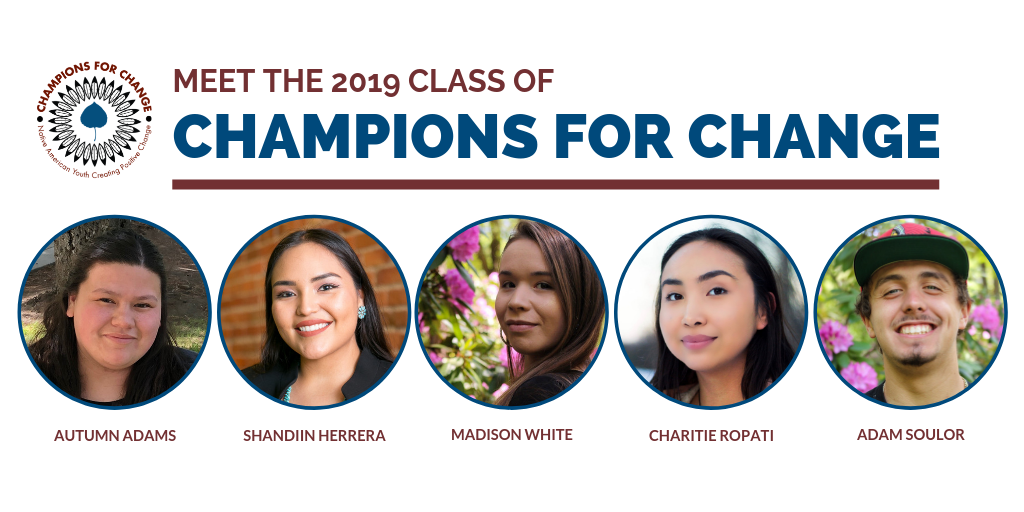 Announcing the 2019 Class of Champions for Change
Washington, DC, January 4, 2018 — The Aspen Institute's Center for Native American Youth (CNAY) will celebrate its seventh cohort of
CNAY Champions for Change through a series of recognition events in Washington, DC, next month. The 2019 Champions include
Autumn Adams (Confederated Tribes and Bands of the Yakama Nation), Shandiin Herrera (Navajo Nation), Madison White (Mohawk Nation at Akwesasne),
Charitie Ropati (Native Village of Kongiganak), and Adam Soulor (Mohegan Tribe).
The 2019 Champions for Change serve as representatives of the next generations of leaders in Indian Country. From Alaska to Connecticut to Washington,
the 2019 Champions have advocated for issues important to them, including improving child welfare systems, decolonizing education standards, or supporting
victims of sexual assault.
"The young Native Americans we have designated as Champions for Change this year are not only doing inspiring work on their home reservations, they are
also serving as mentors to other young people who are working for change" said founder of CNAY, Sen. Byron Dorgan (ret). "These exciting young leaders
are Champions in every way, and our Center for Native American Youth is proud to recognize and salute them for their accomplishments."
Champions for Change is the Center for Native American Youth's flagship youth leadership initiative. Each year, CNAY selects five up-and-coming Native
change makers between the ages of 14 and 23 to serve as Champions. CNAY works closely with each Champion to develop their leadership and advocacy skills
through tailored resource sharing, mentorship, skill building and networking opportunities.
"These young leaders serve as ambassadors for the critical work we get to do throughout the year in tribal communities," said CNAY Executive Director
Erik Stegman. "They lead with their values and have the power to inspire many others to create positive change."
The Champions will share their stories next month in Washington, DC. More information on the public event is forthcoming.