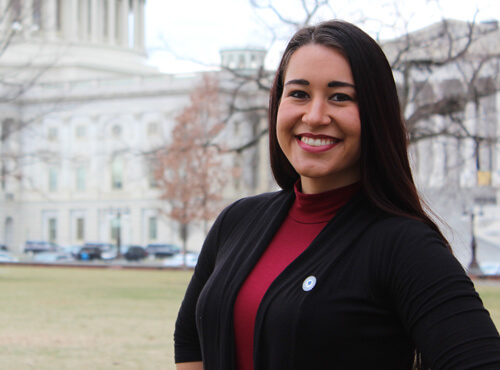 Mariah Gladstone Named Robert Wood Johnson Foundation Culture of Health Leader
Mariah Gladstone, Champion for Change at The Aspen Institute's Center for Native American Youth, has been selected to participate in one of the Robert Wood Johnson Foundation's leadership development programs, designed to equip leaders across the country—in every sector and field—to collaborate, break down silos, and use their influence to make communities healthier and more equitable.
Specifically, Mariah was selected for the Culture of Health Leaders Fellowship. Designed for people from all sectors—from technology
and business to architecture and urban planning—Culture of Health Leaders fosters cross-sector collaboration and enables participants
to remain in their homes and jobs and directly apply everything they learn to improving policy and practice in their communities and organizations.
The three-year program provides participants with an annual stipend of up to $20,000.
As a member of the program's newest cohort, Mariah Gladstone will focus on expanding the advocacy efforts at the core of Indigikitchen, the online
cooking show Mariah founded to bring awareness to food insecurity in Native American communities. Indigikitchen focuses on creating modern,
nutritional meals using traditional ingredients that were indigenous to the North American continent prior to settlers' arrival. Mariah uses the show
to educate a broad, diverse audience about the history of food sovereignty among Indigenous peoples in what is now known as the United States.
Mariah will also:
Benefit from high-caliber curricula and coaching from national leaders.
Collaborate with other cutting-edge thinkers to create greater impact.
Accelerate his/her/their ability to build healthy communities, inform public opinion and policy, and contribute significantly to building a Culture of Health.
To learn more about Mariah Gladstone and RWJF's other leadership development programs, and to meet other participants, visit http://cultureofhealth-leaders.org. Be sure to sign up for email updates that provide tips on the application process and insights into what current leaders are thinking about and learning.