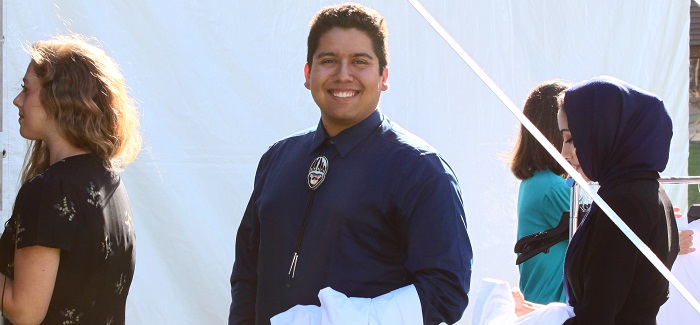 Alec Calac Reflects on White Coat Ceremony
On August 31st, UC San Diego School of Medicine held its 50th annual White Coat ceremony and welcomed 134 students into the medical community in the presence of family, friends, and faculty. Among the newest inductees was a familiar face to CNAY, Gen-I Ambassador Alec Calac (Pauma Band of Luiseño Indians), who is combining his medical training and research expertise to earn an M.D.-Ph.D. dual degree. Here, Alec shares some of his reflections after receiving his first white coat with the Gen-I Network.
---
I was born to two loving parents, Daniel and Jacqueline Calac. My father grew up in Pauma Valley, and my mother grew up in North County, San Diego.
The Pauma Band of Luiseño Indians, historically known as the Pauma-Yuima Band of Mission Indians, is one of six federally-recognized Indian tribes in Southern California who share Luiseño tribal affiliation, language, and traditions.
Pauma translates to "the place where there is water". Our people are committed to the promotion of education and pride in both our heritage and community; the water is carried by many.
No matter which path we choose, we have collectively demonstrated a dedication and passion for working to improve the status of tribal communities.
My father earned his B.S. in Biology from San Diego State University in 1995 and his M.D. from Harvard Medical School in 1999. Today, he is the Chief Medical Officer for the Indian Health Council, Inc. (IHC), a consortium of nine tribes in San Diego County, including: Inaja-Cosmit, La Jolla, Los Coyotes, Mesa Grande, Pala, Pauma, Rincon, San Pasqual, and Santa Ysabel.
On August 31st, I received my first white coat – almost 23 years to the day my father received his. He was the first from our tribe to receive a medical degree, and I will be the second.
My first white coat represents many things. It represents my commitment to a lifetime of service; the efforts of countless individuals to increase the number of Native American medical students; and the essential nature of diversity in medical practice.
I am Strong. I am Resilient. I am Indigenous.
I have a story to tell, and this is where it begins.
---
This post was contributed by Alec Calac. CNAY is excited to follow Alec as he begins his journey toward becoming a physician-scientist. He is an outspoken advocate for Indian health, and was a member of the inaugural cohort of the 2017 NIHB Tribal Youth Health Policy Fellowship. Alec joined the Gen-I Network as an Ambassador in 2015. Connect with him here on Twitter.