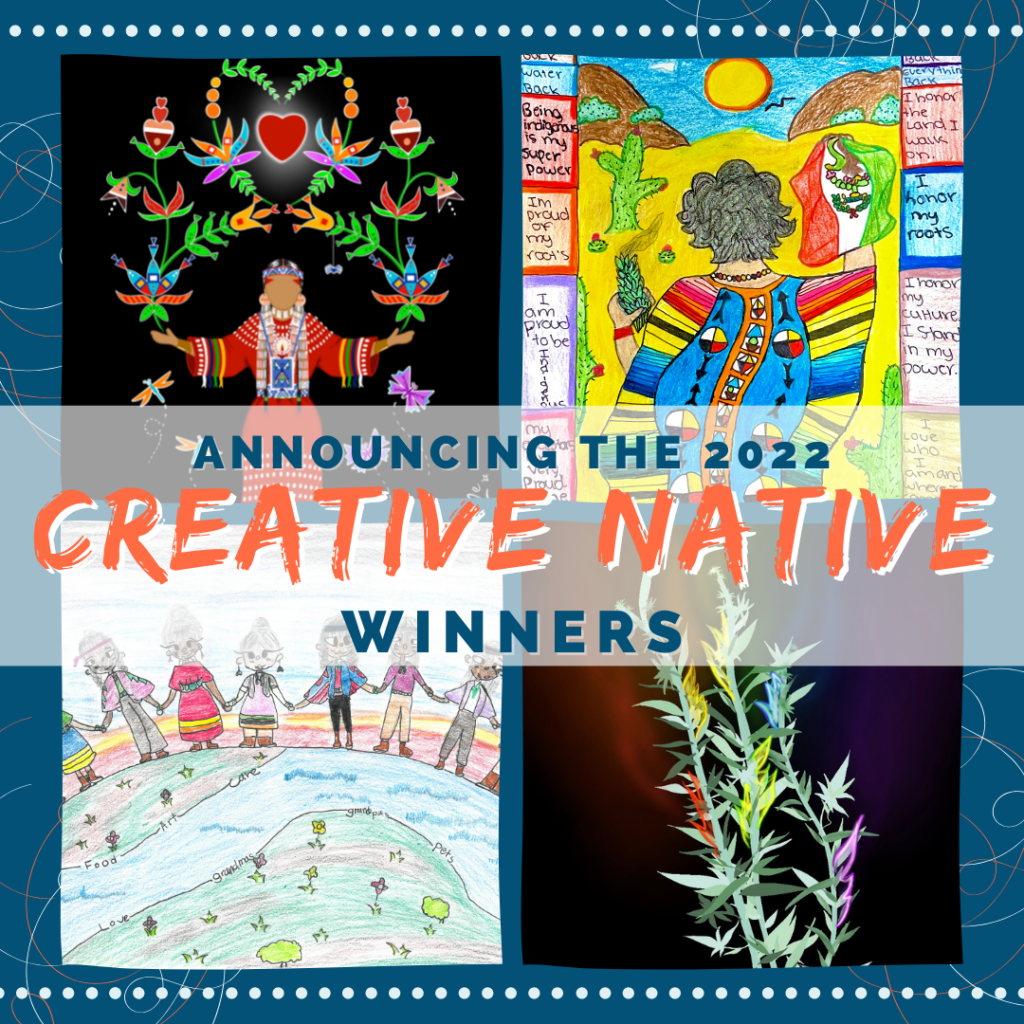 Announcing 2022 Creative Native Winners 
The Generation Indigenous (Gen-I) Creative Native Call for Art was created by former Center for Native American Youth (CNAY) Newman's Own Foundation Fellow and renowned artist, Del Curfman (Apsáalooke). This Gen-I initiative is designed to provide space and support to Indigenous artists ages 5-24 years old across Indian Country.
For the 5th annual Call for Art, CNAY asked Native youth to answer the prompt: identity. How do you center your identity? Is it your culture, education, gender, lived experience? What makes you, you?
We are proud and honored to announce the winners of each age category.
5-9 Years Old: Nevaeh, 9 years old, Navajo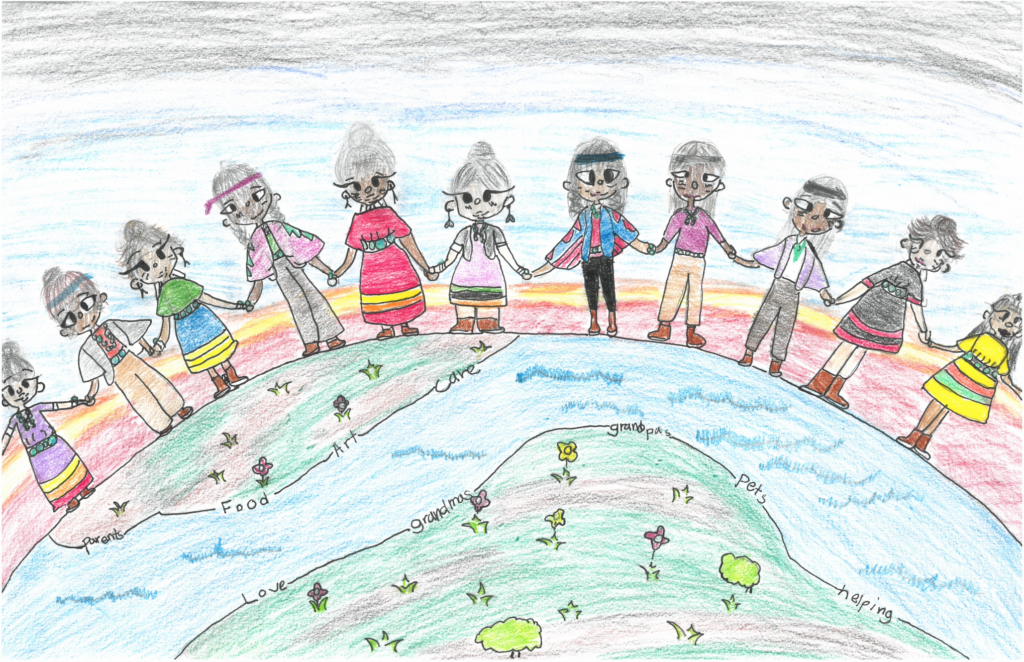 About the Submission: My art is about family and relationships. I need my family to encourage, love and support me in everything I do. I need my family to teach me about my culture and language and how to respect others who are unique like me. I also want the Earth to be cared for by everyone. When I draw, I try to include emotions, human connection and the pretty Earth. Art keeps me focused, calm, happy and creative. It is my way to express my thoughts and feelings.
Meet the Creative Native: Nevaeh Woods is 9-year-old Navajo girl. Nevaeh attends 3rd grade in Colorado. She is a kind, loving, respectful and brilliant young girl. Nevaeh loves art, especially drawing. She likes to travel, play golf and go fishing in the mountains. Nevaeh is a gentle pet owner to her two Shihtzu dogs (Marco and Luna). She wants to be a veterinarian in the future. Both sides of her families are proud of Nevaeh for always doing her best in whatever she puts her mind to.
10-14 Years Old: Ohíya, 14 years old, Cheyenne River Sioux Tribe Red Lake Band of Chippewa Indians Mvskoke Creek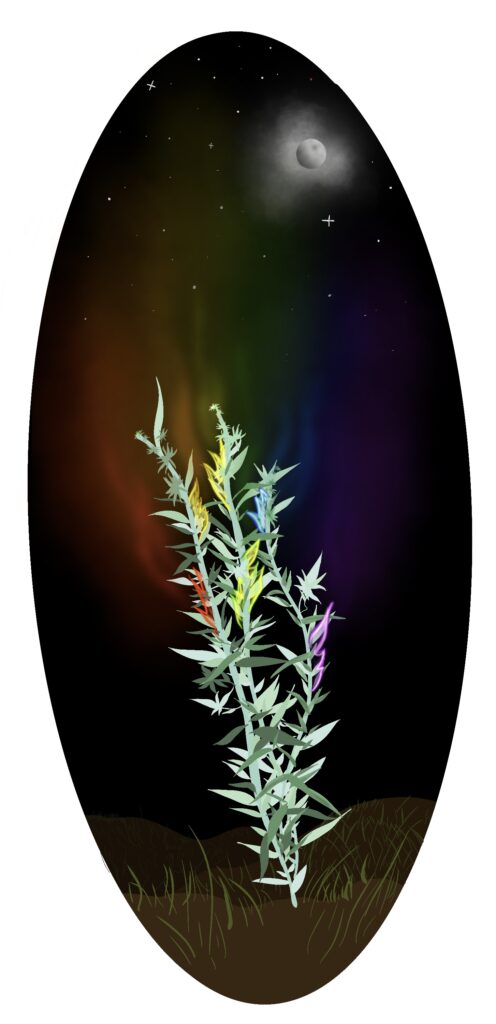 About the Submission: The submitted artwork started with a sketch of the sacred; smudging sage medicine helps center Ohíya's heart and mind and connect them to their ancestors. This is identity. Though there's been many obstacles, Ohíya has strong support in their journey as an Indigequeer youth, especially from their tribal knowledge systems and histories. The image Ohíya created is filled with a universe of queer medicine for anyone who needs it.
Meet the Creative Native: Ohíya Walker (they/them) is a Lakota citizen of the Cheyenne River Sioux Tribe and is also Red Lake Ojibwe and Mvskoke Creek. They are an award-winning trans/nonbinary painter and graphic artist combining contemporary and traditional imagery and mediums. Ohíya lives in Phoenix with their parents and three cats.
15-19 Years Old: Joey Gonzales, 18 years old, Chumash, Tataviam, Mexican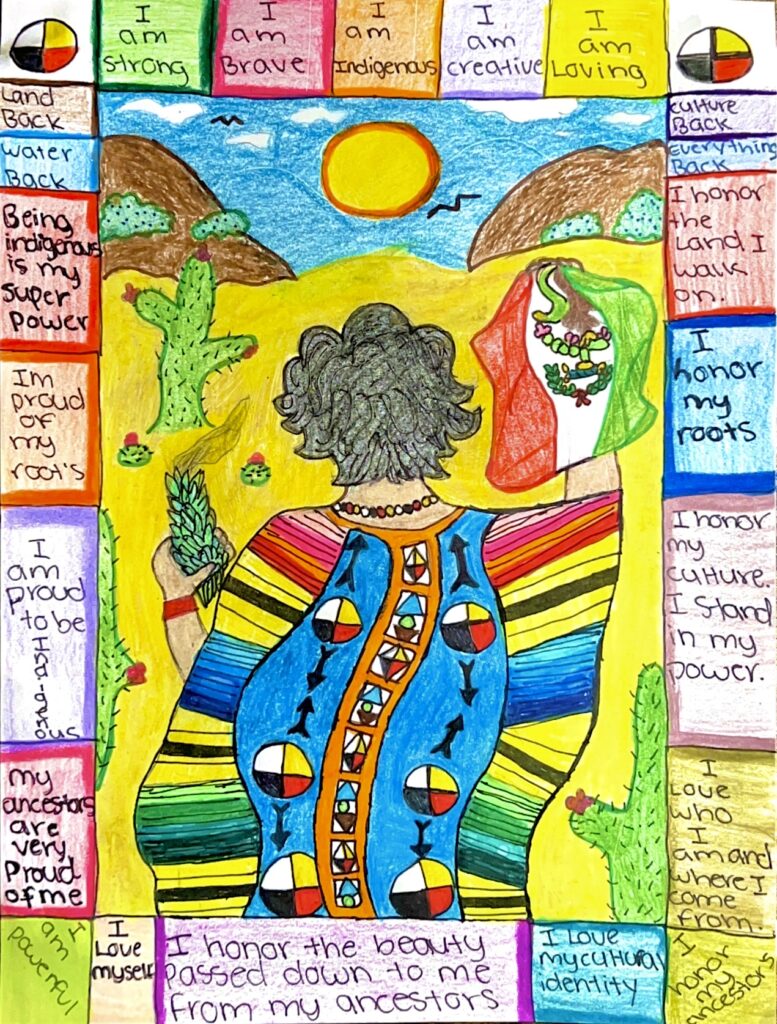 About the Submission: Hi my name is Joey Gonzales, I am an indigenous actor/model/and singer. I love representing my culture in everything I do and I stand proud of who I am. I also enjoy bringing mental health awareness as well and practicing healthy habits like meditation and connecting with nature. I hope my art within music and acting can bring healing to others.
Meet the Creative Native: Being creative to me means telling a story through my art. My art tells the story of my cultural identity as a Native/Mexican indigenous person. Every piece in this art has a meaning from the serape, medicine wheel, sage, the color orange for the every child matters movement, the blue on the blanket I am wearing representing water to the jewelry I am wearing with the color red to represent MMIW, each and every piece has a meaning to my indigenous identity. I even added affirmations on the border of my art so whoever sees my art speaks those affirmations into themselves.
20-24 Years Old: Chelysa Owens-Cyr, 23, Fort Peck Assiniboine & Sioux, Pasqua First Nations Plains Cree & Saulteaux 
Grand Prize Winner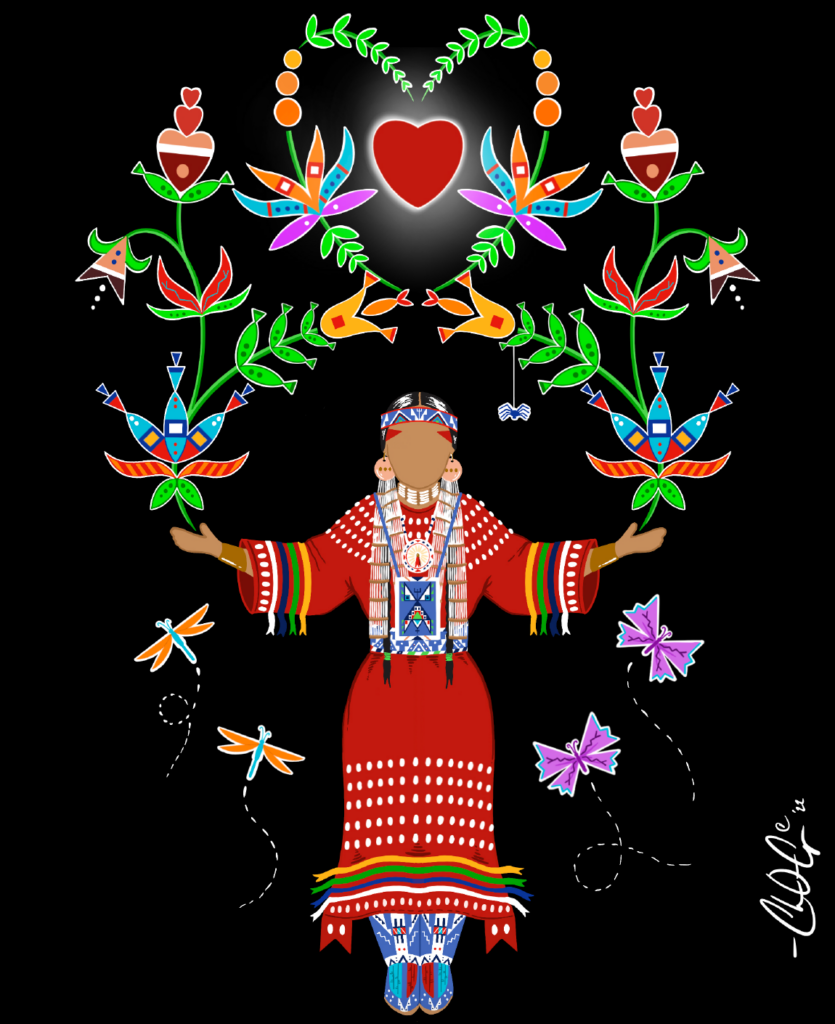 About the Submission: Being creative means that I'm able to express myself freely, allowing myself to share my visions with the rest of the world through my eyes, through my art. The story that my art tells is what I carry within myself. It's emotions that are constantly growing and blooming, always evolving, repairing itself through pain, learning how to heal. Learning how to love, express, forgive and find happiness. All these things that make me, me. My culture, memories, my hardships, relationships, etc. Arts have supported me by giving me a voice, a story to tell, a safe space to be myself.
Meet the Creative Native: Hań mitakuyapi, Chelysa "Chief" Owens-Cyr emaci'yapi. Hello friends and relatives, my name is Chelysa "Chief" Owens-Cyr. I'm proud to represent the Fort Peck Dakota Sioux & Assiniboine tribes of Montana and Pasqua First Nations Cree/Salteaux in Saskatchewan, Canada. I am 23 years old, a young entrepreneur, business major, small business owner (Chief'n Designs), ledger artist, beader, and graphic designer. I currently use my Instagram as a platform to showcase my art. You can find it at @chief_leese & @chiefn_designs.
Contest submissions from other artists will be featured throughout the 2022 State of Native Youth Report. All submissions from the 2022 Call for Art will be added to the Creative Native virtual gallery.
CNAY would like to thank the talented artists who submitted this year.