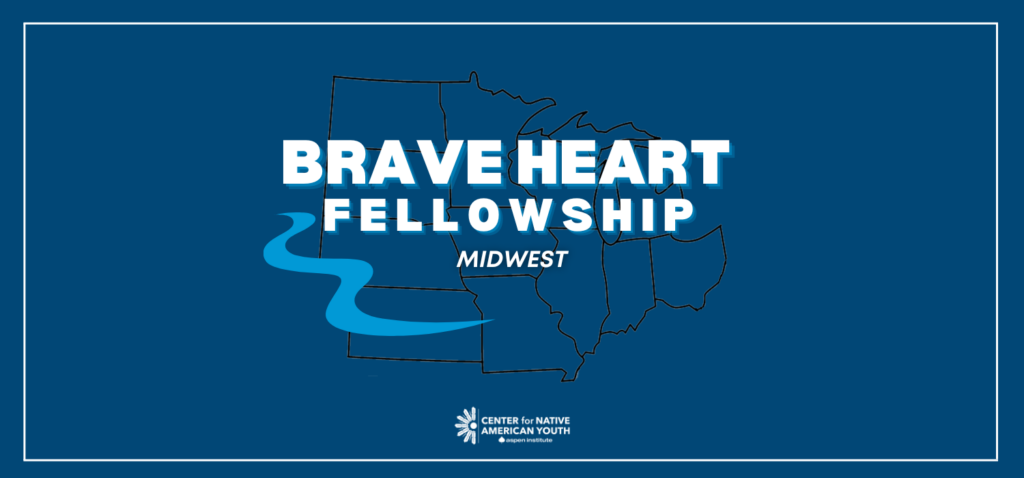 Call for Fellows: 2022 Brave Heart Fellowship
November 28, 2022, Washington, DC — The Center for Native American Youth (CNAY) at the Aspen Institute is proud to announce a call for applicants for the Brave Heart Fellowship (BHF). This fellowship, based in the Midwest region of the United States, uplifts youth voices while addressing the representation gap and inequities facing Indigenous Peoples in the fight for climate justice.
 
At CNAY, our work is led by Indigenous values and methodologies, allowing us to center and partner alongside Native communities effectively. BHF will directly support community members and like-minded organizations addressing environmental disruption by developing a network of climate activists and climate-driven organizations and working together through Indigenous ways of knowing. When we engage with community partners, we can change the discourse surrounding environmental education and social change. The work of the Brave Heart fellows will impact all of us.

The BHF is for self-identified Native American and Indigenous youth, ages 18-24 years old, living in one of the following states: Illinois, Indiana, Iowa, Kansas, Michigan, Minnesota, Missouri, Nebraska, North Dakota, Ohio, South Dakota, or Wisconsin. This youth-led program will equip Native youth to advocate and mobilize across their communities to protect traditional lands, waterways, and sacred sites. Through a culturally immersive curriculum, BHF will prioritize intergenerational learning spaces with tribal leaders and community elders who have long been on the front lines of climate change.
  
If you or someone you know lives in the Midwest and are passionate about climate advocacy, we encourage you to become a fellow!
The deadline for application is December 16, 2022, at 11:59 PM CST. If you have any questions, please contact Will Wilkinson at William.Wilkinson@AspenInstitute.org.