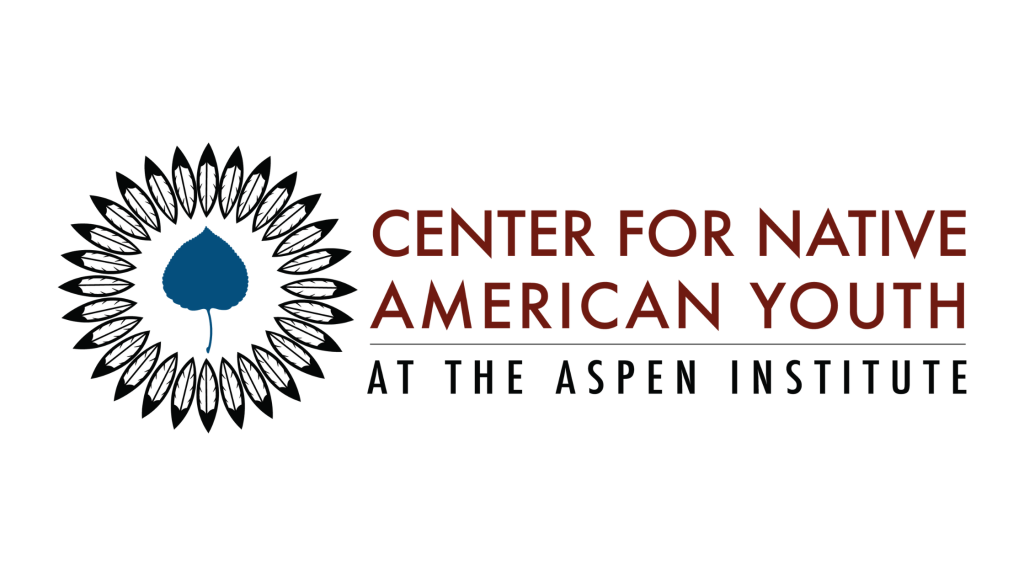 Center for Native American Youth Announces New Board of Advisors Chair Allison Binney and Vice Chair Sam McCracken
Celebrating 10 years, the Center for Native American Youth's Board of Advisors unanimously voted in favor of a new Chair and Vice Chair.
Washington, DC, May 18, 2021 — The Center for Native American Youth at the Aspen Institute has new leadership in their Board of Advisors. Allison Binney, Sherwood Valley Band of Pomo Indians, and Sam McCracken, Fort Peck Sioux and Assiniboine, were voted unanimously by CNAY's Board of Advisors on Monday, April 18. In these roles, Allison and Sam will lead the board and support the executive director.
"I am humbled to take on this new position and hope that I can live up to the task. As someone who grew up in my own tribal community, I understand firsthand the obstacles that many Native Youth face, but also know the capacity youth have to become incredibly successful and leaders for the next generation." said Allison upon the vote, "I thank Senator Byron Dorgan for his steadfast leadership in establishing the Center for Native American Youth and building its lasting foundation. I look forward to working with Vice Chairman Sam McCracken, the other Advisory Board members, staff and Native youth to continue the progress of the organization and work to expand its impact."
Allison Binney has served on CNAY's Board of Advisors as an executive committee member since its founding in 2011. Allison is a partner at Akin Gump Strauss Hauer & Feld, LLP, where she advises clients regarding American Indian law and policy. She returned to Akin Gump in 2011 after serving as staff director and chief counsel to the U.S. Senate Committee on Indian Affairs from late 2007 to early 2011. She served as general counsel to the committee from 2005 to late 2007.
Before originally joining Akin Gump, Allison served as an associate at a boutique law firm specializing in American Indian law, as the program coordinator for the Indian Legal Program at Arizona State University College of Law and as a law clerk for the Native American Rights Fund in Washington, DC, where she assisted with trial 1.0 in the Cobell class-action lawsuit. She received her J.D. and Indian Law certificate in 2000 from the Arizona State University College of Law and her B.A. in political science with a minor in Native American studies from the California State University, Chico. She is a past president of the Native American Bar Association of Washington, DC.
"It's an honor to continue my service with the Center for Native American Youth and take on the role of Vice Chair. In my work with Nike N7, we focus on getting youth in Native American and Indigenous communities in North America active in sport and moving so that they can lead healthier, happier, and more successful lives. I have dedicated my career and focus on empowering our youth and helping build a brighter future. I look forward to continuing this great work with CNAY." Says Sam.
Sam McCracken is General Manager of Nike N7. He became the Manager of Nike's Native American Business in 2000 and has led the development of the Nike Air Native N7 shoe, the N7 retail collection, and the N7 Fund, which helps to create access to sport for Native American and Indigenous youth in the United States and Canada. McCracken has pursued a strategy of increasing health and wellness through physical activity in Native American communities.
McCracken has been recognized with several prestigious awards for his passion and work. He was honored in 2004 with Nike's Bowerman Award and with the George Washington Honor Medal by the Freedom Foundation at Valley Forge, for his commitment to Native communities on health promotion programs. More recently, he received the 2010 President's "Leadership Award" from the National Indian Gaming Association. In June 2010 McCracken was appointed by President Barack Obama to the US Department of Education's National Advisory Council on Indian Education. More recently, McCracken and N7 received the National Center for American Indian Enterprise Development's 2019 Corporate Business of the Year Award. In 2020, he was inducted into the Montana Indian Athletic Hall of Fame.
The Board of Advisors consists of distinguished leaders in policy and tribal communities to support the mission and vision of the Center for Native American Youth. The Board supports the executive director and the direction of the organization. To learn more about the Board and its members, visit CNAY's website here.
Contact: Jon Purves
Senior Media Relations Manager
The Aspen Institute
Jon.Purves@aspeninstitute.org
###
The Center for Native American Youth (CNAY) at the Aspen Institute is a national education and advocacy organization that works alongside Native youth—ages 24 and under—on reservations, in rural villages and urban spaces across the country to improve their health, safety, and overall well- being. All Native youth deserve to lead full and healthy lives, have equal access to opportunity, draw strength from Native culture, and inspire one another. At CNAY, this is achieved through empowerment and culturally-competent methodologies that include leadership, youth-led policy agenda, and youth-led narrative.
The Aspen Institute is a global nonprofit organization committed to realizing a free, just, and equitable society. Founded in 1949, the Institute drives change through dialogue, leadership, and action to help solve the most important challenges facing the United States and the world. Headquartered in Washington, DC, the Institute has a campus in Aspen, Colorado, and an international network of partners. For more information, visit www.aspeninstitute.org