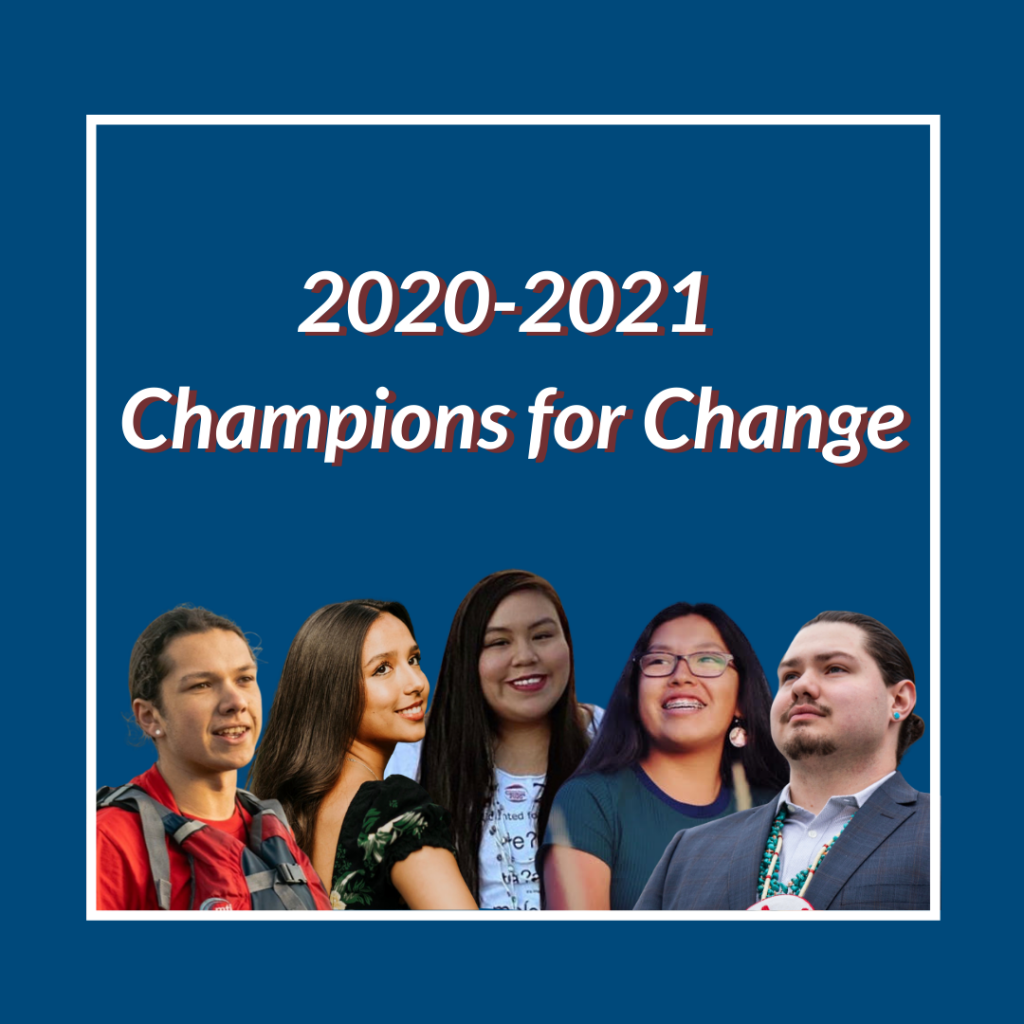 CNAY 2020 Champions for Change to Extend Another Year 
Washington, DC, October 28, 2020- The Center for Native American Youth (CNAY) at The Aspen Institute will extend its eighth class of CNAY Champions for Change to serve for another year. Champions for Change is a national youth leadership program designed to provide youth resources they need to create positive change in their communities. CNAY works closely with youth leaders in custom training and uplifting their voice and their advocacy through this program.
The 2020-2021 class include Warren Davis (Navajo Nation), Isabella Madrigal (Cahuilla Band of Indians & Turtle Mountain Band of Chippewa Indians), Owen L. Oliver (Quinault (Chinook) Indian Nation & Isleta Pueblo), Shavaughna Underwood (Quinault Indian Nation), and Jazmine Wildcat (Northern Arapaho).
"CNAY is honored to continue to build capacity with our 2020 Champions for Change for an additional year: Owen, Isabella, Warren, Jazmine and Shavaughna," said Nikki Pitre, Executive Director of CNAY. "We look forward to working with youth within our other leadership programming and encourage youth to apply in the Fall of 2021 to be part of the 2022 Champions for Change program."
The decision to extend the Champions another calendar year is in response to the COVID-19 pandemic and the effects it has had on tribal communities. Shutdowns to keep the population safe limited in person leadership opportunities that Champions generally participate and grow in. In 2021, CNAY hopes to further highlight and establish opportunity for the five 2020-2021 Champions.
As a group, the current Champions are working to revitalize language and culture, advocate for gun control, destigmatize mental illness, implement traditional coping mechanisms for intergenerational trauma, increase visibility and Native storytelling, and address other important issues.
All leaders, ages 14-24, with a desire to better their community and the overall Native population, are encouraged to apply next Fall for the 2022 Champions for Change program.