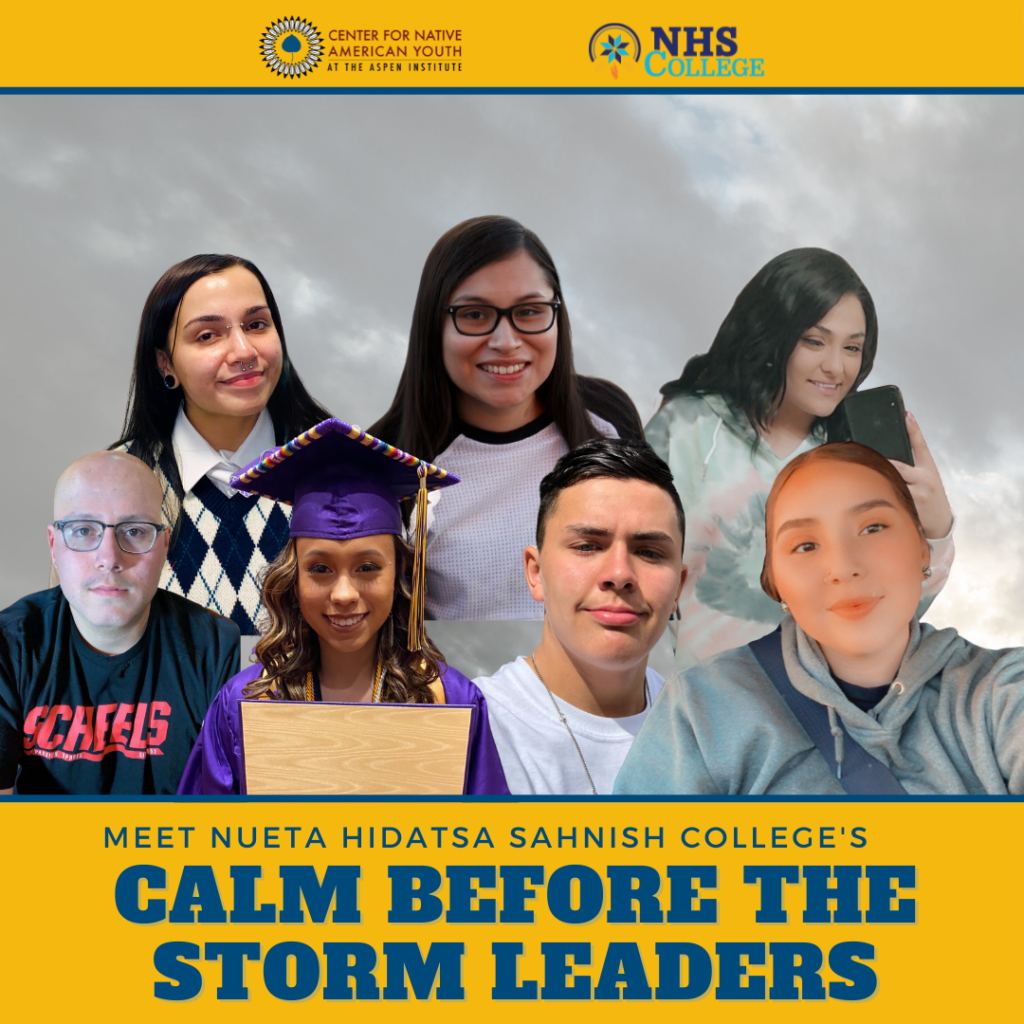 CNAY AND NHSC ANNOUNCE INAUGURAL COHORT OF CALM BEFORE THE STORM LEADERS
For Immediate Release: July 5, 2021.
Washington, DC: The Center for Native American Youth (CNAY) at the Aspen Institute and Nueta Hidatsa Sahnish College (NHSC) proudly announce the inaugural cohort of the Calm Before the Storm leadership program. The cohort consists of 7 Native American youth leaders who are students at the tribal college. Throughout the program, youth leaders will develop community action projects aimed to empower, enhance and encourage positive change on the Fort Berthold Indian Reservation.
"I am excited to start cultivating and nurturing young leaders in our communities," says President of NHSC, Dr. Twyla Baker. "At the Tribal College, our work is the business of building hope, and I can think of no better way to do that, than to lift the voices of young leaders in spaces that matter to them."
Youth leaders will focus their community action projects on issues to improve their community including promoting healthy lifestyles, increasing access to culture, decreasing the stigma on mental health, substance abuse prevention, and more. In the upcoming months, Calm Before the Storm youth leaders will participate in various trainings to increase leadership and community organizing knowledge and skills. The Fort Berthold communities will hear of and feel the impacts made by their young leaders.
"We are proud to bring our youth leadership programming to Nueta Hidatsa Sahnish College. Together, we will provide young leaders in the community skills to lead our people in significant ways," says Executive Director of CNAY, Nikki Pitre. "Congratulations to Duan, Keishawn, Shooter, Tiana, Irene, Jonna and Alalie!"
###
About the Center for Native American Youth
The Center for Native American Youth is a national education and advocacy organization working to improve the health, safety, and overall well-being of Native American youth ages 24 and under. Founded by former US Senator Byron Dorgan, Center for Native American Youth is a policy program within the Aspen Institute, headquartered in Washington, DC. While a part of the Aspen Institute, Center for Native American Youth is also overseen by a Board of Advisors. We strive to bring greater national attention to the issues facing Native American youth while fostering community-driven solutions, with special emphasis on youth suicide prevention.
About Nueta Hidatsa Sahnish College
The Nueta Hidatsa Sahnish College is a public college that enhances the quality of life and builds a strong, positive identity for the Mandan, Hidatsa and Arikara Nations or Three Affiliated Tribes. NHSC offers in-demand certificate programs and associate degrees as well as three bachelor's degrees. The college offers high-quality cultural, academic, and vocational education. NHSC provides encouragement and support to facilitate successful college careers.