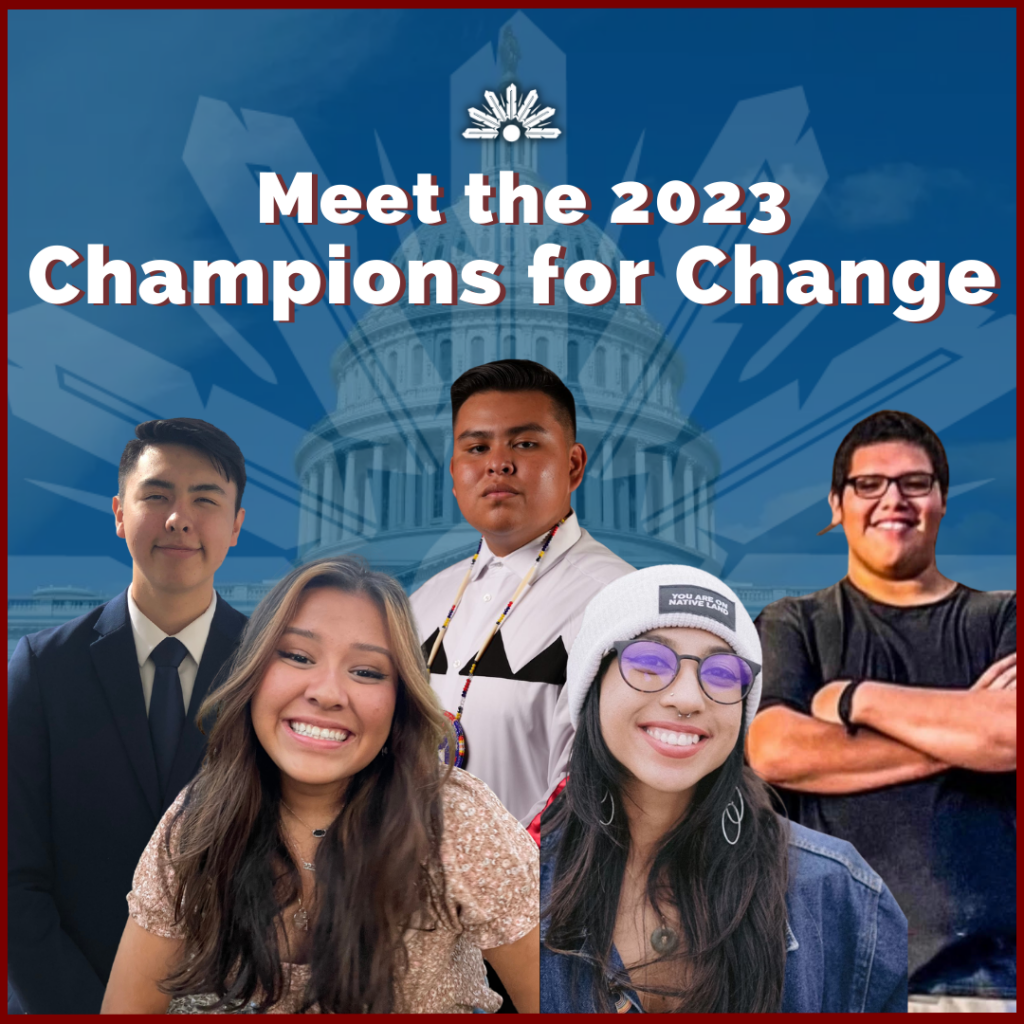 CNAY Announces 2023 Champions for Change Class
For Immediate Release
February 10, 2023
Contact: Cheyenne Kippenberger
cheyenne.kippenberger@aspeninstitute.org
WASHINGTON, DC: The Center for Native American Youth (CNAY) at the Aspen Institute is proud to announce the 2023 Champions for Change. The Champions for Change program has been advancing the leadership skills and advocacy efforts of young Native leaders for over 10 years. Each year, the national program selects five outstanding Native youth leaders and provides them with experience-based learning and tailored advocacy training.
"I am honored to welcome the 2023 cohort to the CNAY family," said CNAY Executive Director Nikki Santos. "The selected leaders are a shining example of the positive impact that Native American youth are making across our homelands. We are proud to support their growth and provide a platform for them to enhance skills, share knowledge, and further impact our world."
The individuals selected for the 2023 Champions for Change cohort include:
Samuel Hiratsuka, Navajo, Winnemem Wintu, Yup'ik & Unangan from Anchorage, Alaska
Gabriella Nakai, Choctaw Nation of Oklahoma & Navajo from Phoenix, Arizona
Jovi Williams, White Mountain Apache Tribe from Cibecue, Arizona
Honu'āina Nichols, Native Hawaiian from Honolulu, Hawaii
Joshua Jackson-Morrison, Red Lake Band of Ojibwe from Minneapolis, Minnesota
This year, over 50 Native youth applied to be a Champion for Change. The five selected reflect the rich cultures, diversity, and resiliency of Native Peoples of the United States. Collectively, they are advocating for the protection of our sacred sites, tribal sovereignty, increased civic engagement, Native youth programming support and Indigenous food sovereignty.
"I am inexplicably honored and humbled to welcome the 2023 Champions for Change class! (They) are at the forefront of change in their communities, paving ways to new futures, and setting an uplifting and hopeful example," said CNAY Youth Advisory Board Chair Kaliko Kalāhiki. "E hoʻomaikaʻi wale nō!"
The cohort begins February 19, 2023 in Washington, DC where the youth will come together for a week of leadership and advocacy training, share their knowledge and passions, and meet with various leaders.
"Champions are critical to the work we do here at CNAY, and I'm excited to have the opportunity to work with these young leaders and help them advocate for the issues that are important to them and their communities," said Allison Binney, CNAY Advisory Board Chair. "Congratulations Samuel, Gabriella, Jovi, Honu'āina, and Joshua!"
On February 21st, the Center for Native American Youth will host the in person Champions for Change Public Event at the Aspen Institute's Washington DC office. Click here to register for the event to hear of the remarkable work of Sam, Gabriella, Jovi, Joshua, and Honu'āina.