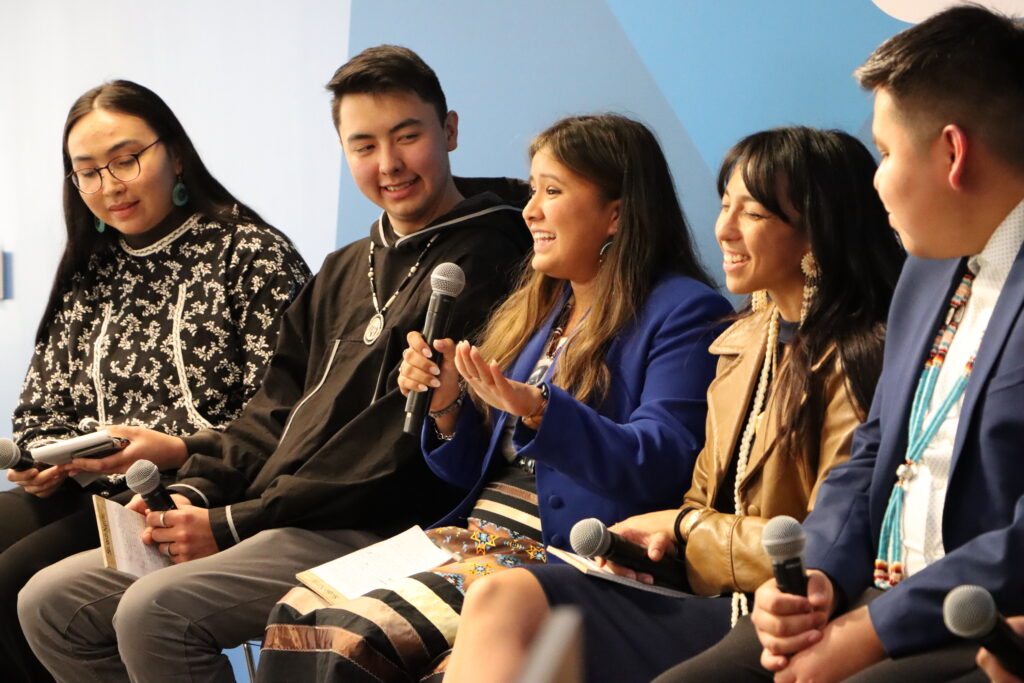 2023 Champions for Change Public Event
On Tuesday, January 21, 2023 the Center for Native American Youth (CNAY) at the Aspen Institute hosted its annual Champions for Change public event in Washington, DC. The event is a staple component of CNAY's Champions for Change "Champs Week." Throughout this week, the 5 selected Champions for Change convene in our nation's capital to receive leadership and advocacy training, engage in experiential learning, and meet with many leaders across various federal and state departments. During the public event, Champions participate in a panel discussion to share their work and passions while exercising their public speaking skills.
The event kicked off with a welcome by CNAY Executive Director Nikki Santos (Couer d'Alene) and a traditional blessing and prayer song provided in the Lakota language by Mr. Novi Runsabove (Northern Cheyenne, Shinnecock, and Oglala Lakota). Rooted in culture, CNAY emphasizes the importance of grounding not only the participants but also the guests with the opportunity to uplift their spirits and ensure positive support for the Champions. After the welcomes, Champions were recognized and honored in remarks made by President and CEO of the Aspen Institute Dan Porterfield and CNAY Advisory Board Chair Allison Binney.
Porterfield shared his belief that young people must be at the forefront of change in their countries. He said that they have the energy, creativity, and drive to challenge the status quo and shape the future. He said, "At Aspen, we believe in the power of youth-driven change." We recognize the importance of elevating youth voices and empowering them to take action." Binney shared her experience working for the Senate Committee on Indian Affairs and her journey to aiding in the creation of the Center for Native American Youth. Through this work, she discovered that Native youth voices were critical to driving change in the community and that adults needed to listen to them. Binney said that "it is through Native youth voices that change can occur."
Best known for her New York Times best-selling novel, "Firekeeper's Daughter," Angeline Boulley provided the keynote address. She shared about her journey into becoming an author and the disappointment she felt when she read a Native-written book that focused heavily on the deficit narrative of Native communities. Disappointment turned into inspiration, which led to her writing her debut novel, a story that highlights and celebrates the resilience of Native youth and Native culture. Intentional in her writing, she studied authors she enjoyed to stay authentic and shared, "I write to preserve my culture; I edit to protect it." Angeline's writing and success emphasize the importance of diverse representation in literature and the positive impact it has on Indigenous youth.
The panel discussion that followed highlighted the incredible work that young Native leaders are doing to uplift their communities and preserve their cultures. From language preservation to land and water protection to youth empowerment and political representation, the 2023 Champions for Change are working to build a better future for all Native people.
Jovi William's efforts to create an Apache language club and advisory council came from a call for language preservation and its direct connection to identity. Also closely connected to identity for Native people are our relationships with land, water, and air. Honu Nichols set out to protect Mauna Kea and fight for Indigenous voices within environmental initiatives and policies, not because they are activists but because they know the responsibility we carry as Indigenous people to protect sacred lands. When we take care of the land, the land takes care of us. Gabriella Nakai's gardening and land-care efforts demonstrate the critical correlation between land, culture, and mental health. Building safe community spaces, providing resources, and uplifting young people are tools to be used in battling mental health disparities and decreasing community violence, according to Joshua Jackson-Morisson. Guiding Native youth and presenting positive paths are some of the ways he has assisted in his community. Sam Hiratsuka praised his fellow Champs for their dedication to their communities and Indian Country and mentioned how important Native representation is in policy-making spaces. It is a critical step in ensuring that Native people have a voice in decision-making that affects their communities and lives.
A testament to the work the Champs have already invested into their advocacy, we are sure their impact will be felt and seen for generations to come. By investing in Native youth and providing opportunities and resources, we can ensure healthy, successful lives for Indian Country.