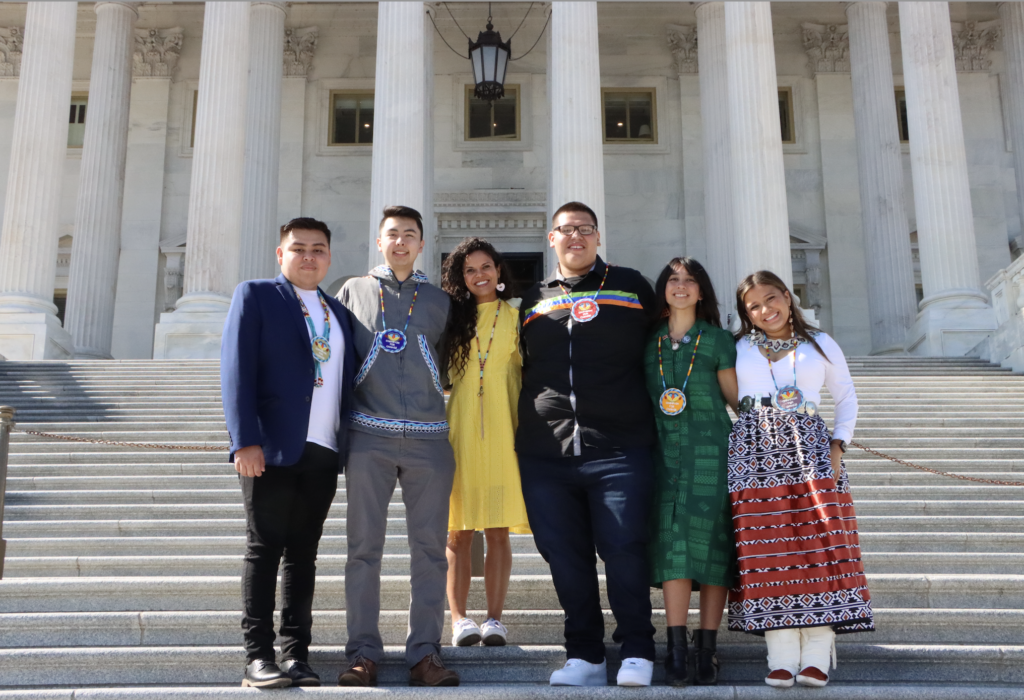 2023 Champs Week Recap Blog
On Sunday, February 19th, Native youth from across Indian Country traveled to Washington, D.C., to commence the 2023 Champions for Change week. From Minnesota to Arizona to Alaska and all the way from Hawaii, the newest class of Champs joined CNAY staff and the Cheyenne River Youth Project Youth Council to meet one another and get ready for an entire week of training, media, and community building. After welcoming each other with smiles and greetings in different Native languages, everyone prepared for a life-changing experience.
Day 1
Your Leadership Efforts and the Power of Sharing Your Narrative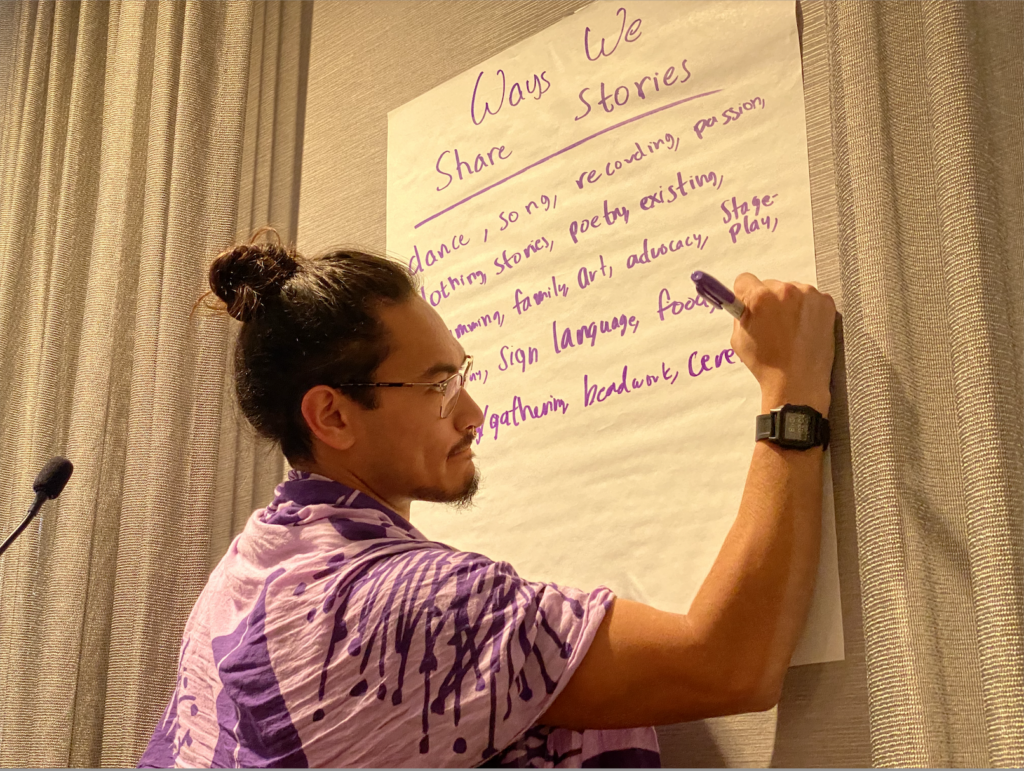 Historically, storytelling has been used to record our stories—our stories of creation, being, and survival—passed from generation to generation. Kaliko Kalihiki and Anthony Tamez led a writing workshop where young people were encouraged to think about their superpowers and how those powers are the basis of their advocacy. How many of us believe we have stories? How do we share stories—through art, clothing, speech, beadwork, and crafts? How is storytelling similar and different in our communities all across the United States? All these questions guided a group discussion, and individuals across the room shared their own stories and narratives. Storytelling is a powerful tool to advocate for yourself. This workshop was very powerful, and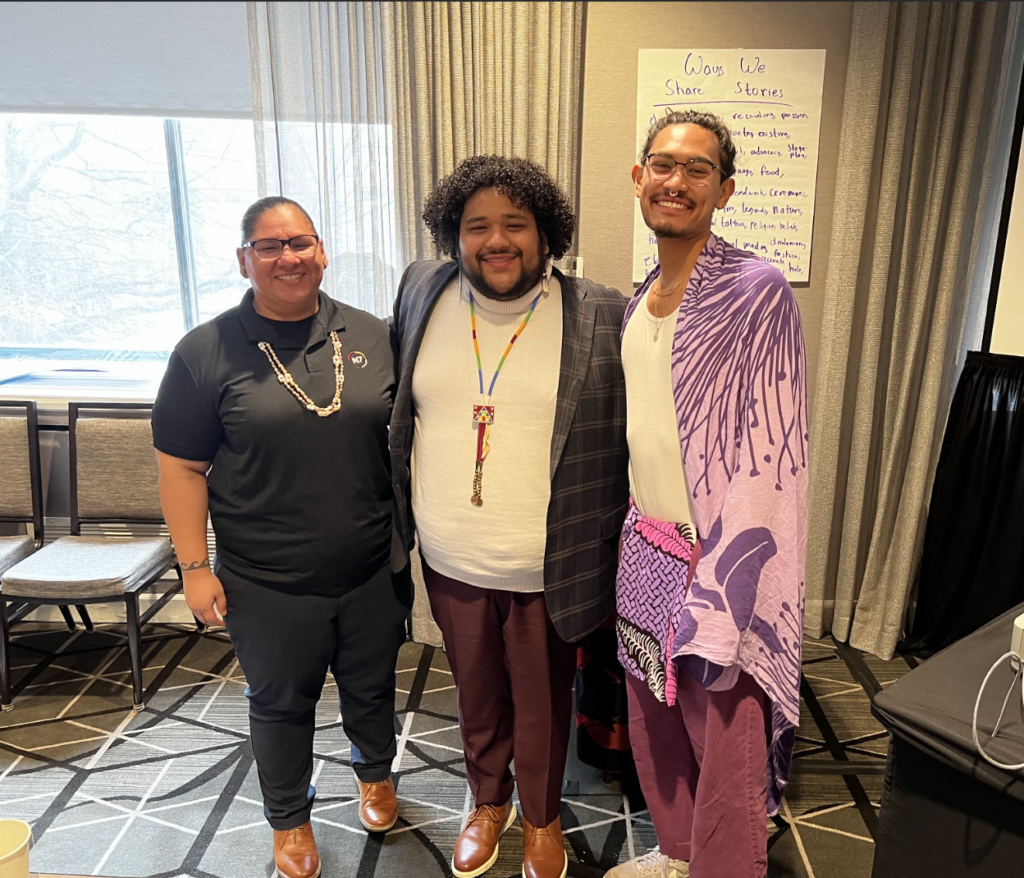 it was beautiful to see youth across the nation and from CNAY and NCAI share their stories of creation and advocacy. The workshop ended with Mikah Carlos, former CNAY ambassador and now elected Councilperson of the Salt River Pima-Maricopa Indian Community, who shared their personal story and narrative that got them to where they are today. They shared their story of brilliance and how an educator took the time to invest in their journey. They then graduated high school, went on to college, and received their associate's degrees. Today, they are one of the youngest people in the history of their tribe to serve on the tribal council.
Guide to Indigenous DC Walking Tour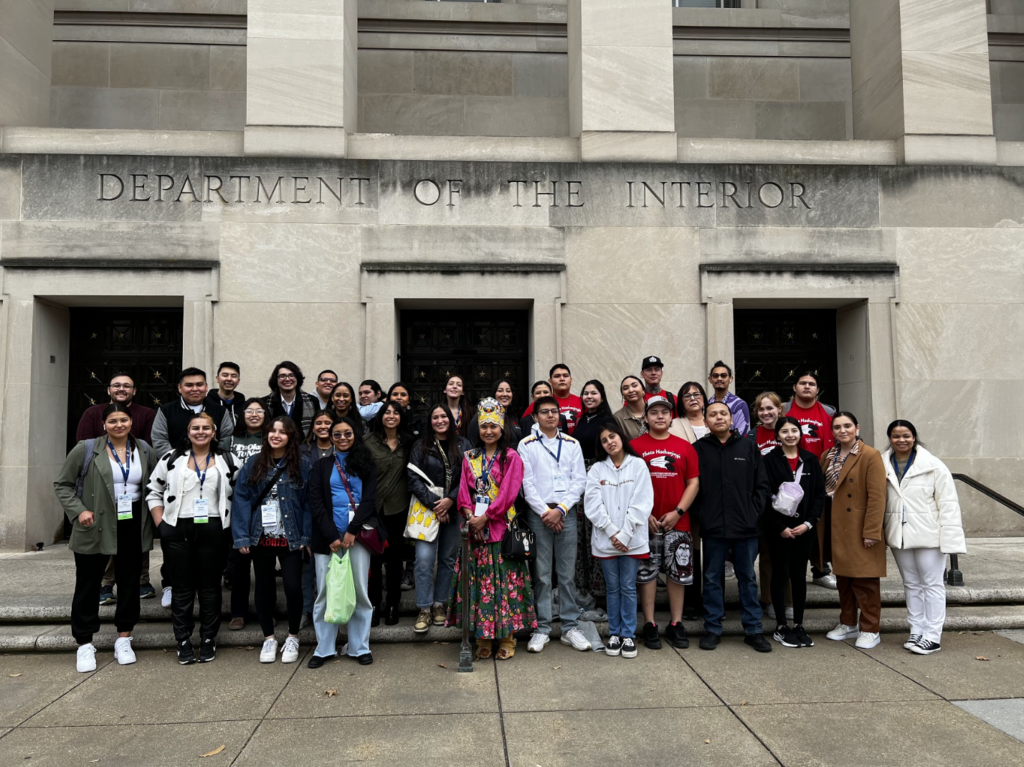 The youth were given the opportunity to do a grounding walking tour led by an app created by Elizabeth Rule. Guide to Indigenous DC is a walking tour map featuring sites of historical and contemporary importance to Native peoples across the Nation's Capitol. The youth were able to visit six of the total seventeen sites that the tour has to offer. They got to see where the 2019 Indigenous Peoples March took place outside the Lincoln Memorial, the Department of the Interior, the White House, and other places. Walking through Washington DC as a group of Native American youth and visiting locations that celebrate Indigenous people historically and contemporarily empowered the group and left everyone feeling prideful.
Embassy of Tribal Nations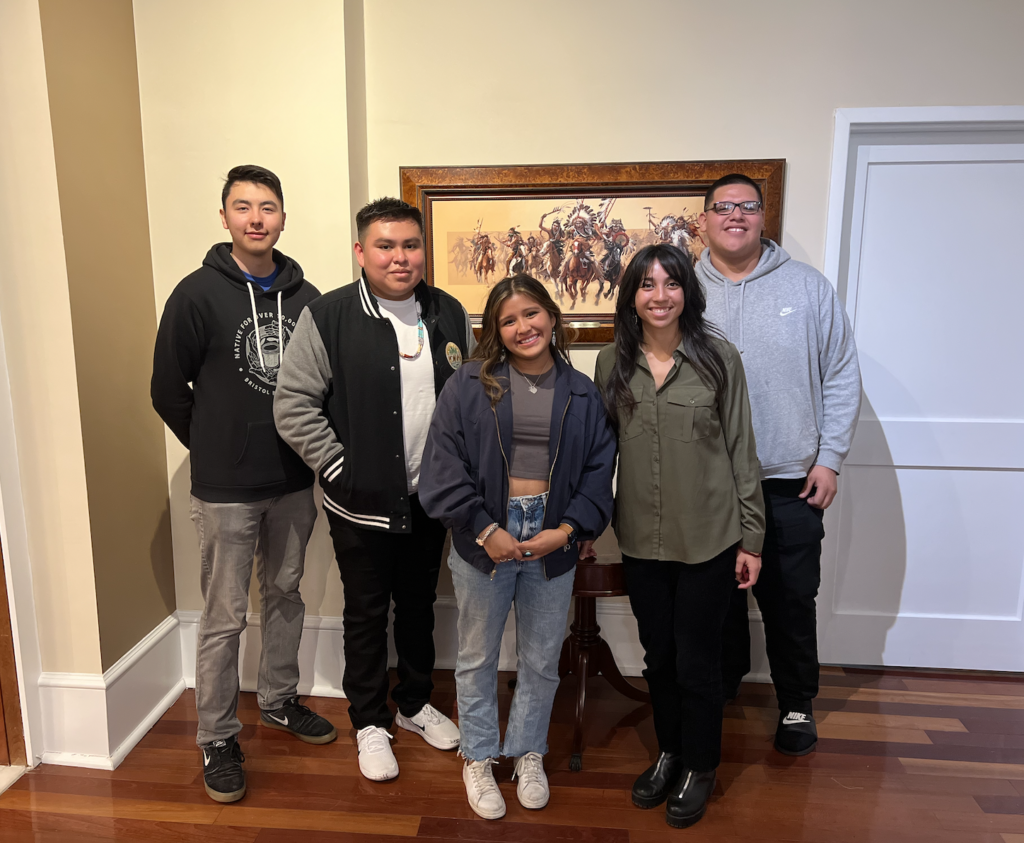 After following the Guide to Indigenous DC Self-Tour, the Champs joined youth from NCAI at the Embassy of Tribal Nations to hear from the creator of the Guide to Indigenous DC Walking Tour map and app, Dr. Elizabeth Rule. Dr. Rule shared that her main inspiration for creating the app was to establish an educational tool for Native people visiting the area to learn the Indigenous histories and contemporary stories that are found throughout the Capitol. For her, this guide reveals an Indigenous perspective on DC that actively challenges the dominant colonial narrative. Moreover, she intentionally included some sites to highlight modern-day activism, such as the Indigenous Peoples March of January 2019, which ended at the stairs of the Lincoln Memorial. Finally, she provided insight into higher education for youth.
Day 2
Roundtable Discussion at the White House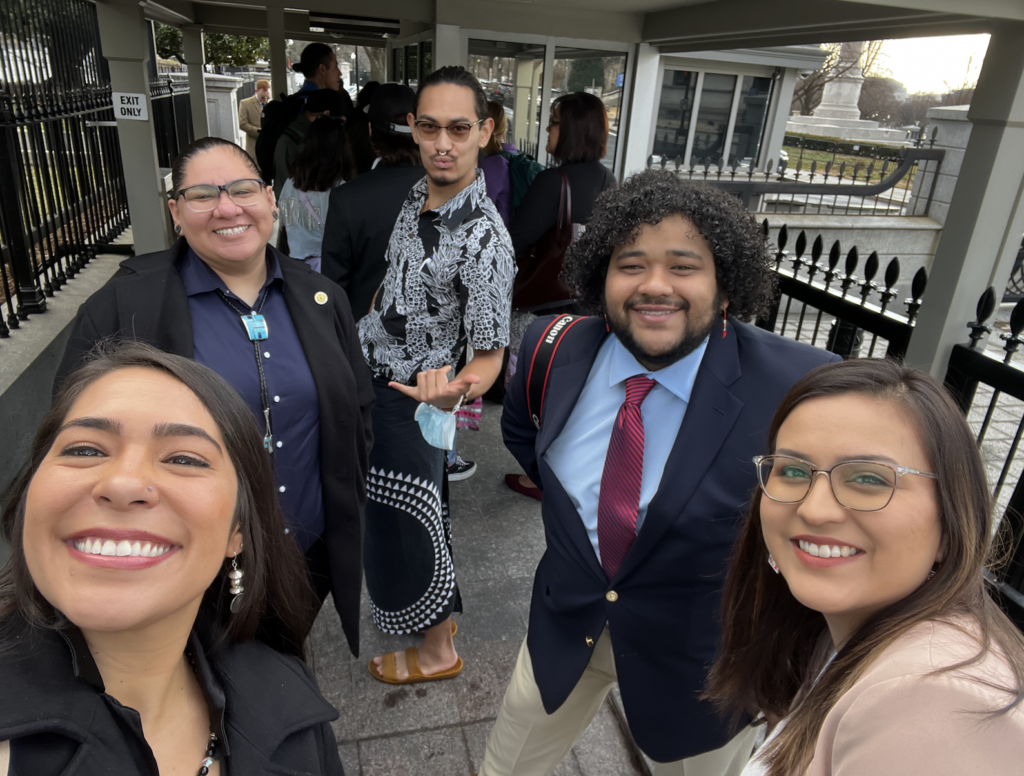 With a diverse group of individuals who shared their unique perspectives and concerns, the discussion was wide-ranging and touched on many crucial issues affecting Native communities, including climate change, food sovereignty, community violence, and the need for greater representation in government. One of the key takeaways from the meeting was the need for large policy initiatives to address the historic climate crisis brought up by Jovi Williams. The White House is working closely with the Department of Justice and the Department of the Interior to find solutions to these complex issues. However, it was also noted that individual involvement is crucial to solving these problems, as well as accountability to watersheds and other natural resources. 
Another important theme that emerged during the meeting was the need for Native people to have greater representation in government, especially at the executive level. Paawee Rivera emphasized the importance of coalition-building and finding intersections with other groups to enact change. He also noted that Native people are nations, not simply constituents, and that it is vital to have Native individuals with experience in government positions to bring their expertise back to their communities. Food sovereignty was another critical issue that was discussed during the meeting. Gabriella Nakai shared her experience of starting a local garden during the pandemic to ensure that her family had access to healthy food. She emphasized the importance of being connected to the land and the need for policies that support the food sovereignty of Native communities.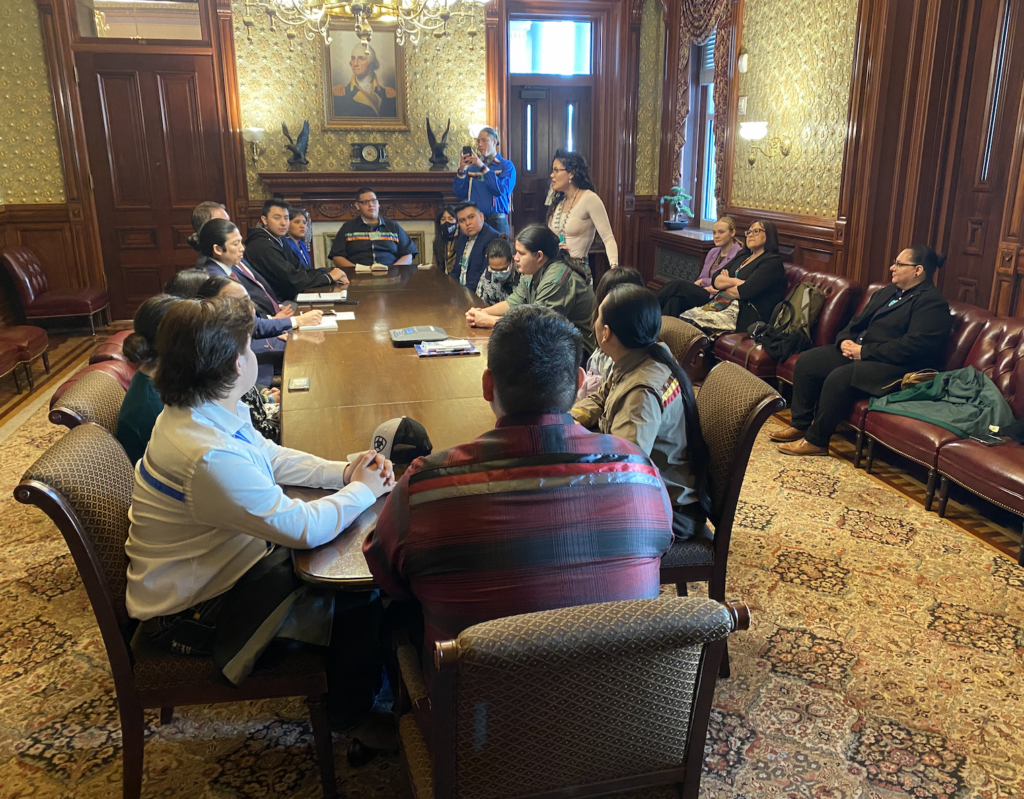 Joshua Jackson-Morrison brought attention to the challenges facing Native communities, including high levels of poverty, drug epidemics, and gun violence. He expressed a desire to be a catalyst for change and to work with others to find lasting solutions to these issues. Paawee offered to follow up with Joshua to discuss community violence and find ways to support Native communities to make sure they are given a spotlight when it comes to community violence interruption. Finally, the importance of having more Native people in government positions was emphasized by Samuel Hiratsuka. He stressed the need to move beyond just talking about why Native representation matters and to focus on concrete steps to increase representation at all levels of government. Daron Carreiro echoed this sentiment, noting that advocacy is critical for driving change and that the priorities of Indian Country are reflected in the budget.
Overall, the meeting was a powerful reminder of the importance of collective action and coalition-building in effecting change. The diverse perspectives and experiences of the participants highlighted the complex challenges facing Native communities, but also underscored the resilience and determination of those who are working to make a difference. As Paawee noted, "Having a gathering like this is medicine," and it is clear that ongoing conversations and collaborations will be essential in protecting Native Youth and addressing other critical issues facing Native communities.
2023 State of Indian Nations
At the National Museum for American Indians (NMAI), the Champs attended the 2023 State of Indian Nations, the first in-person gathering since the start of COVID for the National Congress of American Indians (NCAI). The event opened with a State of Indian Youth Address from the NCAI Youth Commission's Co-Presidents, Caleb Dash and Yanenowi Logan. Dash discussed the issues and hardships facing Native communities, from intergenerational trauma to substance abuse. Afterwards, Logan struck a hopeful tone, calling attention to the innovative, creative, and clever solutions Native youth across Turtle Island and beyond have forwarded to combat issues in their communities. Highlighting the work of CNAY Youth Advisory Board Vice Chair, Charitie Ropati, climate activist and model Quannah Chasinghorse, and Yanenowi's own work for the rematriation of ancestral remains at Cornell University. 
Following this moving address, the NCAI President Fawn Sharp commanded the attention of the audience with an invigorating speech. She points out that "we have all that we need individually and collectively" to make the changes to Native Country that our peoples need. She celebrates the fact that we have Native representation in the highest offices of the United States, demonstrating that Native Peoples "don't just have a seat at the table, we have influence." To ground us in this moment, she makes a call to action: "we need all of Indian Country to just show up," because, as she passionately tells, "nothing can stop us." 
Senator Elizabeth Warren gave a virtual Congressional Response to President Fawn's address. She recognized the responsibilities of the US in maintaining the Nation-to-Nation relationships between the US and Tribal Nations. She gave her thanks for the dialogue the address opened, the gathering of Tribal leaders, the work of Native Peoples for the reallocation of funds for Indian Health Services (IHS) as well the language keepers, Native educators such as those at the Navajo Technical Institute, and those advocating for Native issues nationally. 
2023 Public Event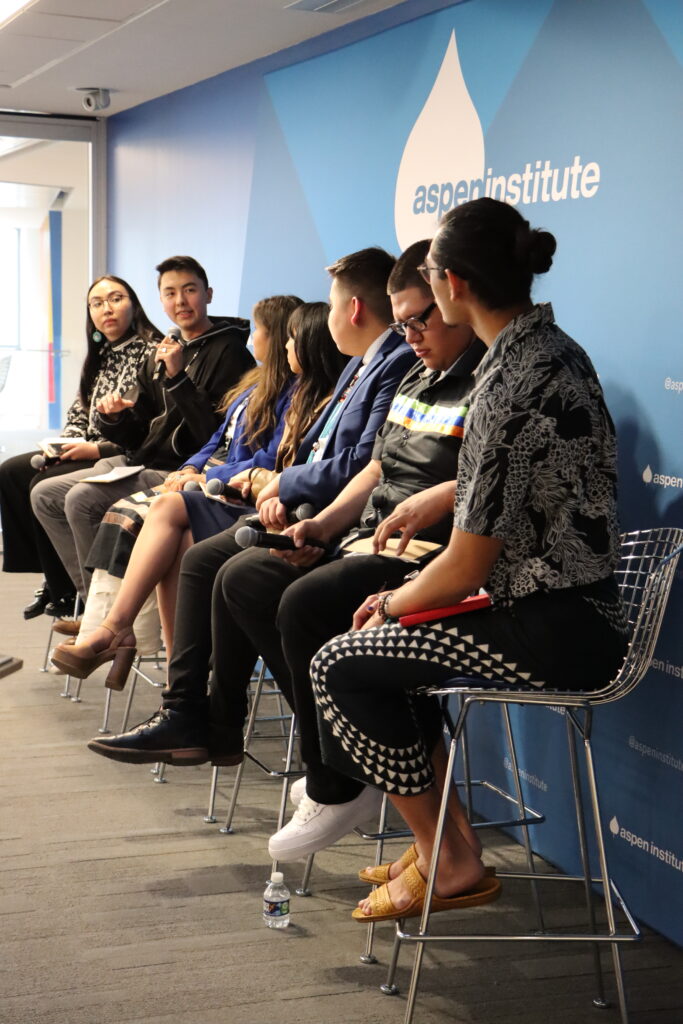 The Champions for Change public event is a staple component of CNAY's "Champs Week." During the public event, Champions participate in a panel discussion to share their work and passions while exercising their public speaking skills. We heard a welcome remarks by Executive Director, Nikki Santos and were also joined by President and CEO of Aspen Institute, Dan Porterfield. He shared his belief that young people must be at the forefront of change in their countries and that they have the energy, creativity, and drive to challenge the status quo and shape the future. The keynote address was provided by New York Times best-selling author Angeline Boulley. She shared the disappointment she felt when she read a Native-written book that focused heavily on the deficit narrative of Native communities. Disappointment turned into inspiration, leading her to write her debut novel, Fire Keeper's Daughter, a story that highlights and celebrates the resilience of Native youth and Native culture.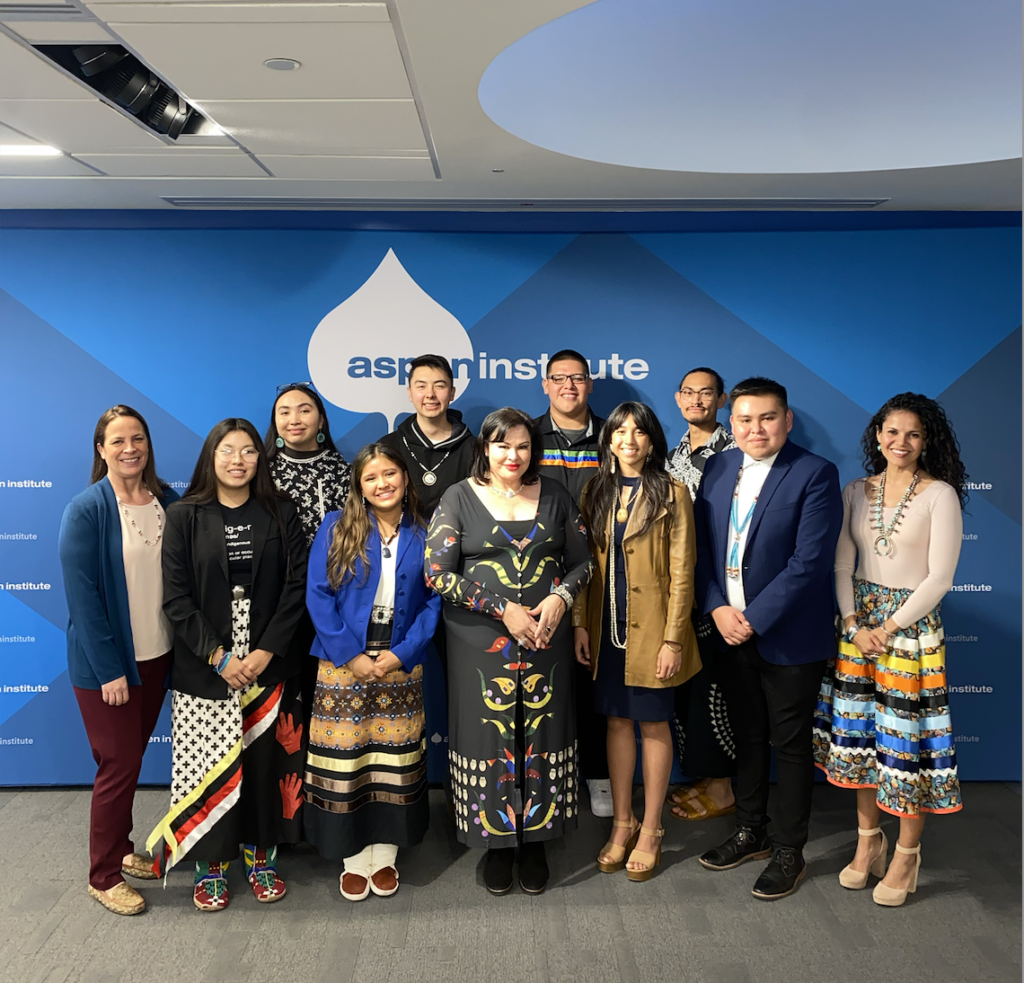 The panel discussion that followed highlighted the incredible work that the 5 Champions are doing to uplift their communities and preserve their cultures. From language preservation and the protection of land and water to youth empowerment and political representation, the 2023 Champions for Change are working to build a better future for all Native people. Jovi William's efforts to create an Apache language club and advisory council came from a call for language preservation and its direct connection to identity. Also closely connected to identity for Native people are our relationships with land, water, and air. Honu Nichols set out to protect Mauna Kea and fight for Indigenous voices within environmental initiatives and policies, not because they are activists but because they know the responsibility we carry as Indigenous people to protect sacred lands. When we take care of the land, the land takes care of us. Gabriella Nakai's gardening and land-care efforts demonstrate the critical correlation between land, culture, and mental health. Building safe community spaces, providing resources, and uplifting young people are tools to be used in battling mental health disparities and decreasing community violence, according to Joshua Jackson-Morisson. Guiding Native youth and presenting positive paths are some of the ways he has assisted in his community. Sam Hiratsuka praised his fellow Champs for their dedication to their communities and Indian Country and mentioned how important Native representation is in policy-making spaces. It is a critical step in ensuring that Native people have a voice in decision-making that affects their communities and lives.
Day 3
Visit to the U.S. Department of Treasury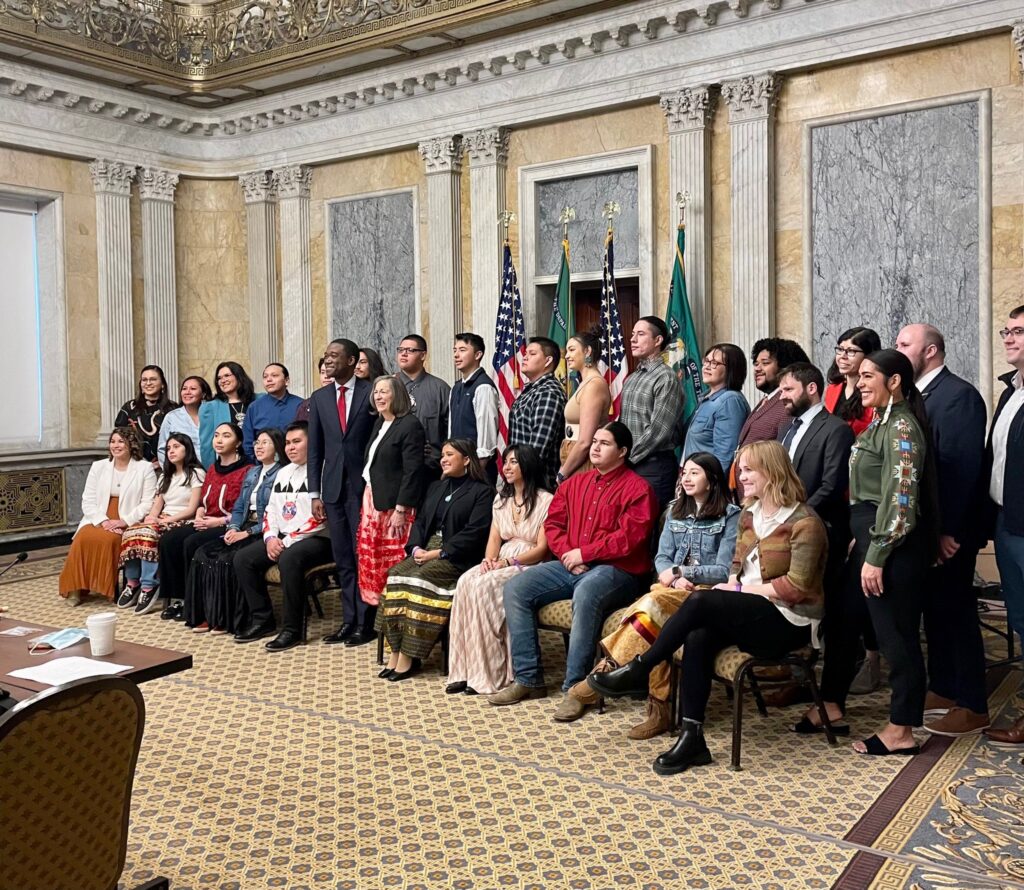 "A lot of people talk about intergenerational trauma, but I believe in intergenerational resiliency, which all of you are exemplifying here today…" shared Treasurer of the United States, Chief Malerba of the Mohegan Tribe. As the youth surrounded the Treasurer of the United States, Chief Malerba, Chief Secretary, Wally Adeyemo, Chief Recovery Officer, Jacob Leibenluft, and Director of Office of Tribal and Native Affairs, Fatima Abbas, in a roundtable discussion, history was made. The first ever Tribal youth delegation had visited this administration. The Champions were given the opportunity to convey their passions and pose questions regarding the economic standpoints and concerns in their communities. Land protection, community violence, water rights, language revitalization, and representation in public policy were all discussed. Former Champion for Change, Jazmine Wildcat, shared "we don't need a savior, we don't need someone to come into our community to fix us, we need to know how to get to point A to point B, and we can handle the rest."
The group came to a unanimous consensus that building meaningful relationships amongst leaders and youth within the departments, not limited to the treasury, is key. That in order for impactful change to be made in our communities, the youth leaders must be heard, seen, and included. In the hour and a half that followed in the intimate setting, the Champs, Center for Native American Youth (CNAY) Youth Advisory Board (YAB) members, CNAY staff, Cheyenne River Youth Project (CRYP) Youth Council, and special guests left the room feeling inspired, comfortable, and motivated. In spaces where the indigenous representation has historically been absent it seems that the swearing in of Chief Malerba is proving to be nothing short of momentous and revolutionary.
NCAI's General Assembly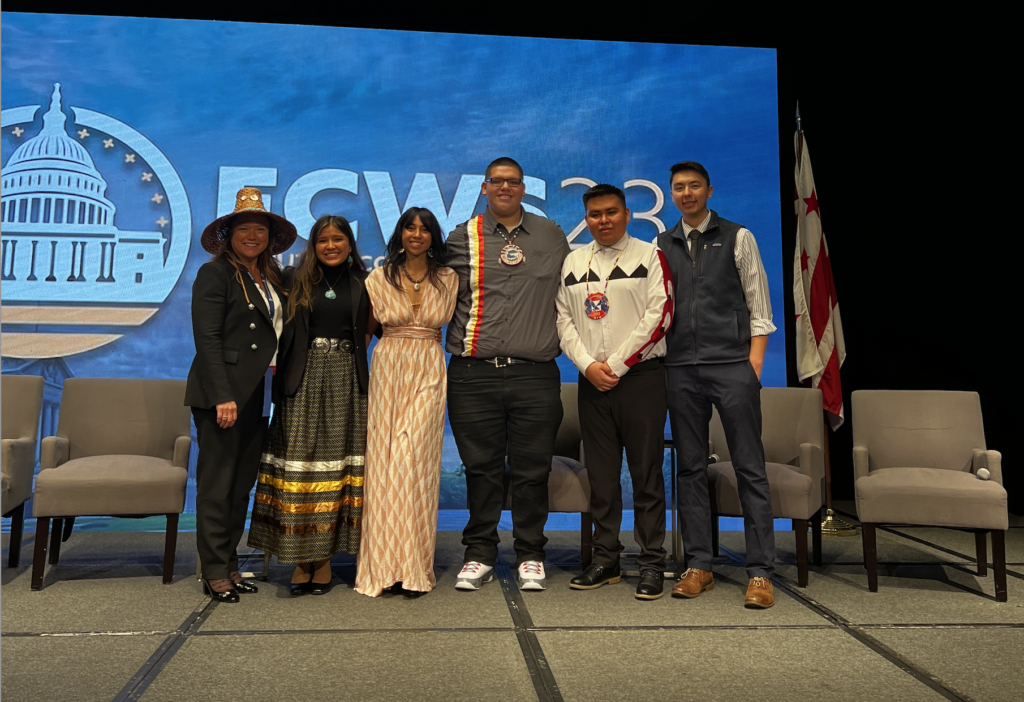 Allison Binney, the CNAY Board Chair, introduced the Champion for Change cohort to the National Congress of American Indians (NCAI) Executive Council Winter Session Afternoon General Assembly and highlighted their accomplishments in many sectors. This was a momentous occasion for the Champs, which honored their achievements and dedication to Indian country.  Emphasizing their accomplishments in a variety of fields, Binney remarked that the cohort members were chosen based on their leadership characteristics, accomplishments, and dedication to bringing about meaningful change in their communities. She also highlighted their stories and resiliency to life. The introduction by Binney was evidence of the CNAY's commitment to supporting the voices and lived experiences of Native youth and proved to be a very special moment for everyone involved.
Policy Strategy Session
The Champions for Change and NCAI's Youth Commission sat for a training session focused on policy strategization facilitated by Wylen Iceelau and Paawee Rivera. Driven by Tribal Nations, NCAI's policy positions are strongly influenced by community needs and Tribal leaders' input. This process of decision making and Tribal Nations' input can be summed up tp monitoring, developing, advocating, and then informing. The National Congress of American Indians (NCAI) works to advance tribal sovereignty, protect and preserve Native American culture, promote economic development, and improve the well-being of Native American communities. One of the most important ways that the NCAI achieves these goals is through policy advocacy. The organization works to influence policies at the federal, state, and local levels to ensure that the rights and interests of Native Americans are protected and respected.

It is crucial that Native American youth get involved in policy creation in all three branches of government because they are the future of their communities. Youth bring fresh perspectives, new ideas, and a deep commitment to the well-being of their communities. By participating in policy work, Native American youth can help to shape the policies that will affect their lives and the lives of future generations. During a recent meeting of the NCAI, Native American youth attendees discussed prevalent issues affecting their communities. Topics ranged from tribal jurisdiction and resource laws to women's healthcare and education curriculum accuracy. The meeting was joined by Paawee Rivera, Senior Advisor to the White House Office of Intergovernmental Affairs and Director of Tribal Affairs for the Biden-Harris administration. Rivera spoke about the administration's policy goals, their implementation, and the importance of having over 60 native staff members across the administration, including Mike Connor Taos Pueblo and Secretary Haaland.
One of the key takeaways from the meeting was a deeper understanding of public policy and how it intersects with every aspect of our lives. Ryan Seelau, the Director of Policy at NCAI, opened the session by defining public policy, and Rivera and Seelau played a framework to help youth understand how policy intersects with everything we do. After gaining a better understanding of policy, the youth were given the opportunity to discuss current policies that they could create or current policies that needed fixing. The groups met for 15 minutes and then presented their ideas to everyone. The issues discussed ranged from education and climate change to overturning Roe v. Wade.
Advocacy Training
Allison Binney provided an advocacy training session, where she talked to the Champs about the ins and outs of advocacy work. She gave background on the founder of the Center for Native American Youth, former Senator Byron Dorgan and his advocacy work and shared personal examples of things she did when she worked on Capitol Hill. The pieces of advice that stuck out the most were things that Byron Dorgan would regularly talk about how "genius was in the seventh draft" and we must work together, because if we don't, progress can't be made. Serving as the Chair of CNAY's Board of Directors, Allison's advice is especially valued. She was adamant in sharing not only the ins and outs, but also the ups and downs that the world of policy can sometimes bring. 
Communications 101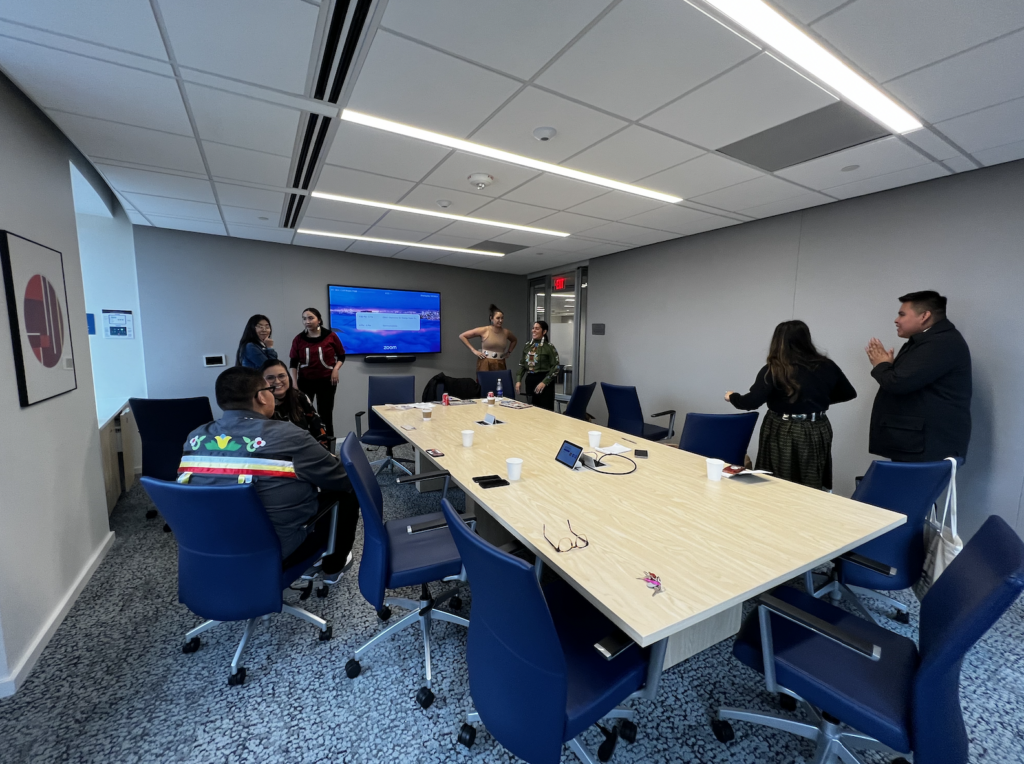 Cheyenne Kippenberger, Lauren Schad and Charitie Ropati facilitated a discussion about Communications, the power in sharing your story, and understanding the many opportunities that online and printed media can provide for the Champions advocacy. The group expanded on the correlation between mental health, setting online boundaries, and protecting your well being on social media platforms. As Champions, the cohort will be exposed to interviews and writing opportunities through their year to uplift their messaging and stories. Cheyenne, Lauren, and Charitie shared tips and advice on best practices, prepping, and being in control of your own narrative. "Messing up on how you say something in a public speech or feeling a bit of imposter syndrome can be intimidating, but always remember that your story, your experiences, and your voice deserves to be heard. When you are invited to speak or share, it is because they want to hear you and give you space to do exactly that. Take up that space and stand strong in knowing that you bring value to their event or interview, not the other way around," shared Kippenberger.
NCAI & CNAY Youth Reception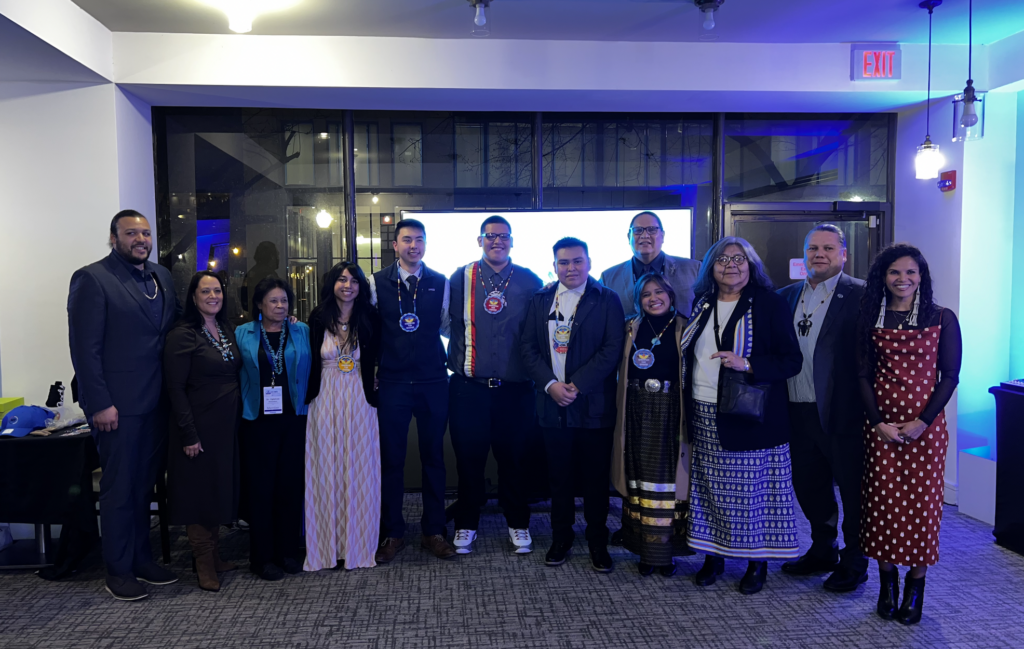 In the evening, after a day of training and building community, the Champs, other visiting Native youth, and Tribal leaders convened for a reception. In addition to Indigenous bingo, food, and networking the Champions were announced by Executive Director Nikki Santos. After beautiful words were shared by Santos, the Champions were adorned with hand beaded medallions by Tribal leaders. The Champs proudly stood before the room with their medallions that read "Champions for Change."
Day 4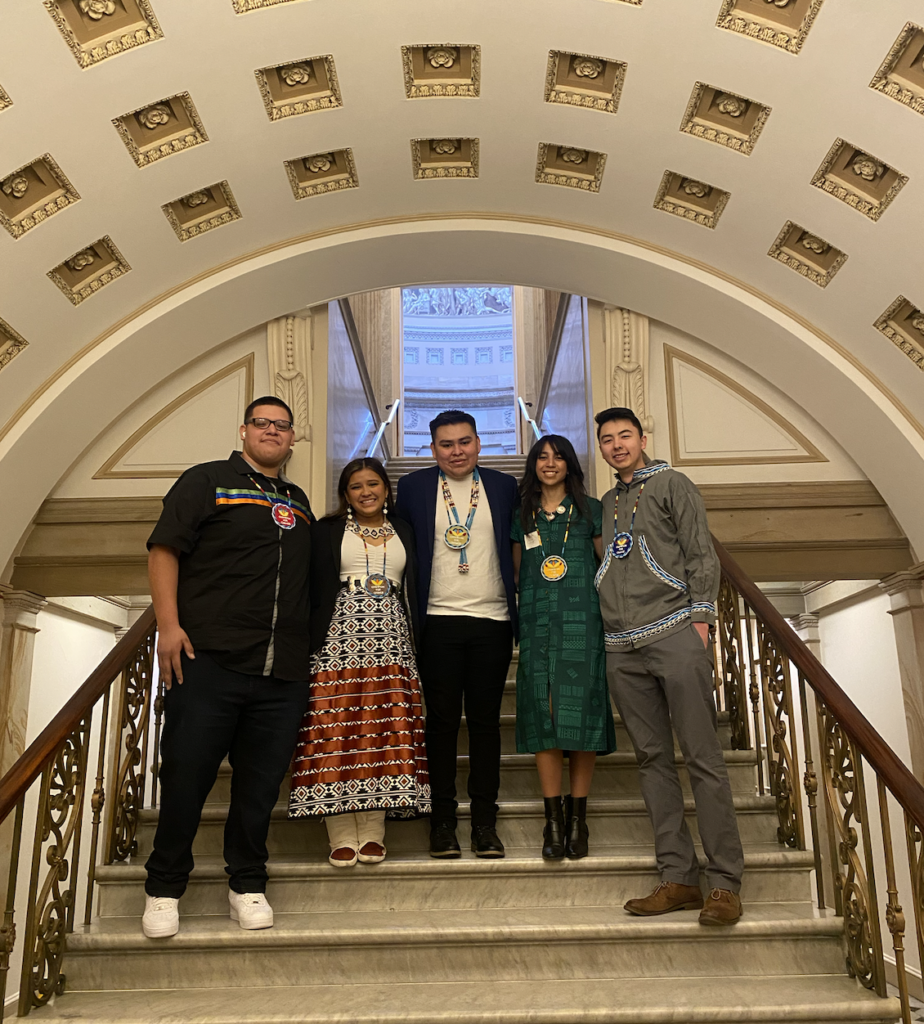 On the final day of the 2023 Champs Week convening, the Champs were given a private tour of the Capitol building by the office staff of Congressman Gabe Vazquez. Staff and Champs explored the tunnels, artwork, and history of the building. A moment indeed to remember, the group reflected on the historical relationship between the United States and Indigenous people and what it meant to be standing there that day despite all attempts made against our people. After the tour, the team and Champs convened back at the Aspen Institute for what would be the closing ceremony to an incredible week. Heartfelt words were shared over slices of chantilly cake as the DC sunset casted evening shadows across the rooftop area of the Aspen Institute. The Champs and staff shared reflections of their experiences from the week and the excitement for the year ahead. Following the ways of all our people's traditions, from Minnesota to Arizona to Alaska and all the way from Hawaii, everyone shared a "see you later," a hug, and left with their spirits and hearts filled with good medicine and new memories.