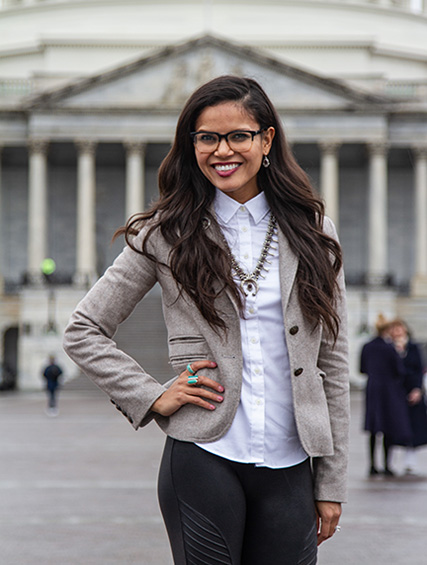 Nikki Pitre
ACTING EXECUTIVE DIRECTOR
EMAIL:NIKKI.PITRE@ASPENINSTITUTE.ORG
Nikki's Indian name is khwhele' which means Meadow Lark. She is a member of the Coeur d'Alene Tribe and is of the Red Bird Clan. She is also Kalispel, Yakama, Nisqually, Cowlitz, and Squaxin Island. She is the Acting Executive Director at the Center for Native American Youth at the Aspen Institute.
As Acting Executive Director, Nikki manages overall operations, grants and reporting, budget processes, oversees the Champions for Change program and CNAY's Youth Advisory Board, and is chief strategist for CNAY's youth engagement initiatives. Nikki is responsible for fundraising and donor relations.
Before serving in this capacity, Nikki was Associate Director at CNAY, and prior to that was Program Manager. Prior to CNAY, Nikki worked as Student Success Programs Director at the American Indian Higher Education Consortium (AIHEC), where she managed grants and initiatives pertaining to tribal college student success. She also was the Federal-Tribal & Special Initiatives Associate and Advocacy Associate at AIHEC. She brings to CNAY grant and program management, youth and student services, advocacy and meeting planning expertise.
Nikki has worked on behalf of her people her whole life. Her biggest inspiration comes from her daughter, Aplnmarimn'tsu'tn, or Carries the Medicine. Nikki maintains her culture through language, ceremony, and honoring her teachings passed on to her.