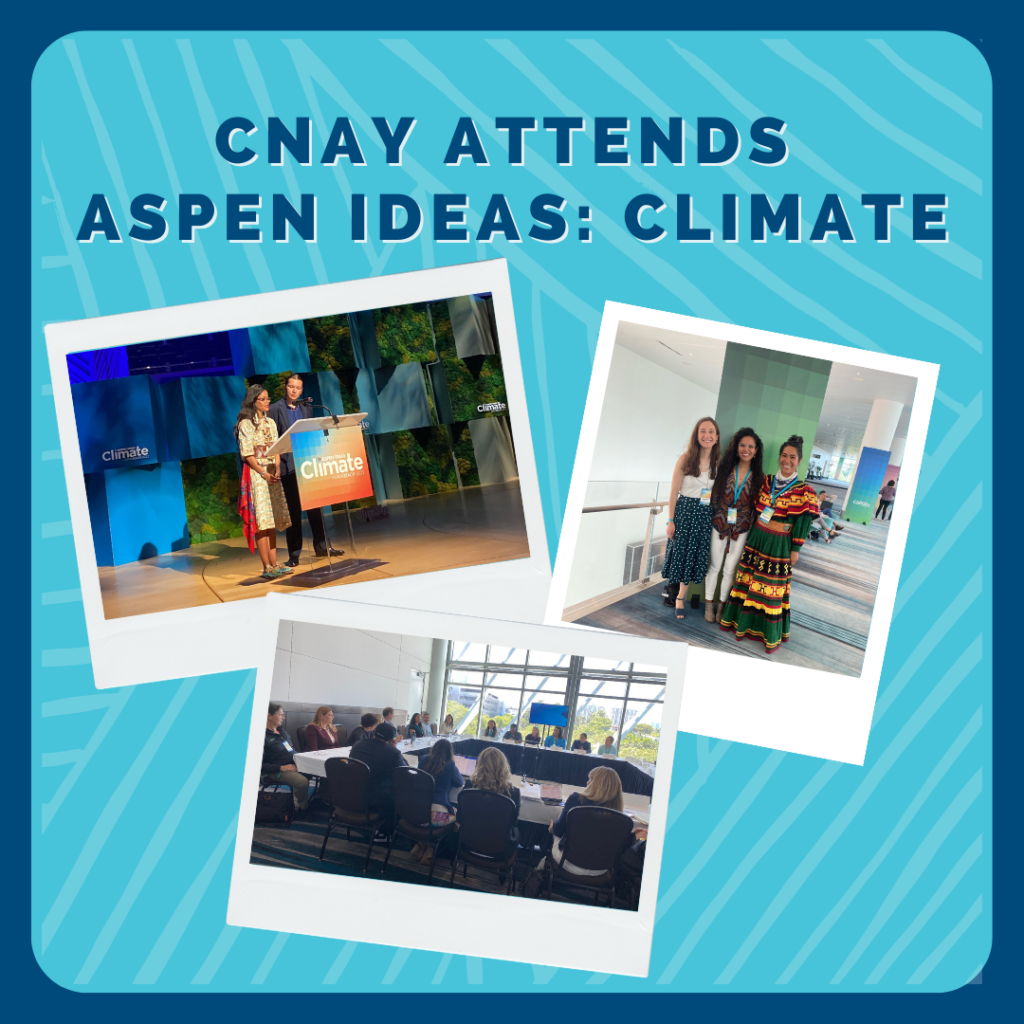 CNAY Attends Aspen Ideas Climate
May 11, 2022 – The Center for Native American Youth (CNAY) at the Aspen Institute was proud to participate in the first ever Aspen Ideas: Climate Festival in Miami Beach, Florida. This event featured more than 1,600 registered attendees, 185 speakers, 50 breakout sessions, and was done in partnership with more than 24 community partners. CNAY staff was fortunate to not only attend as guest speakers, but to support Native youth leaders as they spoke to this international audience.  
CNAY communications coordinator, Cheyenne Kippenberger,  opened Ideas Climate with a land acknowledgement on behalf of her people, the Seminole Tribe of Florida. "Truth and acknowledgement are the foundation to healing and transformation. We begin this effort today by recognizing that we are on the ancestral lands of Native nations including the Taino, the Tequesta, the Calusa, and today the sovereign, unceded homelands of the Seminole Tribe of Florida, and the Miccosukee Tribe of Indians of Florida." Within her opening remarks, Cheyenne centered the historical removal and resilience of Indigenous Peoples whose homelands continue to be impacted by colonization. Cheyenne called for attendees to, "recognize the legacies of violence, displacement, migration, and colonial settlement." 
Throughout the week, CNAY joined a variety of discussions and presentations all rooted in addressing climate change. Former Champion for Change and Youth Advisory Board member, Sam Schimmel, joined Ideas Climate as part of their Future Leaders Track. Sam spoke in a breakout session titled, Big Ideas from the Frontlines. This session centered community-led solutions from those most impacted by climate change. Sam highlighted that changing weather patterns are negatively impacting the food security of communities in Alaska, "we need to build resilient food systems," he shared. The panelists, coming from across the globe, stressed the need to think long-term and implement national adaptation plans into policy.
In partnership with Service Year Alliance, CNAY hosted an intimate roundtable discussion focusing on mobilizing youth. This cross-sector dialogue brought together youth, nonprofit organizations, and philanthropy to discuss best practice to engage youth in the climate movement. Through this conversation, a core theme emerged to ensure young people have agency and autonomy to lead. To rebuild a more effective movement, youth are seeking avenues that are reflective of today's challenges, and ensure intergenerational learning spaces can be created to learn from those before them. Both Service Year Alliance and CNAY are grateful for those who were in community with us for an authentic dialogue. We look forward to sharing resources, building equitable spaces, and amplifying a youth-driven climate narrative. 
Executive Director, Nikki Pitre, and Youth Advisory Board Secretary, Owen Oliver presented at the New World Center. Their plenary discussion, Indigenous Knowledge: Indigenizing Futures, Learning from the Past, centered the power of traditional ecological knowledge systems to address climate change. Their session utilized storytelling practices to guide the audience through Indigenous lead solutions. Each story centered the power of healing in our efforts to protect the planet. By focusing on healing, Nikki and Owen ensured the audience understood that healing the earth heals culture and systemic oppression, both of which intersect with climate change.
Nikki began the session by exploring the nuanced relationship Native people maintain with the land. "As Native people, our relationship with our land is integral to social, cultural, and spiritual identity. It is part of our livelihood and unfortunately, that livelihood is being negatively impacted by climate change." Owen stressed his responsibility to build a future where descendants of his people can acknowledge the difficult history with climate change, but continue to progress forward because they are equipped with the tools needed to keep climate change at bay. He provided a call to action for the audience, sharing, "We must stop looking at our land, water, and air as extractive, and view it as our relatives, our grandfathers, our brothers. When we start thinking of the climate as a relative, we will inherently care for and treat it differently."
To end their impactful discussion, both Nikki and Owen provided clear calls to action for the audience. These solutions included taking a holistic approach to conservation efforts, center culture and traditional teachings within climate solutions, and to increase philanthropic investment for Indigenous-led organizations. The Center for Native American Youth was grateful to amplify the voices and perspectives of Indigenous communities at this international event. 
You can watch the full plenary discussion here.