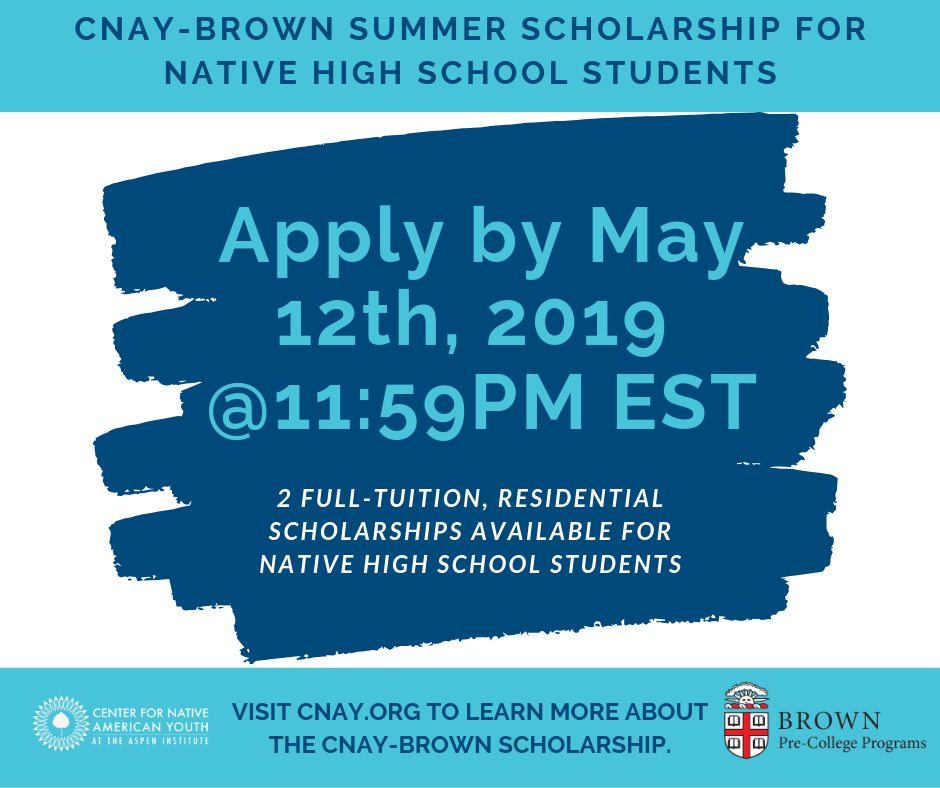 CNAY-Brown Summer Scholarship for Native High School Students
The Center for Native American Youth at The Aspen Institute (CNAY) has partnered with Brown University Pre-College Programs to award full-tuition, residential scholarships for two Native students to attend a Brown University Pre-College program during summer 2019. The CNAY-Brown Summer Scholarship covers tuition, room and board, application fees, and program fees.

CNAY-Brown Scholars have three summer program options to choose from: Summer at Brown, the Brown Leadership Institute, and the Brown Environmental Leadership Lab (BELL) at Rhode Island. All programs take place on or near Brown's campus in Providence, Rhode Island.
All CNAY-Brown application materials are due at 11:59 PM Eastern Time on Sunday, May 12, 2019. CNAY will notify all applicants of their final application status by May 20, 2019.
WHO IS ELIGIBLE TO APPLY?
Applicants for the CNAY-Brown Summer Scholarship must meet all the following criteria. CNAY cannot make an exception to eligibility requirements.
Must be currently enrolled in high school grades 9-12;
Must identify as Indigenous and reside within the United States;
Must demonstrate a connection to tribal culture and/or community; and
Must be at least 15 years old by the start of the program.
HOW TO APPLY
A complete application includes all of the following materials, which must be submitted online to CNAY by 11:59 PM Eastern Time on Sunday, May 12, 2019.
HOW DOES IT WORK?
Students apply for the CNAY-Brown Summer Scholarship through CNAY's online application form.
CNAY selects the top two scholarship recipients from the applicant pool.
CNAY nominates the top two applicants for acceptance, Brown provides a decision, and CNAY notifies the two accepted scholarship recipients.
CNAY works closely with the two CNAY-Brown scholars to finalize the application through Brown's application portal.
WHAT DOES THE SCHOLARSHIP INCLUDE?
The CNAY-Brown Summer Scholarship covers the cost of housing, tuition, meals, coursework materials and other required student services for the duration of the summer program. Students must provide their own spending money for incidentals, souvenirs, recreational activities, class supplies (pens, paper, etc.) and textbooks where applicable.
*CNAY recommends setting aside $75-100 per week to cover expenses such as laundry, personal items, and transportation and fees for optional recreational activities around the city. We suggest contacting your tribal nation, school and other local organizations to raise money to help with travel and spending money.
WHICH SUMMER PROGRAMS CAN I APPLY FOR?
Scholarship applicants may apply to attend one of the following three summer programs. Note: although a spot in the program is reserved for you, we cannot guarantee that you will be enrolled in your top course choice. Courses are filled on a rolling basis. Course offerings for summer 2019 can be found here.
Summer@Brown: Choose 1 Class from Multiple 1- to 4-Week Sessions.
Summer@ Brown offers multiple start dates and sessions, from one to four weeks in length, and multiple opportunities throughout the summer for students to find courses that meet their needs and interests.
Summer@Brown offers non-credit courses designed for students to experience college-level academics on an Ivy League campus. Reflecting Brown's broad liberal arts curriculum, the program features over 200 courses, designed and taught at the level of first-year college courses, requiring 3 hours of class per day with 2-3 hours of homework and ranging in length from one to four weeks.
Brown Leadership Institute: Choose 1 Class from Multiple Two-Week Residential Sessions.
All Leadership Institute students enroll in one course for the two-week program and attend class sessions twice a day. Leadership Institute students select one course of study from an array of options, each focusing on current social issues.
The Brown Leadership Institute combines the development of socially responsible leadership with focused study on academic topics such as health, global development, social entrepreneurship, conflict resolution, and environmental justice. Students integrate their learning through course work, workshops on leadership styles, public speaking, active listening, and the development of an Action Plan project related to their school or home community.
Brown Environmental Leadership Lab (BELL): Choose 1 Class from Multiple Two-Week Residential Sessions.
This summer, students at BELL: Rhode Island will live and study at the pristine Whispering Pines Conference Center at the W. Alton Jones Environmental Education Center in West Greenwich, Rhode Island. There are limited spots available for the last two-week session of Summer 2019.
Brown Environmental Leadership Labs (BELL) combines content in environmental advocacy, ecology, leadership, and field methods, with a mission of developing socially responsible leaders. BELL gives students the tools they need to create positive change on environmental issues facing their local communities and the planet. This summer, BELL: Rhode Island students will live and study at Whispering Pines Conference Center at the W. Alton Jones Environmental Education Center in West Greenwich, Rhode Island. Students will study the causes and impacts of climate change and identify examples of environmental resilience. Additionally, students will be encouraged and empowered to develop solutions to environmental issues occurring in their own communities.
Please reach out to Communications Coordinator Joshua Bertalotto at joshua.bertalotto@aspeninst.org with any questions or concerns.